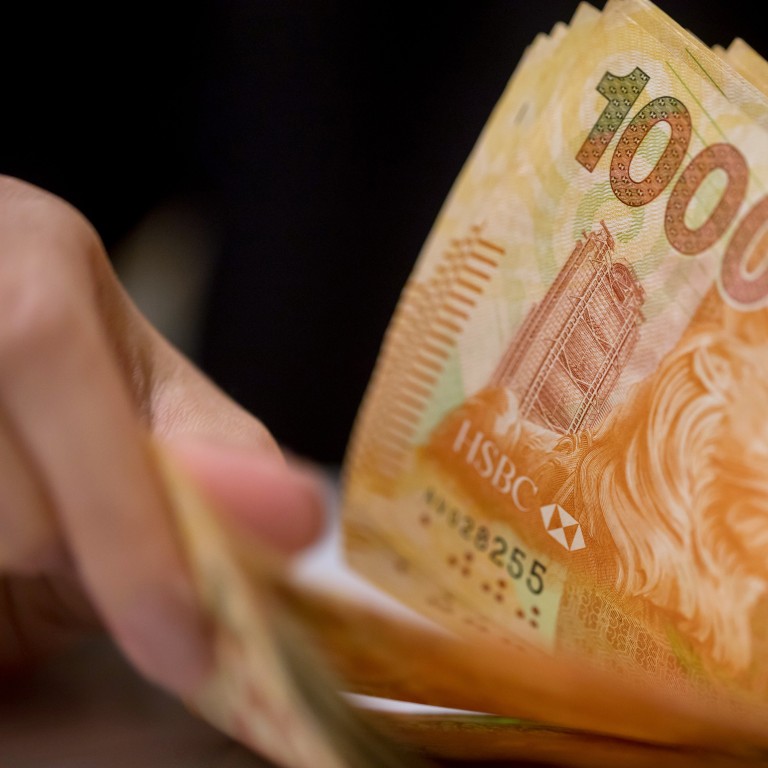 Hong Kong's rates curve is the most inverted in two decades
The one-month interbank borrowing cost on Thursday jumped to its highest level since October 2008
Demand for the Hong Kong dollar has risen as banks hoard money for regulatory checks and corporate clients pay out dividends
Expectations that liquidity will tighten in Hong Kong in the short term have helped drive the city's interest rate swap curve into its deepest inversion since 1999.
One-year interest rate swaps have climbed 19 basis points this week to 2.16 per cent, compared with 1.86 per cent for five-year contracts. The one-month interbank borrowing cost extended an advance on Thursday, jumping to the highest level since October 2008, amid seasonal demand for Hong Kong dollars. That has supported the currency.
The premium of the one-year interest rate swaps against the five-year ones is at the widest since January 1999. Longer-dated contracts tend to reflect investors' views of Hong Kong's long-term growth prospects and capital flows.
Demand for the Hong Kong dollar has risen as banks hoard money for regulatory checks and corporate clients pay dividends. Chinese e-commerce giant Alibaba Group Holding's planned initial public offering in the city has also raised expectations for tighter liquidity.
However, a sustained funding squeeze is unlikely as investors don't foresee a massive outflow in funds and the city's foreign reserves remain close to a record high.
"For now, seasonal factors and the IPO pipeline may keep short-tenor IRS elevated," said OCBC Wing Hang Bank economist Carie Li. "In the longer term, with global easing and Hong Kong's foreign-exchange reserves remaining sizeable, the outflow risks look manageable. So after these short-term factors abate, front-end liquidity will likely loosen again."
The Hong Kong dollar gained 0.01 per cent to HK$7.8236 per dollar as of 11:42am. That came after the currency soared to the strongest level this year Wednesday, as bears unwind short positions amid a spike in funding costs.
This article appeared in the South China Morning Post print edition as: HK interest-rate curve most inverted in two decades