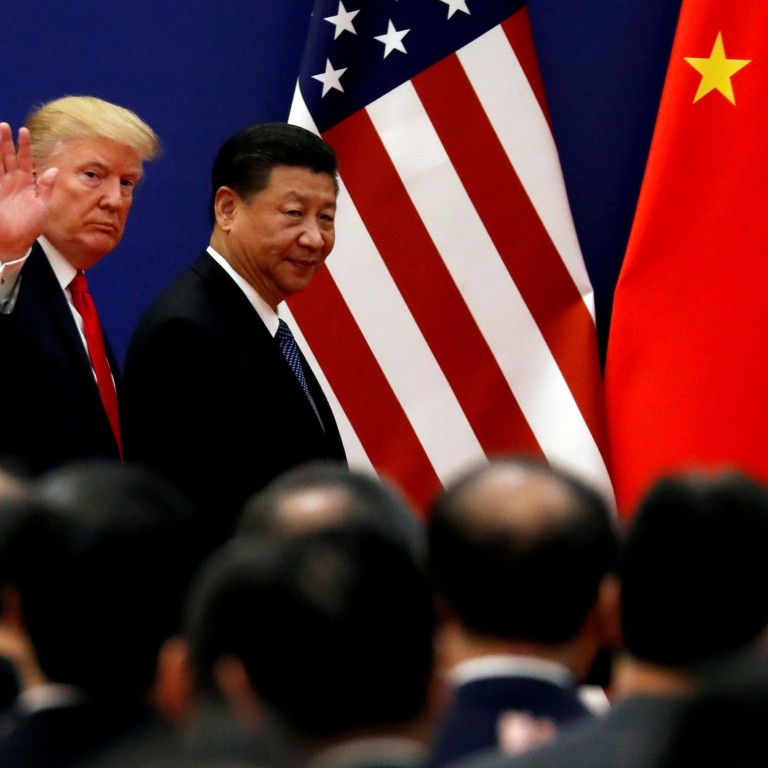 Xi-Trump talks at G20 unlikely to end trade war, warn Bank of America Merrill Lynch, Barings
Economists at Merrill Lynch predict negotiations will 'end in another ceasefire, with both sides delaying additional tariffs'
Barings is betting against emerging markets and export-reliant Asian countries like South Korea, Taiwan and Singapore
Two major international financial institutions have joined a growing chorus of voices urging investors not to be too optimistic about a significant deal between the US and China being reached this weekend.
Analysts at Bank of America Merrill Lynch and Barings, a global asset manager, said it is unlikely trade tensions between the world's two largest economies will be fully resolved at a meeting between the countries' leaders at the Group of 20 summit.
As the trade war uncertainty and its ripple effects on the global economy prevail, Barings is betting against emerging markets and export-reliant Asian countries like South Korea, Taiwan and Singapore, where reports show exports have slumped.
Instead, it recommends defensive investment strategies for the months ahead.
Key decisions to watch for, analysts said, would be whether the US will back down on its threats for the next round of tariffs on an additional US$300 billion of Chinese imports, and whether another truce can be reached.
Chinese President Xi Jinping and his US counterpart Donald Trump are expected to negotiate terms to relieve their trade tensions on the sidelines of the G20 summit in Osaka on June 28 and 29. On the table is the proposed US$300 billion of tariffs on Chinese imports consisting largely of consumer and electronic goods.
"If [the talks] turns sour, then there is a possibility that we could see 5 to 10 per cent tariffs being put on the remaining US$300 billion of exports from China," said Khiem Do, head of Greater China investments at Barings.
"And in the best case, I don't know what the best case is. It's difficult for me to think of a best case at the moment."
Economists at Merrill Lynch, the investment arm of the Bank of America, have likewise set their expectations low for the Xi-Trump meeting at the summit, predicting that negotiations will probably "end in another ceasefire, with both sides delaying additional tariffs".
"The strength of US equity markets and the Fed's dovish turn have greatly reduced the pressure on the US to compromise. Moreover, the trade war has become intertwined with many other issues such as tech and geopolitics", they wrote in a BofA Merrill Lynch global research report on Tuesday.
Beijing and Washington have been locked in a trade war for over a year, having slapped tariffs of up to 25 per cent on imports of each other's products. The last time the two leaders met was at a G20 meeting last December in Buenos Aires, which resulted in a 90-day truce.
Analysts noted that markets could react positively to any sign of a de-escalation of the trade war in the short term. Their outlook in the medium- to long-term, however, is gloomy.
Merrill Lynch also said it expects "further slowing in both economies even without major escalation".
"Trade war uncertainty is already eating away at business confidence and the equity market is only being held up by the promise of very aggressive policy easing in both the US and China," it wrote.
As the global economic slowdown continues, Barings is urging caution around emerging markets and Asian countries whose exports have taken a hit.
"We downgraded everything to do with emerging market [equities]," said Do.
These equities "tend to only do well when the world is booming. And the world can only boom if we have two big economies booming", he added.
Barings recommends consumer staples and energy equities, secure high-yield bonds and gold, which Do said he is "personally very bullish on". For currencies, Barings recommends the Japanese yen which Do said is a "hedge against trouble."