Bitcoin
Get more with myNEWS
A personalised news feed of stories that matter to you
Learn more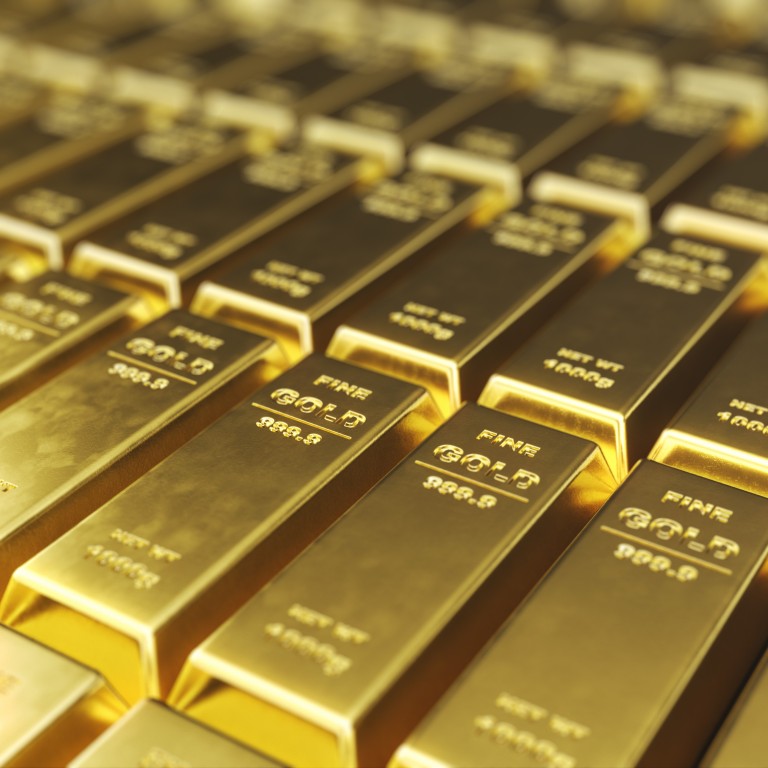 Is bitcoin becoming the new gold as investors seek shelter from trade war in safe havens?
Some analysts argue that bitcoin's role as a store of value is turning it into digital gold, a view shared by Fed chairman Jerome Powell
Since late May, the price movements of the cryptocurrency and the precious metal have trended up in tandem amid concerns about global growth
The recent rallies in gold and bitcoin have entered their third week, with spot gold reaching a six-year high of US$1,446.10 an ounce on Thursday and the cryptocurrency hovering close to a year-high of US$10,568 on Friday.
There should be very little common ground for the 10-year old cryptocurrency whose abstract existence resides purely in the decentralised computer network of the blockchain, and the centuries-old precious metal whose holders, ranging from central banks to merchants and traders, keep it in physical vaults.
But in the first half of this year both have generated solid returns, outperforming US and global treasuries and the MSCI emerging-market index. And since then, their appreciation has shown little sign of pulling back.
Hence, when Federal Reserve Chairman Jerome Powell was asked recently by US senators for his view on cryptocurrencies, his comment that bitcoin is "a speculative store of value like gold" despite few using it for payment, has reignited the debate about whether bitcoin is the new gold.
Rayne Steinberg, co-founder of Arca, a US crypto hedge fund, said he is seeing more people starting to perceive bitcoin as serving the purpose of money better than gold. Such a perception is fuelling the argument that bitcoin is becoming the digital gold forward, boosting its performance.
"Gold has served as a great store of value because no matter what the demand or price for gold is, no one could mine more gold beyond its finite supply. Such 'free float-to-total stock' ratio is what determines the hardness of a currency," he said.
Bitcoin's "free float" ratio – the amount in circulation compared to its ultimate limit of supply – is even lower than gold because the cryptocurrency blockchain was designed with a finite, maximum supply of 21 million units, and the rewards that miners get for adding each block to the chain halve every four years. That means that with lower supply in the future their value will appreciate over time, which is preferable to fiat currencies because central banks can control how much currency they print, Steinberg argues.
The rally in both bitcoin and gold has come as central banks adopt a more dovish stance, which has fuelled expectations for rate cuts; there has been a surge in negative-yielding assets, including German 10-year bonds whose yields have dropped below zero. All of this bodes well for assets that have shown strong price appreciation despite paying zero yield.
Justin Chow, head of business development at Cumberland, the crypto-trading unit of Chicago-based principal trading firm DRW, said he had noticed a higher correlation in May and June between the movement of gold and bitcoin.
But he said there was no clear indication that Asia-based traders were buying bitcoin because of US-China trade war concerns, a reason cited for gold's recent strength.
When more institutional players, such as the large US money managers, begin to participate in the market, then there will be a better understanding about bitcoin as a store of value or as a portfolio hedge, and that in turn will make the correlation between gold and bitcoin even stronger, he said.
"The participants in the cryptocurrency space today are very different from those in traditional asset classes – it is dominated by retail investors who still do not understand hedging strategy," said Chow.
Haywood Cheung, president of the Chinese Gold & Silver Exchange (CGSE), said he sees the digital gold token the exchange is launching in August, called Goldzip, as better qualified than bitcoin to play the role of digital gold.
Backed by a US$300 million reserve of physical gold, each Goldzip digital token that CGSE issues will be backed by one gram of gold. Cheung said as a next step the entire platform will be moved onto the blockchain, and the digital token will then become a stablecoin – a cryptocurrency pegged one-to-one to another stable asset such as the US dollar or, in this case, gold.
"Different from bitcoin, whose price is driven by much speculation and fantasy, Goldzip stablecoin has a higher store value, and is intended for value protection over the long term," said Cheung.
This article appeared in the South China Morning Post print edition as: Debate reignited on bitcoin as new gold