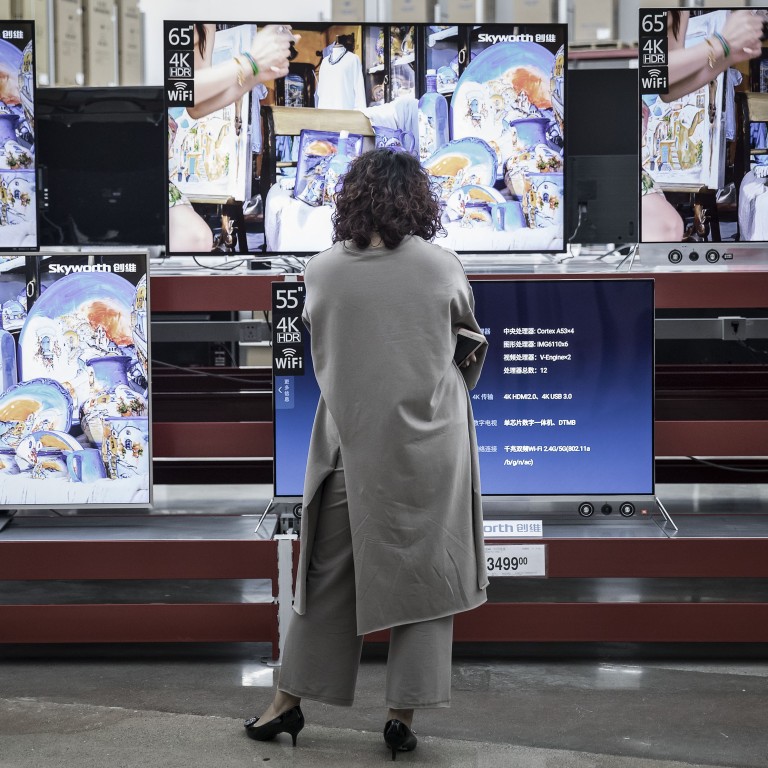 US-China trade war takes heavier toll than expected, could wreak biggest havoc in fourth quarter, investment banks say
Uncertainty over future policy may lead to lower capital expenditures as businesses await a resolution of trade war, Goldman Sachs said
US economy faces rising fears of a recession, Goldman Sachs said, cutting fourth-quarter growth forecast for US by 0.2 percentage point to 1.8 per cent
The
US-China trade war
, which has raged on for the 13th month last week, will wreak havoc on the world's two largest economies in the fourth quarter as it takes a heavier toll than previously expected on growth, according to two investment banks.
The United States economy faces
rising fears of a recession
, said Goldman Sachs, which cut its 2019 US growth forecast by 0.2 percentage point to 1.8 per cent in the final three months. China will feel the "biggest hit" from the latest round of proposed US tariffs on Chinese products in the fourth quarter, UBS said, downgrading its growth forecast for both 2019 and 2020.
"Fears that the trade war will trigger a recession are growing," the team of Goldman economists led by Jan Hatzius and Alec Phillips said. "We expect tariffs targeting the remaining US$300 billion of US imports from China to go into effect and no longer expect a trade deal before the 2020 election."
The reports by the two banks underscore how 13 months of a tit-for-tat dispute between the two economies had spilled over to the rest of the world. As businesses await the dispute's resolution or escalation,
investments are being deferred
, and capital expenditures have been reduced, slowing the momentum for growth. Rising protectionism has increased the uncertainty over future trade policy, which may lead businesses to be more pessimistic and "invest, hire or produce less," Goldman said.
On Monday, UBS said that it expects the US$300 billion of tariffs to reduce China's GDP growth by at least 30 basis points over the next 12 months. The investment bank also said that the negative effect of a US export ban on Huawei Technologies is expected to rise in the second half of this year and spill over into 2020.
As a result, UBS cut its 2019 growth forecast for
China's gross domestic product
(GDP) to 6.1 per cent from 6.2 per cent and its 2020 growth forecast to 5.8 per cent from 6.1 per cent.
"Although the White House expressed interest in continuing trade talks with China after escalating tariffs and labelling China a 'currency manipulator', it is not clear whether the US actually wants a trade deal," UBS' chief Asia and China economist Wang Tao said in a research note on Monday. "The escalations have likely hardened China's position. Although the situation can change suddenly depending on the US economy, equity market and changes in election politics, at the moment a deal looks increasingly unlikely this year or before the US election next year. Our new growth forecasts assume no deal but also no further trade war escalation."
Bank of America Merrill Lynch said late last week that the probability of a recession has increased, with an increasing number of early recession indicators "now flashing yellow".
The bank's US economists said that risks are rising that the trade war "escalates further and could do so rapidly". As a result, there are "significant downside risks" to the bank's growth forecasts for the US and global economies.
"This latest conflict has market participants very worried," Bank of America-Merrill Lynch economists Michelle Meyer and Joseph Song wrote in a research note on Friday. "The
stock market had the biggest one-day slide of the year
on Monday. The yield curve inverted more dramatically, showing that market participants are worried about the sustainability of the expansion. If markets continue to react negatively and survey measures show further weakness in the global economy, we think the [Federal Reserve] will be forced to act. Our baseline call has been for the Fed to cut rates another 25 [basis points] in September and October, but the risks are increasingly skewed toward more aggressive Fed easing."
This article appeared in the South China Morning Post print edition as: Trade war deepens recession risk