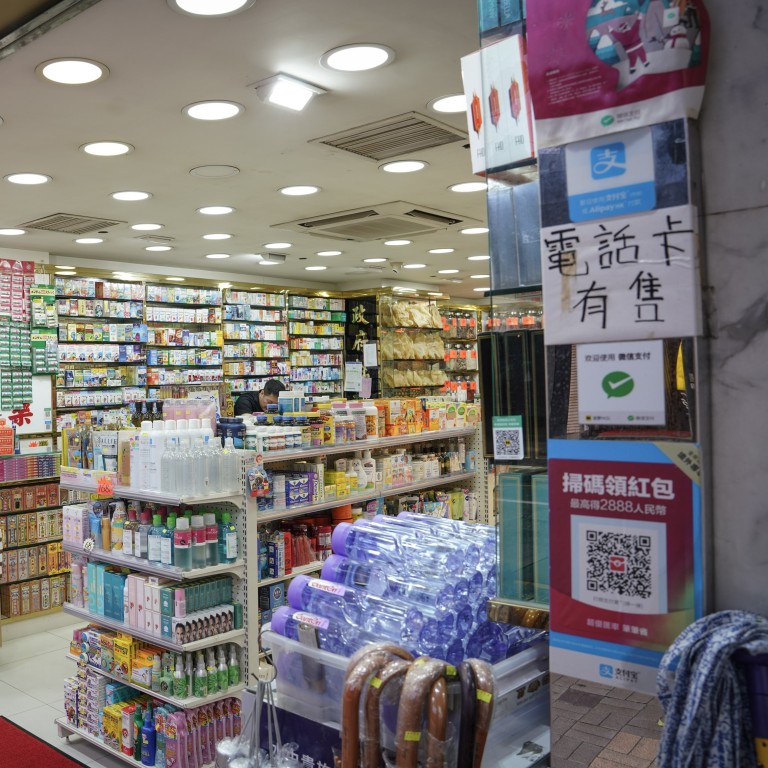 Citi cuts Hong Kong GDP growth forecast for fourth time this year, says retail and tourism could take months to recover
Bank cuts forecast for GDP growth to 0.6 per cent for 2019, 1.4 per cent for 2020
Hong Kong's retail and tourism sectors have suffered 'visible damage', lender says
Citigroup said it could take some time for Hong Kong's retail and tourism sectors to recover from three months of protests and civil unrest in the city, as the bank lowered its growth forecast for the city's economy for a fourth time this year.
The American bank cut its forecast for Hong Kong's gross domestic product growth to 0.6 per cent for 2019 and 1.4 per cent for 2020, citing the "visible damage" caused to the city's retail and tourism sectors.
"We think the retail picture likely worsened in August, after July recorded the weakest retail sales reading in 3.5 years," Adrienne Lui, a Citi economist, said in a research note published late on Thursday. "We are bearish on retail sales for the rest of the year and expect a slow recovery in local consumption. Revival of tourism receipts will take time as [Hong Kong] rebuilds its reputation as a tourist travelling destination."
On Wednesday, Hong Kong Chief Executive Carrie Lam Cheng Yuet-ngor said she would formally withdraw an extradition bill that would have made it easier to send criminal suspects to mainland China for trial.
The bill sparked mass protests in the city beginning in June, but several organisers said simply withdrawing the bill was not enough and the government must do more to address social, economic and political issues in the city.
The dim outlook by Citi comes after Hong Kong's government last month cut its own outlook for the city's economic growth to between 0 per cent and 1 per cent in 2019, and several banks have said growth could slow dramatically or contract this year.
Hong Kong's economy, which is also dependent on trade, has been squeezed by a trade war that has raged between the United States and China for more than a year. Many economists expect these trade tensions will continue into next year, even though the world's two biggest economies said they would resume talks next month.
"Hong Kong's political uncertainty has been escalating since July. Besides, the US-China trade war has re-escalated and the yuan has depreciated over 3 per cent against the US$ since early August," OCBC Wing Hang economist Carie Li said in a research note. "All these factors combined have weighed heavily on the already weak economy of Hong Kong and fuelled concerns about capital outflows from the financial hub.
"Nevertheless, so far, the impact of social unrest seems to have been restricted to industries including transport services, tourism-related services, retail sales and the property market."
Retailers and tourist-dependent businesses have been hit particularly hard as mass rallies and clashes between police and some more radical protesters have taken place in some of the city's main retail and tourism areas on weekends. The city's airport also saw hundreds of flights cancelled in August and the Airport Express was shut down on Sunday as protesters rallied outside the airport.
In August, the landlord for Prada's 15,000 sq ft retail store in Causeway Bay said the Milanese luxury company would shut its doors in June.
Tiffany & Company, the New York jewellery seller, said the protests were "taking a toll" on its business in Hong Kong, as its global sales dropped in the second quarter. Hong Kong is Tiffany's fourth largest market worldwide, behind the US, Japan and mainland China, and many of its 10 stores in the city have had to temporarily close at various points this summer because of the protests.
The Hong Kong Retail Management Association said in August most of its members suffered a 50 per cent sales drop in the first three weeks of the same month.
This article appeared in the South China Morning Post print edition as: HK retail, tourism will need time to recover, Citi says