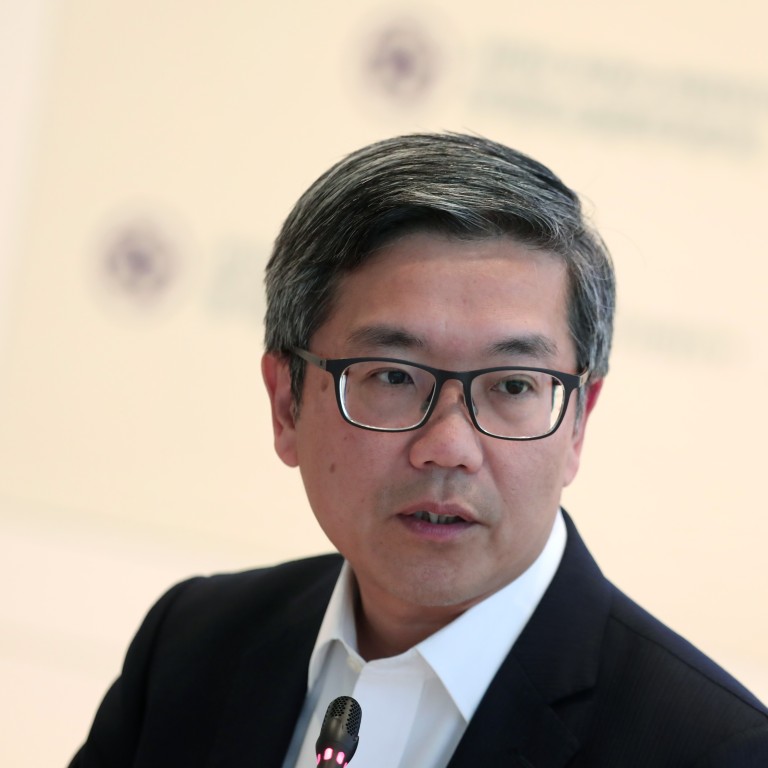 Hong Kong virtual banks could soft-launch some services in fourth quarter, monetary authority says
The introduction of virtual banking services will be a 'gradual' process, Arthur Yuen, deputy CEO of Hong Kong Monetary Authority, says
Virtual banks expect to offer 'simple' products initially
The city's new virtual banks could potentially have a soft launch of some services as soon as the fourth quarter of this year, according to Arthur Yuen, deputy chief executive of the Hong Kong Monetary Authority.
Speaking at the Hong Kong Institute of Bankers conference on Thursday, Yuen said the de facto central bank had not imposed a "six to nine month" timeline on the banks to begin business after the first licences were granted in March. So far, eight licences have been granted by the HKMA.
Reuters, citing sources, reported last week that the debut of Hong Kong's virtual banks was likely to be delayed until early next year, in part because of protests and civil unrest over a controversial extradition bill that has sent the city into one of its worst political crises. The disruption caused by the unrest since June has hit tourism, restaurants and retailers the hardest, and led some economists to predict the city's economy will contract this year.
"We are still working hard with those [virtual bank] licensees before they can launch the business formally. I'm not making predictions," Yuen said.
"The latest indications from some of those licensees is you will begin to see some services launched, perhaps in a soft-launch way, in the fourth quarter of this year. I do expect this process to be gradual.
"In the case of a lot of technology initiatives, in terms of apps or new gadgets, they tend to, sort of, launch in a moderated and gradual manner. I think the same can be expected of virtual banks in Hong Kong. They will launch their services in a staged manner."
The top executives of several of the city's new banking entrants said at Thursday's conference that they expected the banks to have a simple selection of products initially, and be built around the customer.
"What we've learned is we don't need to give them as many choices as possible, we need to give them the best choice," Tat Lee, alternate chief executive and executive director of WeLab Virtual Bank, said during a panel discussion on Thursday.
Frederic Lau, chief executive of Airstar Bank, the virtual bank being developed by AMTD Group and Xiaomi, said the bank was likely to offer "very simple products" in a way that focused on customer experience.
Deniz Guven, the chief executive of Standard Chartered's new virtual bank, said on the sidelines of the conference that it was possible one virtual lender could debut a single product through a soft launch this year, but he did not anticipate most of the banks, including Standard Chartered, to begin operations this year.
"Everyone is talking about the customer and the customer is the heart of their business," Guven said during the panel discussion. "Our first [key performance indicator] KPI is 'heart share', not the market share … We are not focusing on market share. We are focusing on heart share. If we can get the heart share of the customers, then the market share can come. Otherwise, we cannot win."
Hong Kong is one of Asia's most mature banking markets with 160 licensed banks and many of its residents holding more than one bank account. The HKMA has been encouraging the creation of virtual banks to boost technological innovation and financial inclusion in the city.
The city, however, has been rocked by protests this summer over a controversial bill that would have made it possible to extradite criminal suspects to mainland China for trial. Hong Kong Chief Executive Carrie Lam Cheng Yuet-ngor has formally withdrawn the bill, but that has done little to stop the unrest, which has evolved to include other issues, such as income inequality and affordable housing.
The demonstrations, marked by intensifying confrontations between police and more radicalised protesters, have caused some to question Hong Kong's future as an international financial centre and have hurt the city's stock market.
Several companies delayed initial public offerings this summer, but have begun to come back to the market. On Tuesday, Budweiser Brewing Company APAC, the regional unit of the world's largest brewer,
priced its Hong Kong listing at HK$27 a share
, potentially raising as much as US$5.75 billion.