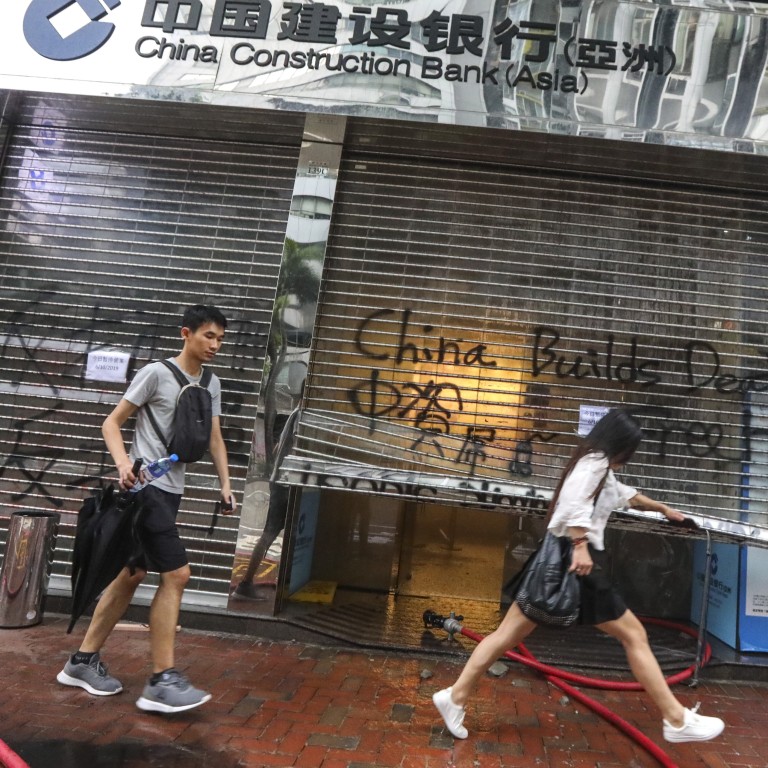 From email alerts to working from home, financial companies are implementing contingency plans as protests rage in Hong Kong
Banks say they're focused on safety of their employees, still being able to provide services to customers as Hong Kong protests continue
Employees are working remotely, getting email alerts on potential conflict points
Financial companies, among the most important drivers of Hong Kong's economy, are ramping up security, temporarily closing branches and allowing staff to work from home as the city endures one of the worst political crises in its history.
They are also alerting workers to changing traffic conditions and potential conflict points by email as anti-government protests that disrupt transit and daily life in the city enter a fifth month. Radical demonstrators have been targeting businesses with mainland-China ties – and in some cases mainlanders themselves.
But there is only so much you can do once employees leave the building, financial providers said.
The long holiday weekend that culminated on Monday, October 7, was marked by some of the most violent clashes so far after Hong Kong's government invoked a colonial-era emergency law to ban the wearing of face masks at public assemblies. Hard-core protesters vandalised MTR stations and mainland-associated businesses, including several Chinese bank branches.
As work resumed last week, a dozen bank branches
were closed
and more than 300 automated teller machines, roughly 10 per cent of the cash points scattered throughout the city, had been damaged and were not operational.
"Our priorities are the safety of our employees and support of our customers' financial needs," an HSBC spokeswoman said. "Our colleagues always have the option of flexible work arrangements."
All of HSBC's branches were open last week, but the bank closed branches ahead of planned demonstrations on October 5 and has lowered a security grate that restricts pedestrian access at its main building in Central at various points throughout the unrest.
The protests began in June over a controversial extradition bill that would have made it easier to send criminal suspects to mainland China for trial, but have morphed into a larger discussion about income inequality, affordable housing and the growing influence of Beijing over Hong Kong. The bill was formally withdrawn in September, but that has done little to stem increasingly violent clashes between more radical protesters and police.
On the weekend of October 5 and 6, most of the city's shopping malls closed and many Chinese banks shut branches and restricted access to their ATMs as the machines have increasingly become a target of vandalism. Several grocery store chains and 7-Elevens also closed on that Saturday.
The MTR, which has been a frequent target for vandalism during the demonstrations, closed nearly all of its network over that weekend and shut early every night of the next week to facilitate repairs.
With the disruptions stretching into workdays in recent weeks after primarily being restricted to weekends, HSBC, Standard Chartered and other banks said they were allowing employees to work remotely as needed.
"Safety of all our staff is our priority. We have a robust business continuity plan in place. In view of the current situation, we would provide flexibility to our staff's work arrangement and allow them to work from home if feasible," a Standard Chartered spokeswoman said. "At the moment, all our bank branches are open and provide services to our clients as usual."
On Friday, October 4, a JP Morgan employee was punched outside the company's offices at Chater House in Central after responding to protesters with "We are all Chinese" in Mandarin. The employee did not appear to be targeted because he worked for a global bank. Bloomberg
reported
that the incident prompted JP Morgan to increase security at its Hong Kong offices and warned employees to avoid its Central offices over the weekend.
JP Morgan declined to comment when contacted by the Post.
"The safety of all our employees is our top priority and we have a number of ways we are ensuring this and we continue to monitor and respond with staff updates as needed," a Citigroup spokesman said.
There were 237,018 people working in the finance and insurance sector, about 7.8 per cent of the overall workforce in Hong Kong, as of the end of the second quarter, according to the most recent sector data available from the city's Census and Statistics Department. It was unclear, however, how many were employed by mainland-owned companies as many Chinese firms do not provide a breakdown of their Hong Kong workforce.
"We have reminded our staff to stay alert, and keep away from dangerous areas," Max Yu, senior deputy chief strategy officer of China Resources Group, said on the sidelines of a Greater Bay Area forum in Hong Kong on Thursday.
China Resources, a state-owned conglomerate based in Hong Kong with businesses ranging from finance to consumer products and property, has more than 6,000 employees in the city, with 90 per cent of them being Hongkongers.
Given businesses and individuals with mainland ties have been targeted, Yu said he encouraged employees to try to avoid clashes with protesters.
"No need to challenge irrational people. It does not help resolving the conflict, but will make it worse," he said.
Following the September 11 terrorist attacks in New York, many global banks have implemented additional security measures to keep track of and advise employees when there are dangerous situations in or around their offices, such as a building fire or terrorist incident. These can include requests for employees to check in with a company's global security centre.
There is no indication that financial providers have implemented the more extreme measures in Hong Kong, such as mandatory check-ins, during the four months the protests have been happening. The worst clashes have occurred when most employees are not in the office.
Financial providers, however, have been staying in contact with their employees with internal emails alerting them to changing conditions, such as transport network closures or potential sites of demonstrations.
"We've been providing our employees with detailed travel and security updates," a Goldman Sachs spokesman said.
Banks have declined to elaborate on their overall security plans, but Bank of China Hong Kong, one of three banks authorised to print money in the city, said on Tuesday it had "activated its contingency plan" after several of its branches and ATMs were damaged by protesters. The Hong Kong arm was established in the city more than 100 years ago.
"Our customers' assets, information and all safe-deposit boxes remain safe upon evaluation," BOCHK said in a statement. "We would like to reiterate that the operation of the bank remains normal, with a strong financial position and ample liquidity."
Societe Generale said it has "business continuity measures in place" to ensure the bank is able to operate and provide service to its clients.
"With this in mind, staff are informed of potential traffic disruptions, work from home when relevant, and reminded to take personal safety as a priority during their commute to the workplace," the spokesman said.
Additional reporting by Xie Yu and Holly Chik.
This article appeared in the South China Morning Post print edition as: Contingency plans in place at banks as protests rage on