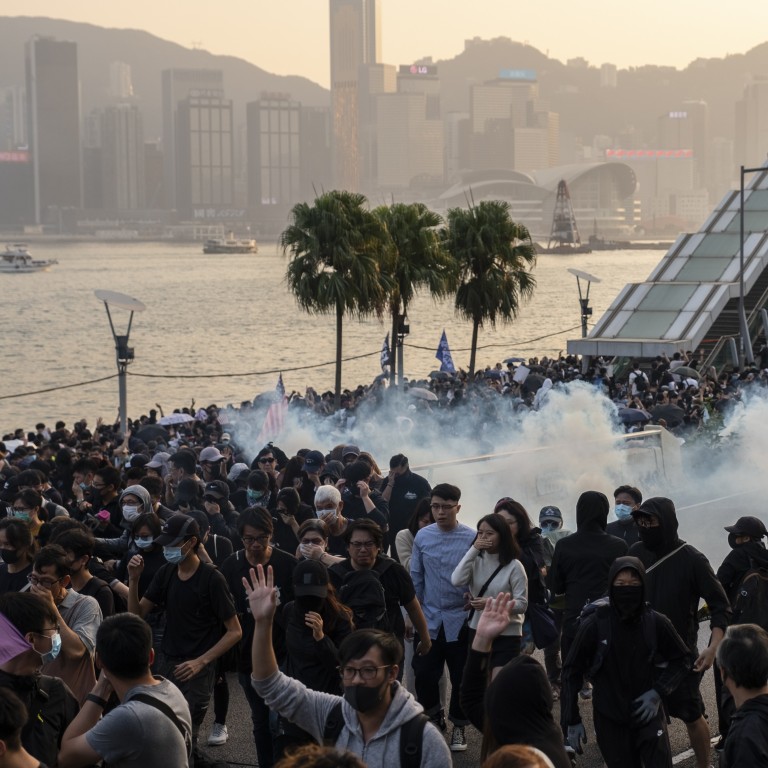 Hong Kong's deteriorating economy puts city's reputation as business hub at risk if protests persist, says Fitch
Fitch Ratings updates its 2019 GDP forecast for Hong Kong to minus 1.5 per cent from its earlier estimate of zero growth
International perceptions of the intrinsic strengths of Hong Kong's business environment are still at risk, which could eventually weaken its status, says Fitch
Hong Kong's economic outlook continues to deteriorate as six months of street protests drove the local economy into a contraction, while persistent unrest puts the city's business reputation and environment at risk, said Fitch Ratings.
The company, the first among the world's three major credit rating agencies to downgrade Hong Kong's creditworthiness, this week said the city's economy is likely to have contracted by 1.5 per cent in 2019, cutting its forecast from an earlier estimate of zero growth. Hong Kong's economy entered into a
"technical recession"
in the third quarter.
"International perceptions of the intrinsic strengths of Hong Kong's business environment are still at risk, which could eventually weaken its status," said Stephen Schwartz and Andrew Fennell, Fitch's sovereign analysts based in Hong Kong. "This suggests potential further downside risks to its credit rating."
Fitch in September cut its rating of Hong Kong-issued debt
to "AA" with a "negative outlook", from an earlier "AA+" rating with "stable outlook", citing the negative impact of the ongoing protests. A "negative outlook" indicates a potential downward trend on its rating scale over a one to two-year period. A negative or positive outlook, however, does not necessarily result in a rating change.
While the HK$25 billion (US$3.2 billion) fiscal relief measures announced by the government since mid-August could improve its growth outlook for 2020 slightly, the lingering social unrest continues to make its economic outlook vulnerable, it said.
A recent government survey showed that foreign firms particularly value the territory's rule of law and independent judiciary, its political stability and security, but "firms may begin to question these assumptions if political uncertainty continues," Fitch said.
But some indicators continue to paint a positive picture for Hong Kong's medium-term prospects. These include the city's role as the flagship offshore financing centre for Chinese firms, as exemplified by
Alibaba Group Holding's listing
on the Hong Kong stock exchange last month. Alibaba owns the
South China Morning Post
.
Banking sector deposits, business registrations and employment visas data too show little evidence that Hong Kong's role as a global commerce centre has diminished.
"All of this underlines Hong Kong's important role in channelling international finance to Chinese firms, one in which it is unlikely to be easily substituted," Fitch said.
But the unrelenting social unrest is unlikely come to an end soon, said Adrian Mowat, CLSA's chief strategist.
"Our base case is that the current situation continues. There isn't a political solution to it. Hong Kong businesses will continue to suffer from the pressure that we're seeing on the economy," Mowat said.
The investment group expects Hong Kong GDP to contract by 1.2 per cent this year, narrowing the contraction to 0.4 per cent in 2020.
Heading into next year, CLSA has a more positive outlook for the mainland-stock heavy Hang Seng Index versus the MSCI Hong Kong Index, which is focused on more domestically driven stocks.
CLSA has a target of 29,600 for the Hang Seng Index, or about a 10 per cent return next year, Mowat said. By comparison, the MSCI Hong Kong, which includes Hong Kong insurance and property companies, is expected to post a return of just 1 to 2 per cent, he said.
This article appeared in the South China Morning Post print edition as: City faces long-term damage, Fitch warns