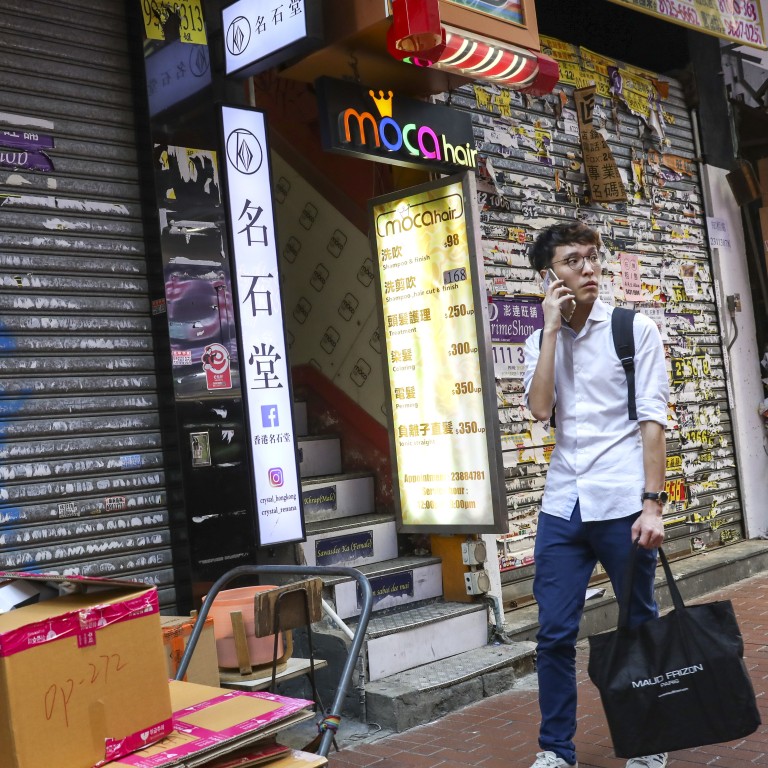 Coronavirus: HSBC and Standard Chartered among Hong Kong banks to waive fees, cut loan repayments for small businesses, individuals struggling amid outbreak
Relief measures follow the financial secretary's warning that economy could shrink again in 2020 as viral outbreak dents businesses
City's lenders have previously offered large-scale relief measures during the Sars outbreak in 2003 and the Asian financial crisis in 1998
A number of Hong Kong banks including HSBC and Standard Chartered have rushed to introduce measures to relieve the pressure on small and medium-sized businesses and individuals as the
coronavirus outbreak
threatens to further derail the city's embattled economy.
The measures, which include waiving fees and letting customers pay just the interest on loans, come as industries such as restaurants, retail and tourism take a huge hit from the health crisis. Months of
anti-government protests
and the effects of the
trade war
had already dealt them a massive blow.
The city's lenders have previously offered large-scale relief measures, during the Sars (severe acute respiratory syndrome) outbreak in 2003 and the Asian financial crisis in 1998.
China Citic Bank International will offer 24-month loans of HK$80,000 or HK$150,000 each to small and mid-sized businesses with a promise to approve eligible applications within five days, it announced on late Friday. Borrowers only need to service the interest in the first year, before the principal plus interest repayments kick in from the 13th month, it said.
The Bank of East Asia will allow customers to apply for repayment of just the interest on their loans and debt restructuring, according to a spokeswoman.
"We understand the coronavirus outbreak has made life difficult for many or our individual and corporate customers. As a result, we have been offering relief measures to help customers. The measures will depend on their individual needs and will be determined on a case-by-case basis," she said.
Hang Seng Bank, a subsidiary of HSBC, has tasked its team of commercial customer relationship managers to contact its customers to find out how it can help them.
"Besides mortgage borrowers, Hang Seng Bank will allow commercial customers to repay only the interest on their trade finance, corporate loans and property loans," a bank spokeswoman said in a statement.
For small and medium-sized enterprise (SMEs), Hang Seng will waive application fees if they apply for a loan online before June 30. It will also pay the first-year guarantee fee for customers joining the Hong Kong Mortgage Corporation's SME Financing Guarantee Scheme. The scheme allows SMEs to borrow up to HK$15 million at a low-interest rate in return for a guarantee fee every year.
The three local lenders rolled out their measures on Friday, after the three note-issuing bank – HSBC, Standard Chartered and Bank of China Hong Kong announced theirs on Thursday.
Their offers of help come as Hong Kong's economy faces a double-whammy from the coronavirus emergency and months of violent civil unrest. Before the viral outbreak, the government had already estimated its first fiscal shortfall in 15 years, for 2019-20.
Financial Secretary Paul Chan Mo-po warned on Sunday that the economy could shrink again in 2020 after falling 1.2 per cent in 2019 as the health crisis prevents tourists from visiting and many locals avoid going out to shop or dine.
The city's main airline, Cathay Pacific,
has asked staff to take unpaid leave
, and many restaurants and hotels are following suit. Some smaller restaurants and shops are struggling to survive.
Law Chi-kwong, the Secretary for Labour and Welfare, said last month that the unemployment rate would hit 4 to 5 per cent this year, up from the existing 3.3 per cent, with more shops expected to go out of business after Lunar New Year.
He said his estimate was similar to that of 2003 when Sars wreaked havoc in the city.
Mainland China's banks have also been urged to take special measures to help companies and individual customers who find themselves struggling.
The China Banking and Insurance Regulatory Commission issued guidance last month that mainland lenders should extend credit and cut interest rates to companies facing difficulties as a result of the health crisis, as well as give special consideration to individuals having problems repaying mortgages or credit cards.
At a press conference on Friday, Zhou Liang, a vice-chairman at the banking regulator, said China's banks had increased lending and cut rates for firms affected by the coronavirus outbreak.
Bank of China Hong Kong (BOCHK) was the first of the Hong Kong's lenders to announce offers to help relieve the strain, including allowing mortgage borrowers to repay interest only for up to a year. It will also implement a speedy one-day approval process for low-interest SME loans of up to HK$2 million, with a repayment period of five years.
For companies that produce masks and other medical equipment to contain the virus, BOCHK will facilitate their account-opening, remittances and payments, and waive all fees. HSBC and Standard Chartered quickly followed BOCHK's lead, saying they are keeping in close contact with customers to offer help.
Owners of smaller businesses welcomed the measures, but did not think all of them were particularly helpful.
"The coronavirus outbreak is even worse than the anti-government protests. People go out for dining on the days when there are no protests. But since the outbreak started two weeks ago, everyone is staying home, and very few are going to restaurants to have meals," said Ivan Wong, who owns Yakiniku More, a Japanese barbecue restaurant in Tsim Sha Tsui.
"I will look at the relief measures of the banks to see if there are any low-interest loan programmes to help ease cash flow. I do not think the offer to repay interest only is very helpful, but the low-interest loans will be helpful," he said.
This article appeared in the South China Morning Post print edition as: Three more banks offer help to small firms