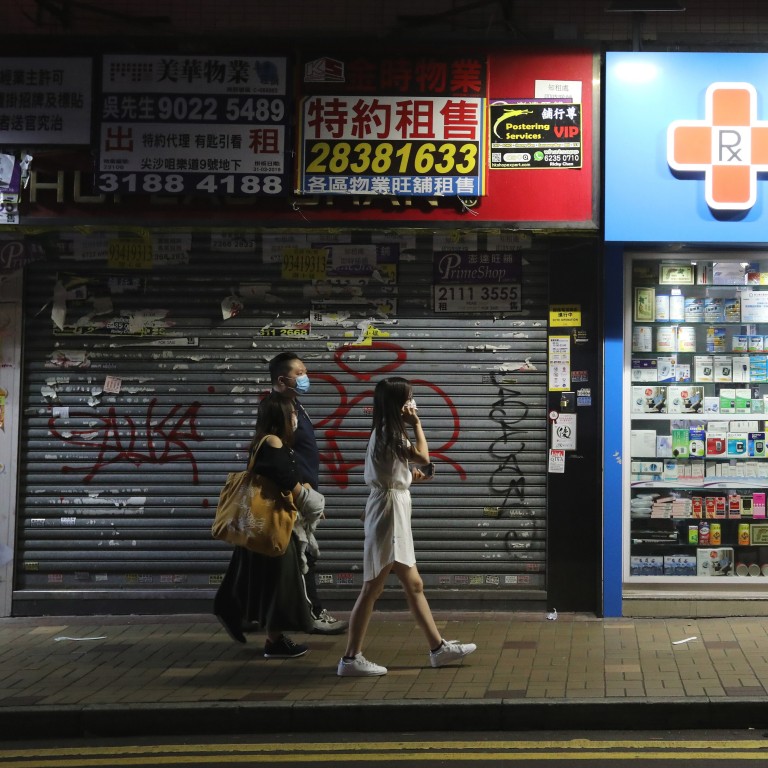 Hong Kong orders banks to grant unprecedented six-month loan repayment holiday to help small businesses survive slump
All 162 banks asked to extend principal payment holiday as well as revolving facilities between May 1 and October 31
Payment holiday to help sector benefit from HK$1 trillion lending support announced by HKMA
Hong Kong's monetary authority has instructed all banks in the city to grant a six-month loan repayment holiday to small and medium-sized enterprises (SMEs), in an unprecedented intervention aimed at helping them survive its worst business slump in decades, as the city's retail, property and services industries struggle to recover from the coronavirus pandemic.
The intervention by the Hong Kong Monetary Authority (HKMA) – the first such by the de facto central bank since its founding in 1993 – comes as SMEs bear the brunt of dwindling cash flow amid the crisis. Any manufacturing business with fewer than 100 employees, or any non-manufacturing business with fewer than 50 people, can be defined as an SME. On Friday, the HKMA asked all 162 banks to extend a holiday from May 1 through October 31 on principal payments on corporate loans, as well as revolving facilities, to their small corporate borrowers. SMEs with shorter term loans will get a break of three months.
The payment holiday is also expected to help the sector benefit from a HK$1 trillion (US$129 billion) lending support the HKMA has made available through several regulatory changes in recent months.
Four in every 10 SMEs, which employ about 45 per cent of the city's non-government employees, said they expected their earnings to plunge by 75 per cent or more over the next year, according to a recent survey. The six-month payment holiday is expected to provide these companies with breathing space and prevent
more bankruptcies and job losses.
All SMEs with an annual turnover of HK$800 million or below can enjoy the break. This qualification covers 80 per cent of corporate borrowers in Hong Kong. The borrowers, who must have no record of overdue payments more than 30 days, will only need to repay the interest owed during this period.
"A six-month payment break is exactly what the SMEs need to solve their credit crunch problems," said Peter Shiu Ka-fai, the Hong Kong lawmaker representing the wholesale and retail sector. "The HK$800 million threshold is also good enough to cover a wide range of companies. The business sector has lobbied for such measures for sometime, and the HKMA's new measures will be a lifeline for many small companies," he said.
The HKMA also wants the payment holiday rolled out quickly. "In light of the economic challenges brought about by the Covid-19 outbreak, the banking sector considers it essential for the scheme to be implemented quickly to alleviate the cash-flow pressure faced by corporate customers," it said in a statement.
Companies will not have to approach the banks, who will contact them within the month of April and offer the payment holiday. The companies that accept these offers will have to let their banks know within 14 days.
The authority reminded all banks that they must "devote sufficient resources" to ensure a smooth operation, and that they must set up hotlines for customers who wish to make inquiries. "The HKMA will monitor the operation of the scheme and maintain close dialogue with banks to improve the scheme's implementation on an ongoing basis," it said.
HSBC, Standard Chartered and Bank of China (Hong Kong), all three of Hong Kong's currency-issuing banks, as well as Bank of East Asia, said they fully supported the scheme. "This is yet another timely measure to provide immediate liquidity relief to businesses and protect jobs," an HSBC spokeswoman said.
Many companies have had to shut their doors because of the pandemic, which has infected more than two million people and killed more than 145,000 worldwide. In Hong Kong, Covid-19 has infected more than 1,000 people and claimed four lives. The crisis has forced people to work from home and hit the tourism, food and beverage and leisure industries hard. A majority of companies in these sectors are SMEs.
The government has introduced many measures to boost the local economy in recent months. This week it said it would guarantee 100 per cent of loans up to HK$4 million taken out by SMEs. The government will also pay half of the monthly salaries of all staff members up to HK$9,000 each for six months. About 9,000 SMEs have received HK$57 billion in funding from previous relief measures offered by banks over the past two months. The local banks have also approved 2,800 principal payment holiday applications from individuals for residential mortgages or personal loans worth more than HK$8 billion.
But many SMEs said they were uncertain about relief from these measures. In some cases, the approval process was too slow, or the coverage was not wide enough. The need for personal guarantees was also of great concern.
This article appeared in the South China Morning Post print edition as: HKMA orders banks to give repayment break