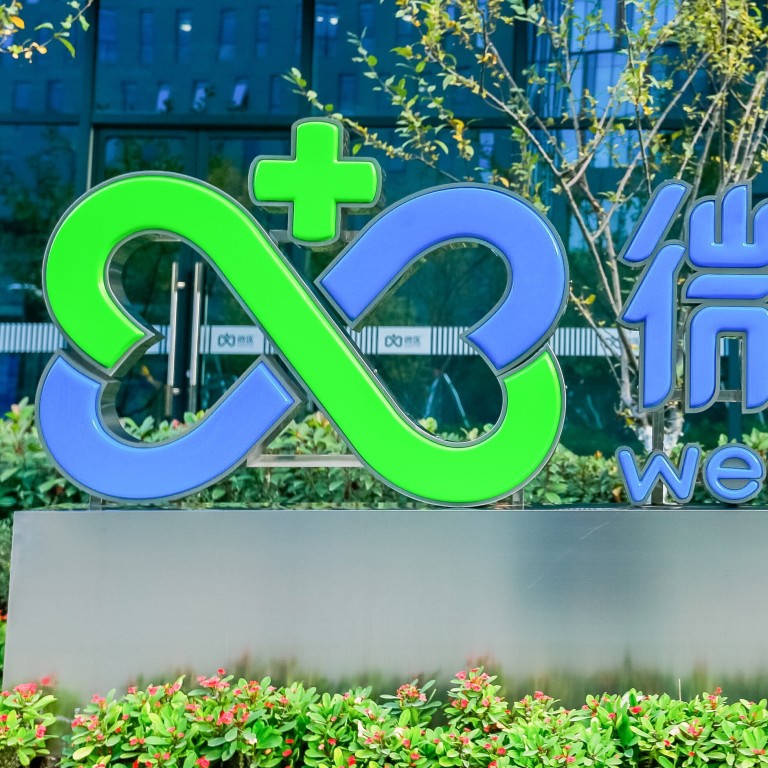 Exclusive

|
Tencent-backed WeDoctor makes IPO appointment in Hong Kong and writes prescription for digital health care post-pandemic
Coronavirus pandemic turbocharged consumer adoption of digital health care in China and won the sector policy support
WeDoctor's path to profitability to undergo examination ahead of US$700 million to US$800 million IPO in Hong Kong
When Dr Gao Jin's clinic closed during the coronavirus pandemic she ramped up virtual consultations from home, talking over her laptop with people from across China who were worried they might have caught Covid-19.
After returning to work at her clinic in Chengdu, Sichuan province, she still puts aside a few hours a week for virtual chats. Some of her patients now prefer to seek advice online rather than waiting an average of three hours for an eight-minute consultation in China's hospitals.
"In the public hospitals, the time for each patient is very limited, so the patient is not clear about follow-up or not sure about the medicine they've got," said Dr Gao, who charges patients for sessions that normally last about 20 minutes.
Zooming with the family GP became commonplace during the coronavirus pandemic. Consumers signed up in droves to apps linking them with doctors, while investors drove their share prices higher in hopes that patient behaviour had changed forever. Technology and health care are the
top-performing sectors
in the MSCI suite of indices so far this year.
As lockdowns are lifted, health care companies are scrambling to ensure patients who logged on for the first time do not all revert to sitting in doctors' surgeries.
Chinese start-up WeDoctor hosted free virtual consultations for 1.8 million people during the pandemic and, to keep people engaged, is working with the Chinese government so that patients can quickly and easily reclaim health care costs. Tianjin municipality has already referred to WeDoctor 2.6 million chronically ill patients covered by its basic medical insurance.
"The only way to sustain consumer behaviour for online digital health care is going through social insurance," said John Cai, WeDoctor's chief financial officer. "This is our key differentiation."
The move illustrates a sea-change in Chinese officials' attitudes vis-à-vis entrusting tech firms with citizens' well-being and personal data. The world's most populous nation is funnelling patients towards digital platforms as a way to reduce overcrowding in hospitals, prepare for future pandemics and care for its ageing society.
Social-security coverage of online consultations and prescriptions reinforces patient behaviour and further alleviates pressure on China's often creaky, paper-based and patchy offline health service.
"The debate about making prescription drugs available online had been going on for years but during the lockdown, policy was shaped almost instantaneously in certain areas and big cities to make repeat prescriptions available online," said Rogier Janssens, the general manager of German Merck's health care business in China.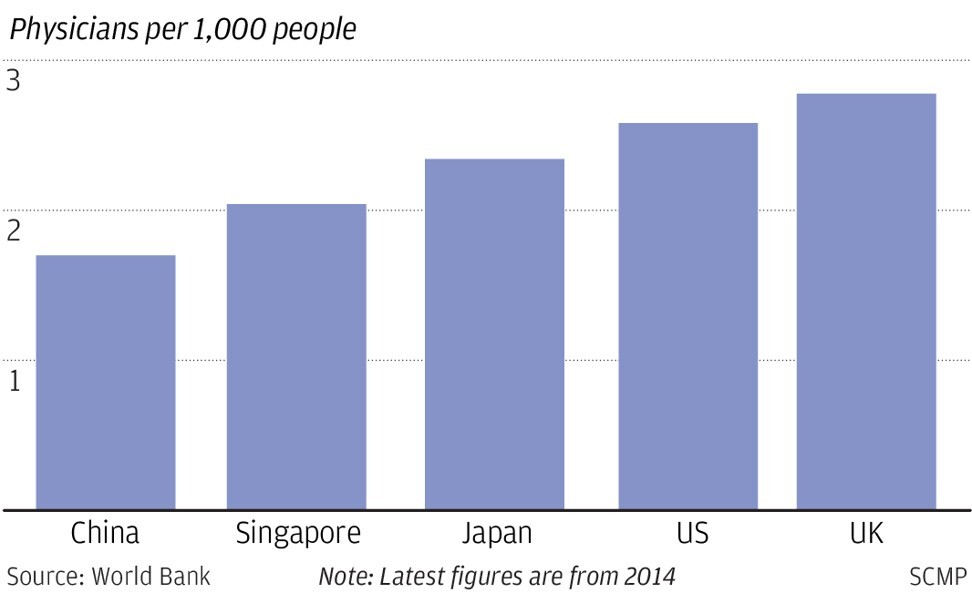 Wuhan, the epicentre of the coronavirus outbreak, made internet medical services eligible for reimbursement on February 23. Other cities have quickly followed suit, including Zhejiang, Tianjin, Jiangsu and Shanghai.
At the height of the epidemic in Wuhan, WeDoctor set up its internet hospital and connected to the city's social security network within 36 hours.
Hangzhou-based WeDoctor has also hooked up to the social insurance system in cities across Tianjin and Shandong province and is busy applying for social insurance connections in other cities as well.
"WeDoctor seems to be a front-runner as a preferred platform [for government's to work with]," said Charlene Liu, a research analyst at HSBC.
China sets a high bar for connecting to its social security network, testing software providers' digital and medical capabilities before granting approval. This means fly-by-night copycats would struggle to replicate WeDoctor's model.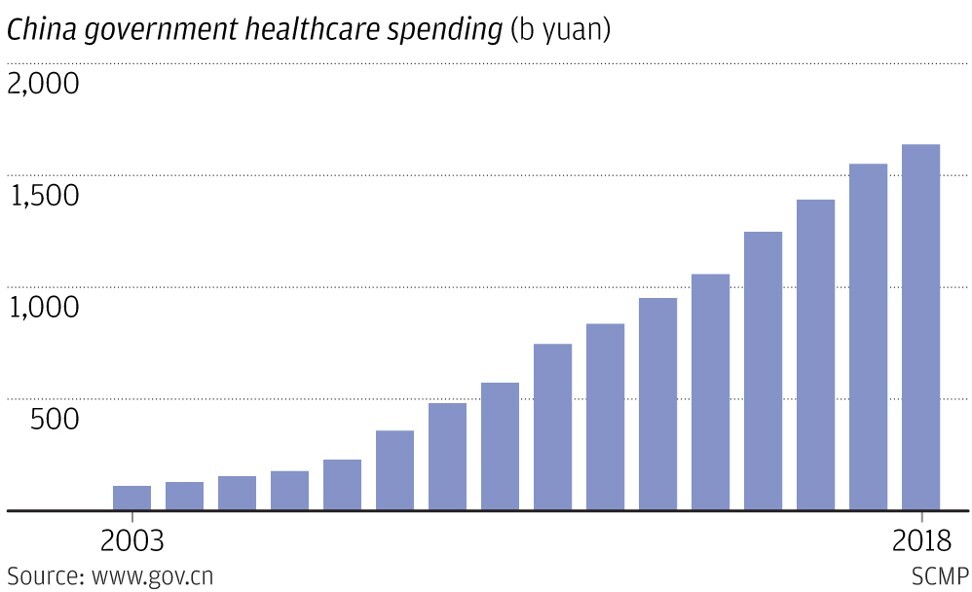 WeDoctor was well placed to turn the coronavirus crisis into an opportunity. Jerry Liao Jieyuan founded it in 2010 to help patients book appointments at hospitals on its website
www.guahao.com
.
In December 2015, WeDoctor won China's first internet hospital licence, based in Wuzhen but with a nationwide remit. Since then peers Ping An Healthcare and
Alibaba Health
have also obtained licences.
WeDoctor is now linking public hospitals with pharmacies on what it calls a "health care collaboration platform". The idea is to treat chronically ill patients online while matching critical cases with specialists in hospitals. It piloted the platform in Sanming city, Fujian province, and rolled it out earlier this year in Tianjin.
"We can optimise resources and save costs of the social security fund and save patients' time and make it more efficient for hospitals," said WeDoctor's Cai.
Apart from online consultations, WeDoctor's other divisions include cloud services, insurance and pharmaceuticals.
WeDoctor worked with 2,700 hospitals, 220,000 doctors, 15,000 pharmacies and had 27 million monthly active users as of 2018 when it
raised US$500 million
privately, valuing the start-up at US$5.5 billion. According to its app, the number of registered doctors has grown to about 240,000 as of May 15. The company is verifying the data for its IPO prospectus.
Tencent-backed WeDoctor will undergo a very public examination itself when it looks to raise US$700 million to US$800 million in a Hong Kong IPO within the coming months, according to people familiar with its plans. It has hired
China Merchants Bank, Citigroup and JP Morgan
to help net investors.
Investors have driven up the shares
of WeDoctor peer Ping An Healthcare by 86.6 per cent since the start of the year. Alibaba Health is 114.2 per cent higher and NYSE-listed Teladoc Health's share price has doubled in value since the start of the year.
"The application of artificial intelligence can help the government and health practitioners to improve their efficiency and deliver high-quality service to the public," said Dr Minchuan Wang, a partner at 3H Health Investment.
Many will query its path to profitability.
China Renaissance, an investment bank, is forecasting break-even for WeDoctor rival, Ping An Healthcare, by 2022. A person familiar with WeDoctor's financial statements said it was on track to turn a profit about the same time. A WeDoctor spokeswoman declined to comment.
WeDoctor generates commissions from three main sources: social insurance payments, working with around 60 commercial insurance companies, and from the patients themselves.
A patient can consult an artificial intelligence or select a doctor to talk to on WeDoctor's app. The price of a consultation depends on the doctor's qualifications and the treatment.
Even without a fillip from the coronavirus pandemic, online health care consultation sales are growing vigorously, driven by advances in artificial intelligence and a burgeoning middle class splurging on well-being, even booking expensive packages for cosmetic surgeries or overseas treatments.
Market research firm Frost & Sullivan predicts a compound annual growth rate for the sector of 39.8 per cent to 252 billion yuan (US$35.39 billion) by 2024. The number of users will leap to 496 this year from 380 million in 2019, it said.
To be sure, digital health care regulation is evolving and could reverse course in what is still an emerging economy. Also, many patients will inevitably drift back to face-to-face consultations, especially in the stronghold of traditional Chinese medicine where taking a patient's pulse is a pillar of diagnosis.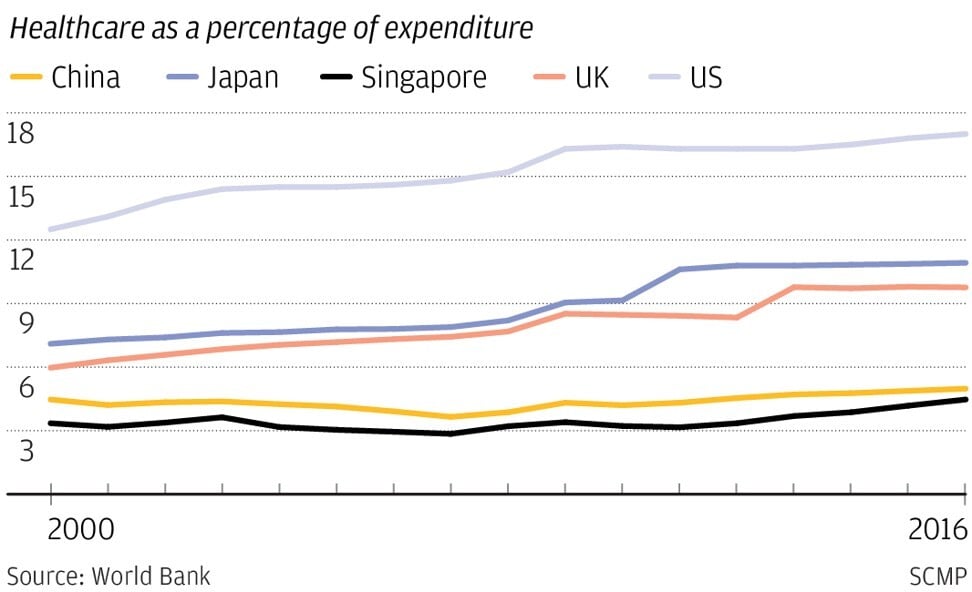 Still, growth is likely to come from another source: the doctors. Many are keen to create an online and offline practice as a way to earn extra income.
Even Chinese medicine practitioners on WeDoctor's platform are first examining people's tongues on video, and if that fails, arranging an offline visit.
Now that more doctors are signing up to WeDoctor's platform, Dr Gao said she has more time to focus on her speciality, gynaecology, both at her clinic and in her online consultations. She finds the system helps her manage time efficiently.
"Combining online and offline services, it's very flexible," said Dr Gao.
This article appeared in the South China Morning Post print edition as: wEDOCTOR PRESCRIBES DIGITAL CURE IN POST-PANDEMIC CHINA