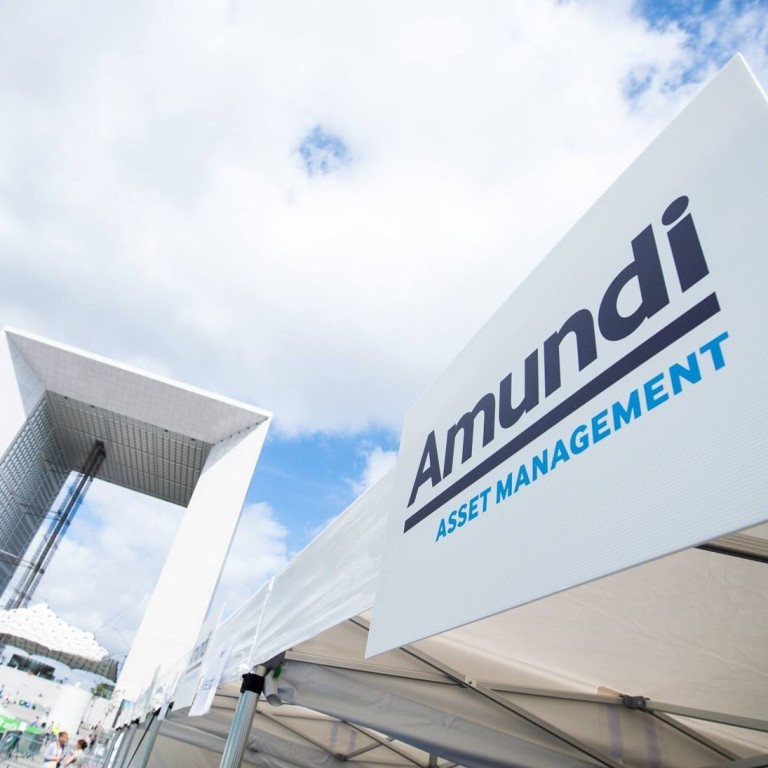 Foreign wealth management giants poised to tap China's US$3.7 trillion market as new rules promise to cut risk
Europe's biggest asset manager Amundi launched its majority-owned wealth management venture in Shanghai recently, becoming the first foreign company to do so
A shake-up of the rules around wealth management in China designed to eradicate risks that previously plagued the sector has helped smooth the way for foreign players
A shake-up of the rules around
wealth management
in China designed to eradicate risks that previously plagued the sector has helped smooth the way for foreign players keen to tap the enormous market, according to Europe's biggest asset manager.
Amundi launched its majority-owned wealth management venture in Shanghai on September 30, becoming the first foreign company to do so.
The French asset manager owns 55 per cent of the venture, known as Amundi BOC Wealth Management, while Bank of China holds the remainder.
"It's obvious that we have to be present in this market," said Julien Fontaine, Amundi's head of partnerships. "We want to be part of the development of
China's wealth management market
."
In April 2018, the People's Bank of China, the mainland's central bank, published guidance that required banks to remove "implicit guarantees" on principals and return rates, a move aimed at eradicating irregularities and introducing professional asset management skills to the banks offering the products. The new rule was originally scheduled to take effect at the beginning of 2021, but has been postponed by a year because of the coronavirus.
Fontaine said the new regulation represented a big shift in China's wealth management sector and had kick-started a "brutal process" for banks to develop professional asset management skills, particularly risk awareness capabilities.
Wealth management products in mainland China's banking system have reached a staggering scale, with more than 25 trillion yuan (US$3.68 trillion) of funds to be tapped, and Beijing is eager to get globally renowned asset managers to participate. That number is forecast to more than double to 57 trillion yuan in a decade, according to fund consultancy Z-Ben Advisors.
While it remains to be seen whether mainland depositors will be keen on buying wealth management products offered by foreign players, the regulators seem determined to reduce the risks and improve banks' asset management skills.
Their efforts appear to be having the desired effect. In August, US asset management giant
BlackRock
secured regulatory approval to set up a wealth management venture with Temasek Holdings and China Construction Bank on the mainland.
Wealth management products are normally designed for depositors with low risk appetite and they are typically invested in fixed-income and monetary market instruments.
China's wealth management products, used to tap depositors' massive savings, hit a blip in early 2013 when a product sold at a Huaxia Bank branch in Shanghai failed to repay more than 90 investors their principals.
At that time, the banks acted as middlemen to issue the products to investors on behalf of borrowers who needed the funds.
The borrowers offered lofty interest rates to depositors to facilitate fundraising.
It was essentially part of the country's shadow banking system and carried huge risks that could have potentially undermined the mainland's financial sector, according to Xiao Gang, formerly the top boss at Bank of China, who went on to be chairman of the China Securities Regulatory Commission.
Many of the assets underlying the products were linked to high-risk projects, which sometimes found it impossible to generate sufficient cash flow to meet repayment obligations.
There is a long way to go in terms of completely eliminating risk and bringing domestic banks up to speed, said Ding Haifeng, a consultant with Shanghai-based financial advisory firm Integrity.
"Commercial banks in China have yet to create strong and skilful asset management teams that are able to manage multi-trillion-yuan assets," said Ding. "But it will take a long time before foreign players can play a role in the wealth management market."
Amundi's venture will focus on "fixed income plus" and "multi-asset" products with the objective of offering an attractive yield to investors while keeping a low to moderate risk profile, said Fontaine.
Zhong Xiaofeng, chief executive of the company's North Asia operations, said Chinese banks needed foreign help to grow their investment capabilities.
"By participating in the process, we grow our portfolio, and our assets as well," he added.
This article appeared in the South China Morning Post print edition as: Rule change opens way for foreign wealth firms