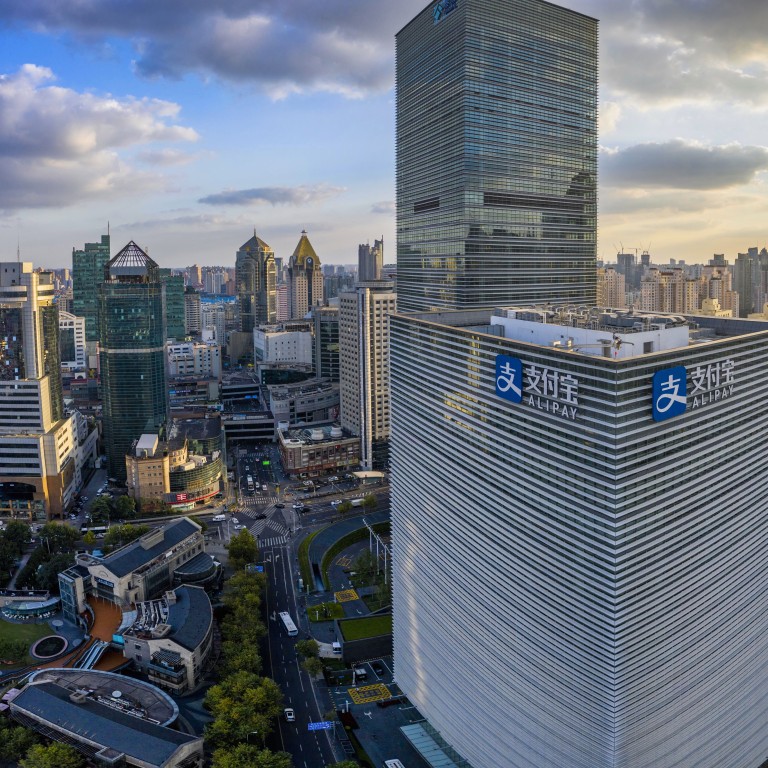 Banks, brokers to offer record US$38.7 billion of margin financing for Hong Kong retail investors to buy into Ant's giant IPO
HSBC plans to lend HK$100 billion, while brokerage Bright Smart will lend HK$50 billion, making them the top two lenders for investors to subscribe to Ant Group's IPO this week
Banks and brokers are waiving fees, offering low interest rates and accept clients with high leverage as they compete for customers who want to invest in the hottest IPO in decades
Hong Kong's banks and brokers are offering record margin loans of almost HK$300 billion (US$38.7 billion) for retail investors to buy into
Ant Group's IPO
this week, which is on course to be the most popular offering ever in the city.
HSBC, Hong Kong's biggest bank, is ready with an IPO lending capacity of over HK$100 billion to support retail investors subscribing to the mammoth flotation, according to a statement from the lender issued on Friday.
At the same time, Bright Smart Securities, the biggest local broker to offer IPO margin financing, is prepared to lend HK$50 billion to customers wanting a slice of the action.
Ant priced its Hong Kong stock at HK$80 (US$10.32) apiece, and its 1.67 billion shares destined for the Shanghai exchange at 68.80 yuan (US$10.27) each, putting on course to raise about US$34.5 billion from its dual listing.
Other retail banks such as Bank of China (Hong Kong), Hang Seng Bank as well as many of the 600 local stockbrokers have prepared over HK$150 billion for their customers to borrow for the red hot IPO, brokers estimate.
It means Ant's Hong Kong retail tranche of the IPO to be kicked off on Tuesday is likely to dethrone bottled water maker Nongfu Spring's record-breaking IPO in the city two months earlier. Nongfu Spring prompted investors to borrow a total of HK$203.7 billion of margin loans to invest in its stock. Including those paying in cash, the
Nongfu Spring IPO
locked up as much as HK$677 billion – about a third of Hong Kong's daily cash in circulation.
Brokers expected Ant's IPO to lock up HK$800 billion, including borrowed funds and cash, said Edmond Hui, chief executive of Bright Smart.
"Ant's margin loans are poised to set a new record high if banks can offer enough support to the stockbrokers to lend to the customers," Hui said. "Ant is the hottest IPOs I have ever seen in my almost 30 years as a broker. It is likely to set a new record."
Retail investors in Hong Kong can subscribe to the Ant IPO from Tuesday until Friday. Banks and brokers started to promote it to investors on Monday, unveiling a range of incentives from waiving of fees to lowering interest rates or accepting customers who are already highly leveraged.
HSBC
is planning to offer "a highly competitive interest rate, handling fees will also be waived when customers apply for subscription through HSBC Easy Invest app, mobile and internet banking" to tap demand, the lender said in a statement.
BOCHK offered a 0.5 per cent interest rate – compared with the normal 3 to 4 per cent for IPO lending – for customers who subscribe to the IPO online.
"Ant's IPO is a good opportunity for local brokers to capture business. But I usually encourage customers to use cash instead of borrowing margin loans to subscribe to new shares to prevent them from taking too high a risk," said Christopher Cheung Wah-fung, chief executive of Christfund Securities.
Brokerages are also seeking to attract business by offering leverage to retail clients applying for Ant's shares. Online brokerage Tiger Brokers said apart from a lending capacity of "several tens of billion" dollars, it will offer 20 times leverage to investors to subscribe to Ant's IPO.
Huatai International, the Hong Kong arm of the fourth-largest mainland securities house, is also prepared to lend at 33 times leverage for Ant's IPO, meaning an investor would only need to put down roughly HK$3 as a deposit to borrow every HK$100 they borrow.
Hong Kong's monetary market has been affected by Ant's IPO since last month. Overseas investors are piling funding into Hong Kong ahead of the listing, as they jostle for a piece of the deal. More than HK$211.52 billion has flowed into the city since September 14, forcing the Hong Kong Monetary Authority, the de facto central bank, to intervene 41 times to try to weaken the Hong Kong dollar.