IPO
Get more with myNEWS
A personalised news feed of stories that matter to you
Learn more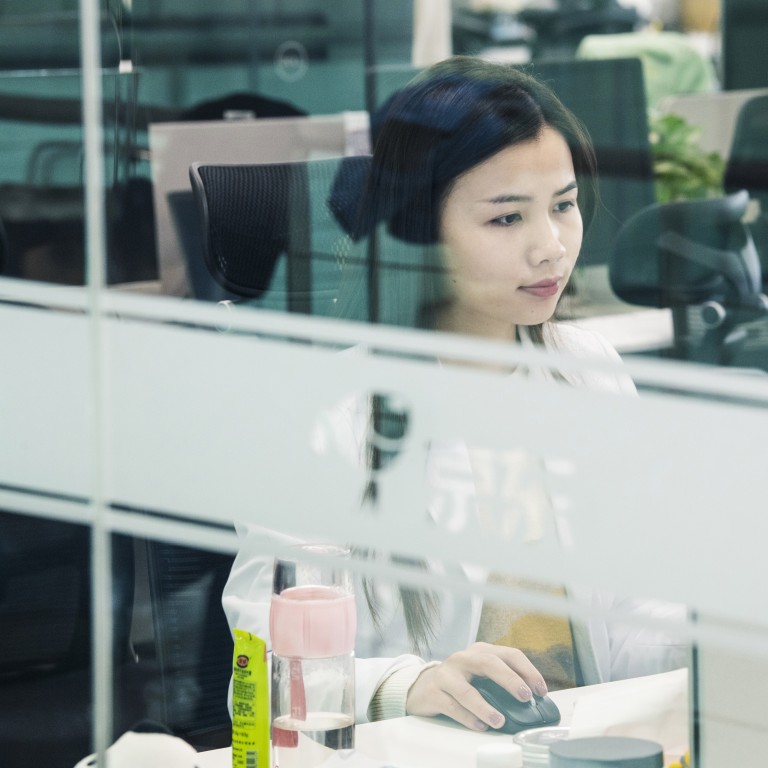 Listings of Evergrande Property Services, JD Health poised to push Hong Kong's funds raised via IPO to 10-year high
With US$39.2 billion raised so far, the flotations due to kick off in this week would almost certainly make this the city's best year since 2010 when US$57.5 billion was raised
JD Health, the health care unit of JD.com, is seeking up to US$4 billion and will kick off its public offering this week, sources say
The initial public offerings of
Evergrande Property Services
and JD Health, both due to kick off this week, look set to push the total funds raised on the Hong Kong stock exchange to a 10-year high.
Deal arrangers are rushing to launch share sales in the remaining few weeks of 2020, a year characterised by fewer but more sizeable deals as
investors chase Chinese issuers
operating in the only country in the world forecast to post growth this year amid the global pandemic.
"While revenues at our China companies have been growing over each of the last six to seven quarters, companies with European and US operations had seen revenues drop by over 50 per cent since the second quarter," said Eric Xin, managing partner at private equity firm Citic Capital Partners, at an industry forum last week. "I don't see the bottom of it."
If they hit their targets, the IPOs of both Evergrande Property Services and
JD Health
would be in the top five biggest deals of 2020.
So far this year the total funds raised via Hong Kong IPOs stand at US$39.2 billion from 125 deals, up 70 per cent from the US$23 billion generated by 136 flotations during the same period a year ago, data from Refinitiv shows. The two forthcoming deals combined are to take the total past the US$40.4 billion raised last year, and would make 2020 the highest year since the US$57.5 billion raised in 2010.
Evergrande Property Services, the property management arm of the heavily indebted China Evergrande, is marketing its Hong Kong IPO at HK$8.5 to HK$9.75 per share in a deal that could see it raise up to US$2 billion, according to its prospectus filed on Monday.
It is selling a total of 1.62 billion shares, and the price range is equivalent to a forward 2021 price-to-earnings multiple of 20.5 times to 23.5 times.
For the six months to the end of June this year, Evergrande Property Services' net profit totalled 1.15 billion yuan (US$180 million), more than double the 407.3 million yuan it made in the same period a year ago.
Evergrande Property Services will join a dozen other Chinese property servicing companies that have completed IPOs in Hong Kong this year, raising US$3.5 billion so far.
Its debt-laden parent, China Evergrande Group, which owed 835.5 billion yuan (US$1.26 billion) as of June 30, said in September that the spin-off and separate listing will enable the servicing unit to fund its own operations through the capital markets and reduce its reliance on the group.
Joint sponsors of the IPO include Huatai International, UBS, ABC International, CCB International, Citic Securities and Haitong International.
The Guangzhou-based company plans to use the proceeds for pursuing acquisition and investment opportunities, upgrading its IT and for general working capital purposes.
JD Health
, the health care arm of e-commerce giant JD.com, is looking to raise between US$3.5 billion and US$4 billion, according to people familiar with the transaction.
The online and offline health care firm is seeking a valuation of US$29 billion as it goes public in Hong Kong, which would be a significant appreciation over the US$12 billion it was last valued at, in August, by investors. It is marketing the shares at HK$62.8 to HK$70.58 per share. A listing on the main board is scheduled for December 8, the people said.
The biggest online health care platform and retail pharmacy by revenue, whose platform grossed 10.8 billion yuan in 2019 according to Frost & Sullivan, will kick off its public offering in Hong Kong over the next two weeks.
Joint sponsors for the deal include Bank of America, Haitong International and UBS, while China Renaissance is the financial adviser.
The firm also provides online consultations and family doctor services. JD.com, listed both in the US and Hong Kong, owns about 78 per cent of JD Health, according to its preliminary LPO filing to the exchange.
JD Health plans to use the IPO proceeds for business expansion, research and development, and potential investment and acquisition opportunities.
In the first half of the year, JD Health recorded a net loss of 5.4 billion yuan, reversing a profit of 236.3 million yuan during the same period a year ago.
The top three IPOs of this year in Hong Kong have been those of JD Health's parent, JD.com, NetEase and Yum China, which each raised over US$2 billion.
This article appeared in the South China Morning Post print edition as: IPO proceeds in Hong Kong set to hit 10-year high