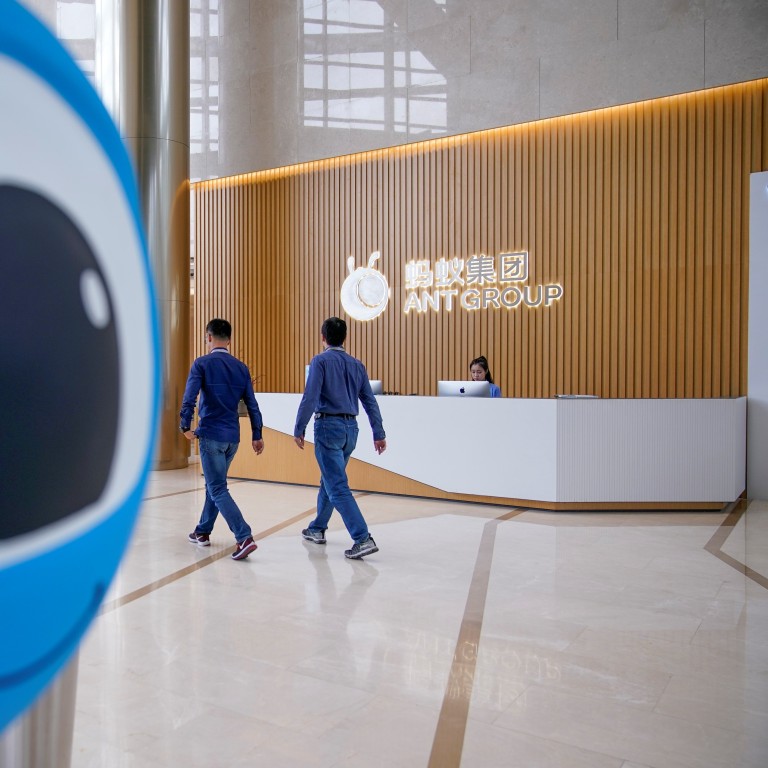 Ant Group publishes 'responsible finance rules' to protect consumers amid heightened scrutiny from Chinese regulators
The fintech giant, controlled by billionaire Jack Ma, has outlined a blueprint for responsible digital finance
Move comes as Ant Group prepares for a broad overhaul that would put various units under one financial holding company
 Ant Group has published a set of responsible finance rules for its sprawling business, as the fintech giant heeds regulators' call to enforce consumer protection and stave off systemic risks amid tightened scrutiny.
The rules covering its lending, wealth management and insurance businesses come ahead of a broader
restructuring
that Ant Group is preparing to launch, the
Post
has previously reported. This is likely to bring its lucrative credit origination platform, investment technology unit and insurance operations under a single financial holding company overseen by the central bank.
"To serve as a responsible digital finance platform, and to enhance protection of consumers of financial services … Ant Group has compiled this set of responsible finance principles on digital finance," it said in a statement. The company added that the scale of its business had grown to a point where it was necessary to reinforce its internal standards and responsibilities on data privacy, consumer protection and vetting of third-party financial partners on its platform.
Ant is an affiliate of Alibaba Group Holding, the owner of this newspaper.
The world's largest fintech company said it has already been collaborating with 100 banks, 90 insurance companies, 170 asset management firms. Through its various online platforms it provides finance to over 500 million users, and 30 million small business owners.
Ant's self-discipline rules come after Chinese regulators
abruptly shelved
its US$34.5 billion dual listing in Shanghai and Hong Kong on November 3, over concerns that the Hangzhou-based firm posed a systemic risk to the country's financial system and was in breach of consumers' privacy. Within days, Beijing unleashed a raft of new fintech regulations and an antitrust inquiry into the country's technology sector.
Sources last month said Ant has
reached an agreement
with financial regulators on an overhaul plan, part of which it had previously disclosed in its
IPO
prospectus. Ant is reorganising its business units under a financial holding company as required by the central bank. This would mean that Ant will be subject to rules similar to banks, such as maintaining capital buffers and risk management controls. 
Ant said the new responsible finance rules also represented its response to a new "fintech ethics committee" that was set up earlier this month in Zhejiang province, which is backed by think tanks and academics. Ant Group is one of the founding members of the Zhejiang committee.
The responsible finance principles published by Ant, controlled by Chinese billionaire Jack Ma, underlines the actual steps that its business units would commit to. However, details were thin on how it would proceed to ensure adherence by its employees.
Giving an example of responsible lending, Ant said it would disclose comprehensive information about the total costs that it charges consumers, rather than selectively reveal interest payment holiday, or daily interest rates. 
For its wealth management platform, Ant said it would seek to set risk assessment for deciding products' suitability for potential investors. It also said it was committed to answering investors' complaints within one working day. 
For its insurance business, Ant said it would refrain from bundling other products when it markets and distributes insurance policies, and would not make misleading sales pitches. 
Responsible finance hinges a lot on how risk prevention and consumer protection are upheld as the company's "baseline" principles, said Jonathan Zhou, Ant Group's general counsel. 
"We should also take serious consideration of our ethical and social responsibilities, and play an active role in driving healthier, more inclusive development of the fintech industry," he said.
"This is why we are sharing with the fintech industry these self-disciplined codes, which we have been following," he added.