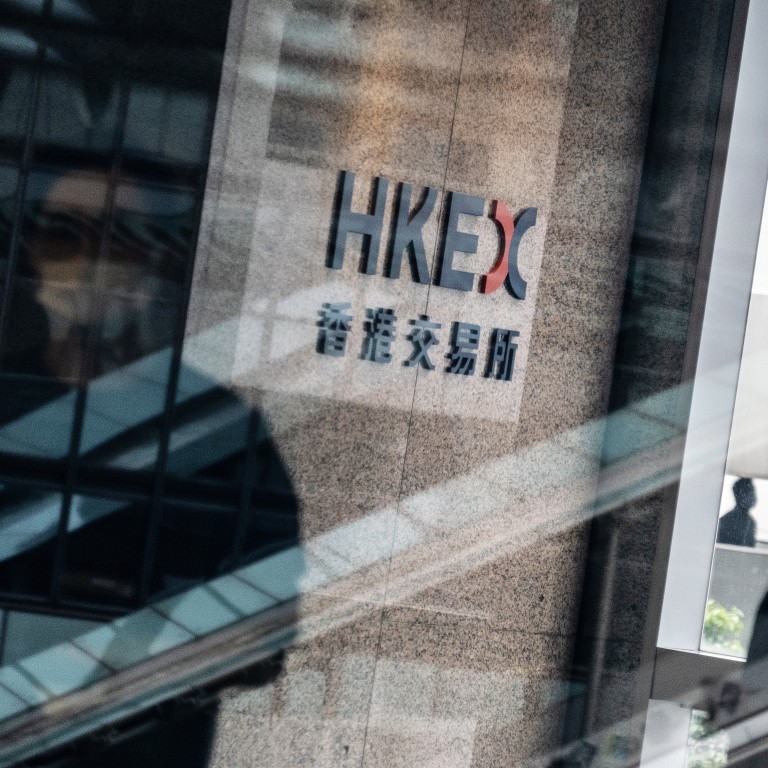 Hong Kong IPO funds surge 822 per cent in record-breaking first quarter as US-listed Chinese tech giants opt for secondary flotations
Hong Kong benefits from tension between Washington and Beijing as US-listed tech giants seek secondary listing here
Recent market sell-off of Chinese tech firms may hurt market sentiment in second half, brokers say
Fundraising via new share listings in Hong Kong soared more than ninefold to a record in the first quarter, pushing the city's main board to second place behind Nasdaq in the global rankings for initial public offerings (IPOs).
The strong momentum is likely to continue in the second quarter, according to analysts, as many more firms have already filed their listing applications. Things may tail off in the second half of the year, however, as uncertainty caused by recent stock market sell-offs stifles sentiment.
Hong Kong's IPO market has benefitted from the deterioration in relations between Washington and Beijing, which has driven US-listed Chinese companies like search engine Baidu and video sharing platform Bilibili to take on secondary listings worth a combined US$5.68 billion this month.
The share performances of these debutants, however, have been disappointing.
Bilibili
fell 6.8 per cent on Monday before recovering to finish 1 per cent lower than its IPO price, while Baidu was unchanged on its first day of trading last week.
Global investment banks
warned of potentially "significant" losses
on Monday after a series of margin calls involving the family office of Tiger Asia Management's founder Bill Hwang Sung-kook sparked a sharp sell-off in several US-listed Chinese technology firms and American media companies last week.
"Hong Kong will continue to see many IPOs and secondary listings in the second quarter as many companies have already filed their applications. But the trend may well change in the second half of this year if market sentiment continues to get worse in the second quarter," said Gordon Tsui, chairman of the Hong Kong Securities Association, an industry body for local financiers.
There are 70 companies that have filed their listing applications, according to stock exchange data.
Some 29 firms have raised a combined US$17.05 billion on Hong Kong's main board this year from IPOs and secondary listings, according to data from Refinitiv, making it the best first-quarter period since records began in the 1980s.
Video-streaming platform Kuaishou Technology's US$6.2 billion IPO in February was the biggest worldwide this year. Baidu raised US$3.08 billion while the video-sharing platform Bilibili raked in US$2.6 billion, which helped Hong Kong to climb to second place in the world rankings from sixth a year ago.
Nasdaq tops the table in the first quarter with 81 companies raising a combined US$24.49 billion.
The first quarter is usually the quietest for Hong Kong's IPO market because of the Lunar New Year holiday.
Last year as a whole, Hong Kong's main board ranked second in the world with US$51.17 billion of funds raised by 136 companies, the highest in 10 years. It was just lower than Nasdaq.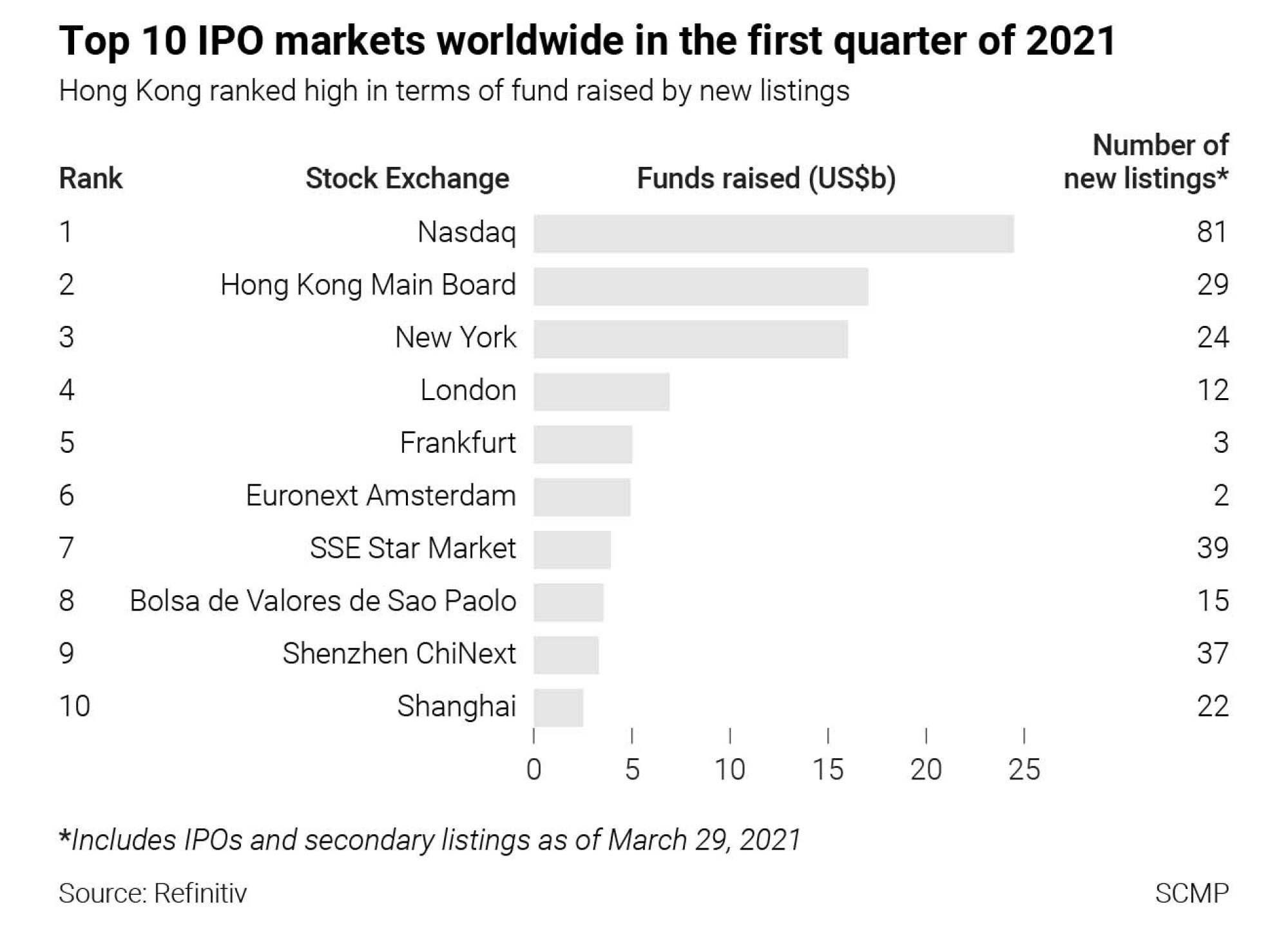 In 2018, Hong Kong Exchanges and Clearing introduced reforms that allowed tech giants with weighted voting rights and biotech firms without revenue to list here. This has helped Hong Kong to become a fundraising hub for such companies.
The reforms also allow US-listed mainland technology firms to carry out a secondary listing here. Since the trailblazing US$12.9 billion secondary listing of Alibaba, which owns the Post, in November 2019, other such as e-commerce group JD.com and internet giant NetEase have followed suit.
Besides Baidu and Bilibili, Chinese online car-sales platform
Autohome
and healthcare solutions provider Yidu Tech also opted for secondary listings in Hong Kong in the first quarter.