Stocks
Get more with myNEWS
A personalised news feed of stories that matter to you
Learn more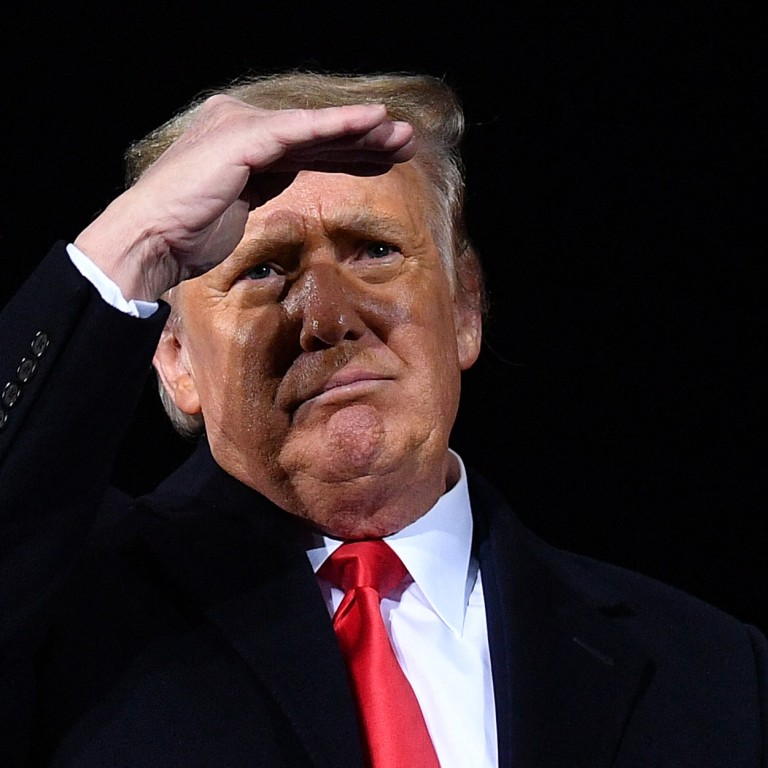 Trump ban on Chinese stocks sinks demand for index options in Hong Kong
The Biden administration has not unwound its predecessor's executive order against China Mobile, China Unicom, CNOOC and SMIC
Asset managers and banks are cutting H-share index option trades, which were notionally valued at US$1.4 trillion last year
The impact of a Trump administration executive order banning securities it said were linked to China's military has lingered in Hong Kong.
Investors and banks dealing in options contracts referencing the Hang Seng China Enterprises Index (HSCEI) have been cutting exposure, which has depressed trading volume by 60 per cent since February.
"Traditionally, the HSCEI is the main index for many investors and fund managers to gain pure option exposure to China. With the several Chinese stocks that are index constituents entering into the US banned list, suddenly the index options market becomes off-limits to a subset of market participants," said Govert Heijboer, co-chief investment officer of True Partner Capital, a hedge-fund manager focused on volatility as a trading strategy.
The deadline means that trading volume will continue to dwindle for the next seven months, market players said. If an alternative index that offers a
US-compliant way to trade
Chinese stocks is not found soon, the Hong Kong bourse may lose a valuable source of derivative trading income. Money managers sitting outside China could also lose an instrument which gives them exposure to the world's second-biggest economy.
Options contracts that reference the so-called H-share index have been a popular product for bourse operator Hong Kong Exchanges and Clearing (HKEX). The contracts offer hedge-fund managers leveraged exposure to trade market volatility, and are also useful for asset managers hedging against risks in their China portfolios. Last year, the notional value of H-share index options traded totalled HK$11.1 trillion (US$1.4 trillion).
Trump announced his ban against China Mobile, China Unicom, oil and gas giant CNOOC and
Semiconductor Manufacturing International Corporation
(SMIC) in November and December, and the ban came into effect in January this year. All four companies are constituents of the H-share index. And unlike US index compilers such as
MSCI, which dropped
these stocks from their indexes in January, the Hang Seng Indexes Company did not respond to the US order.
Asset managers and prime brokerages, however, have been
closing out positions
and have stopped adding new ones since
Trump's executive order
became effective. They want to comply with the deadline imposed by Washington, which mandates the divestment of these banned securities by November 11. The current Biden administration has not unwound its predecessor's order.
In its
first-quarter results
, HKEX reported that the number of derivative contracts traded declined 23 per cent from the same period a year ago, while derivative trading fees for the Hong Kong Futures Exchange, where these index options are traded, was down 25 per cent. Equity and financial derivatives contributed about 17 per cent of HKEX's total revenue.
As of last Friday, the
monthly trading volume
in H-share index options has averaged 641,319 contracts since February, a plunge of 62 per cent compared with the average monthly volume of 1.7 million contracts recorded in the last three quarters of 2020, data from HKEX shows. The entire HSCEI
option series has become
off limits for US entities and persons because of the Trump administration ban on the four stocks, industry players said
.
The drop has come despite the index's volatility staying at high levels compared to the past five years' average. Its 30-day historical volatility has hit the 30 level for the past three months, which is higher than the past five-year average of 19.3. Normally, elevated volatility levels should attract higher trading demand for index options.
Moreover, the implications of the ban reverberate beyond US banks and brokerages. Even asset managers that are not deemed "US persons" are also forced to divest as they heed calls from their US clients to cut exposure, the Post has learned.
Among all banned-entity lists, Trump's November executive order is the most troublesome for markets, because it affects a big ecosystem of institutional players such as hedge funds, asset managers, insurance firms and prime brokerages, industry players said.
Also, "there are currently no viable alternative contracts in the market, because other options traded on the
MSCI China Free Index
, for example, have virtually no liquidity," Heijboer said.
A person familiar with the situation at a US investment bank confirmed that it had been advising clients to close out option positions on the H-share index since January, as these derivatives are considered securities that fall within the scope of the US executive order. Futures contracts, however, are unaffected.
Launched in 1994, the H-share index has a total market value of about HK$23 trillion, according to data from Hang Seng Indexes Company. Market participants said high
volatility on the onshore A-share
market often attracted a lot of options trading interest in Hong Kong.
Hang Seng Indexes Company said that it understands that some clients were facing certain restrictions when investing or managing Hong Kong equity products due to some regulatory requirements. "[We] continue to discuss with our clients and explore customised index solutions enabling them to comply with applicable laws and regulations," a spokeswoman said.
HKEX is fully committed to continually enhancing the attractiveness and competitiveness of its markets, a spokesman said. "As Asia's risk-management hub, we are always looking at new product ideas, working with the market, and we will update on new developments accordingly," he said.