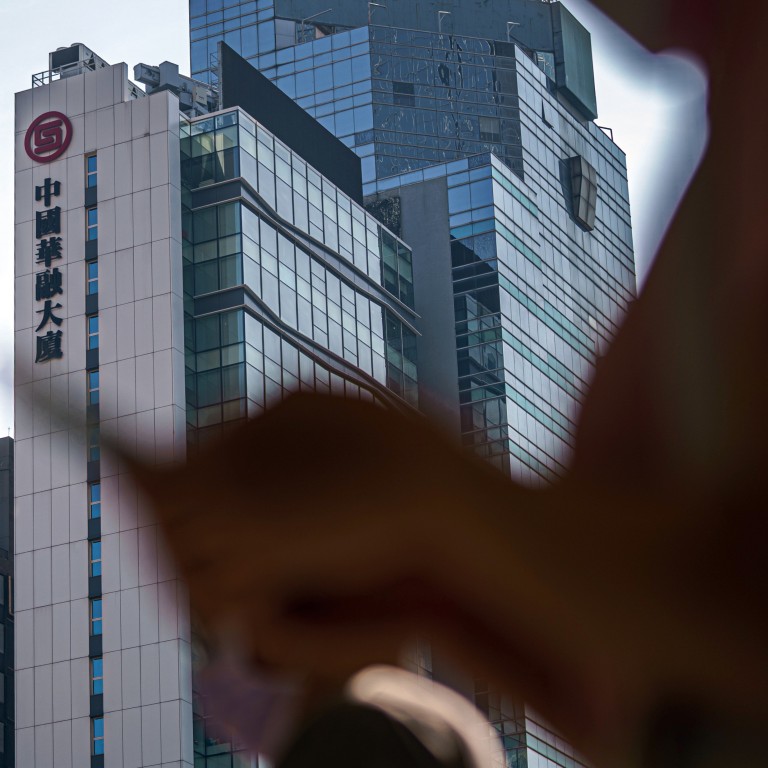 China Huarong set to be removed from MSCI indexes as Hong Kong trading halt persists
Huarong will no longer be a constituent of all MSCI-compiled indexes effective June 22
The Chinese bad-debt manager also faces possible expulsion from Hang Seng gauges
Trading in shares of the Chinese company that disposes of banks' non-performing loans has been halted since April 1 in Hong Kong, after it failed to release its 2020 annual result. This has triggered an MSCI rule that a stock will be booted out if its trading suspension lasts for 50 consecutive days. 
Huarong will no longer be a constituent of all MSCI-compiled indexes effective June 22, the New York-based company said overnight on Thursday.
 While Huarong's weightings on MSCI indexes were largely nominal, their exclusion will lead to portfolio adjustments by global funds managing US$210 billion that track the MSCI gauges. The stock was kicked out of FTSE Russell indexes on June 4.
For now, Huarong retains its member status as far as the Hang Seng Composite Index and the Hang Seng Composite Mid-cap Index are concerned. But it faces possible exclusion from these gauges too, as rules set by the Hong Kong index compiler require a stock's removal after a three-month suspension for not releasing annual results.
The company has postponed the release of its annual report at least twice since missing the March 31 regulatory deadline, and said it needed more time for
an audit of its result
. This delay has led to concerns about Huarong's financial health,
prompting a sell-off in its bonds
.
 The company's first-half profit tumbled 92 per cent from a year earlier in 2020, as the outbreak of the epidemic impaired the value of some of its assets.
One of the four state-backed firms set up in 1999 to manage banks' bad assets, Huarong had become involved in other businesses, such as securities and trusts, as well under former chairman Lai Xiaomin. Lai's sudden downfall has marred the company's outlook. Lai was found guilty of bribery charges and executed earlier this year.
Huarong's shares last traded at HK$1.02, capitalising the company at HK$39.9 billion (US$5.1 billion). The company has lost about two-thirds of its value since it went public in 2015.