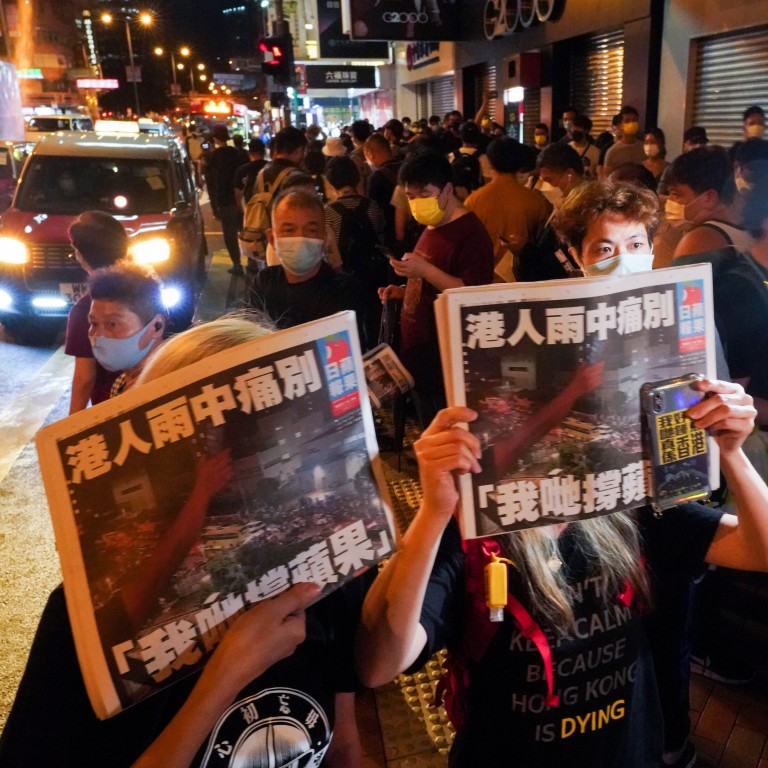 What's next for Next Digital, with the closure of its flagship Apple Daily newspaper in Hong Kong?
Next Digital has been suspended on Hong Kong stock exchange since June 17 following the arrest of top editors and other executives
The publisher printed its last edition of Apple Daily on Thursday amid a cash crunch after police froze some of its funds
Minority shareholders of Next Digital will have an anxious wait ahead of them, as the media company's flagship newspaper Apple Daily printed its final edition on Thursday amid the cash crunch from its financial assets being frozen under Hong Kong's National Security Law (NSL).
Trading in the company's
shares was halted on June 17 in Hong Kong
when the city's police arrested
Apple Daily
's editor-in chief, publishers, three other executives, and blocked access to its bank accounts. The newspaper's lead editorial writer was detained on Wednesday
on suspicion of conspiracy to collude with foreign forces.
The company is scheduled to hold a board meeting on June 28 to approve its financial accounts for the year that ended in March. The company is yet to appoint an auditor after CCTH CPA resigned. Company executives did not respond to queries whether the board meeting would still proceed.
"There are many retail investors trading Next Digital shares and they are likely to lose their investment as Apple Daily is its core business," said Tom Chan Pak-lam, chairman of Hong Kong Institute of Securities Dealers. Next Digital does not have many other operations to keep it going, he added.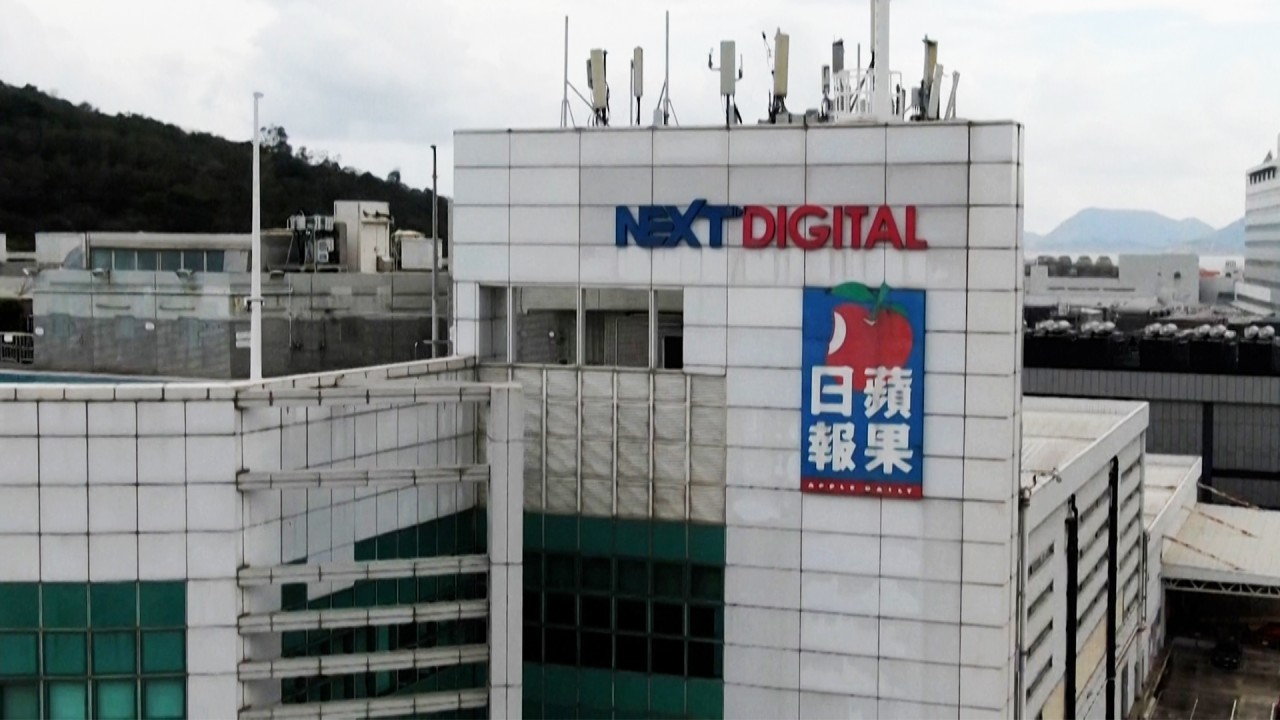 02:12
Final edition of Hong Kong tabloid newspaper Apple Daily may be days away
Final edition of Hong Kong tabloid newspaper Apple Daily may be days away
The Hong Kong operation, including the print and digital revenue around Apple Daily, was the flagship of Next Digital, contributing to 82 per cent of the company's revenue in the six months that ended on September 30 last year. Taiwan, where Next Digital published a daily newspaper and maintained a digital news portal, contributed 18 per cent of sales, according to the interim report.
With Next Digital losing such a substantial part of income from Apple Daily, delisting pressure is likely to mount, Chan said. Once delisted, "the shares will become worthless," he added.
Next Digital ceased the print publication of Apple Daily's Taiwan edition in May, moving all its content online. The company had 58 per cent of 2,095 employees based in Hong Kong, with the remaining 866 on its Taiwan payroll as of September 30.
Any delisting, if it takes place, is still some time away. Hong Kong's stock exchange allows a stock to be suspended from trading for up to 18 months, after which it will be automatically ejected unless a viable proposal is submitted to normalise business operations, or fulfil disclosure rules.
One of the recent local delistings this year was
Convoy Global Holdings
, the financial services company at the centre of Hong Kong's biggest corporate scandal.
Suspended from trading since December 2017, the firm was delisted in April after it failed to comply with that requirement.
A company can prevent a delisting by finding a white knight, or a friendly investor, to take over and inject a new business in exchange for control. Next Digital's founder Jimmy Lai Chee-ying took over the company formerly known as Paramount Publishing Group in late 1999 in a similar manoeuvre, known as a back-door listing. Paramount was renamed Next Media, before becoming Next Digital in 2015.
Next Digital's
share price has fluctuated wildly
in the past 10 months, losing 87 per cent of its value until its suspension, last changing hands at 26 HK cents on June 16. The stock had a brief sizzle last August when it jumped from 75 HK cents to HK$1.96 in a single day, as retail investors rallied to its stock. Fifteen people were arrested a month later and charged with market manipulation, which netted the fraudsters HK$38.7 million (US$5 million) in trading profit over three days.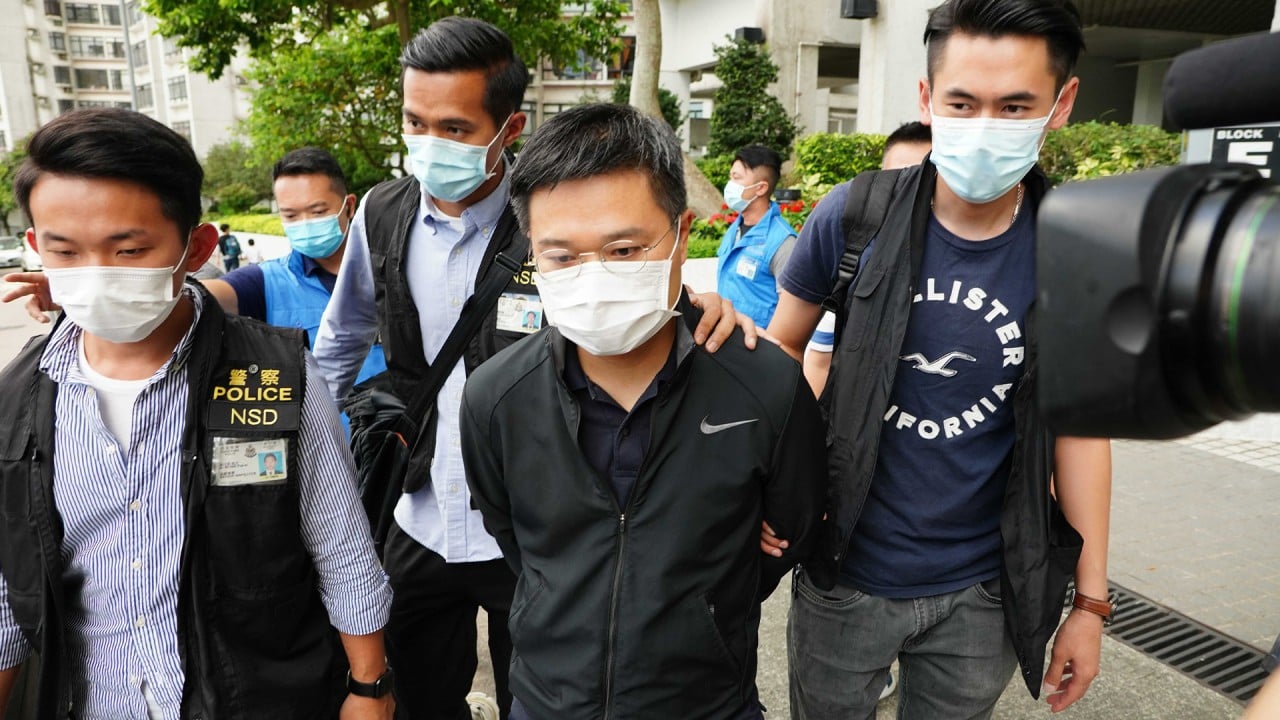 02:32
Apple Daily editor-in-chief, 4 newspaper directors arrested under Hong Kong national security law
Apple Daily editor-in-chief, 4 newspaper directors arrested under Hong Kong national security law
A Hong Kong stock exchange spokesman said the bourse does not comment on any individual company.
Under its listing rules, the stock exchange may deem an issuer has failed to comply with the rule in situations when it does not have a business that has substance, or that is viable and sustainable, according to Derek Lai Kar-yan, vice-chairman of the accounting firm Deloitte China, adding that the exchange will assess the situation based on specific facts and circumstances of individual issuers.
A listed entity needs to show that it has a business with a sufficient level of operations and assets to support its business to retain its listing status, he added.
This article appeared in the South China Morning Post print edition as: Retail investors in Next Digital facing grim prospect of delisting