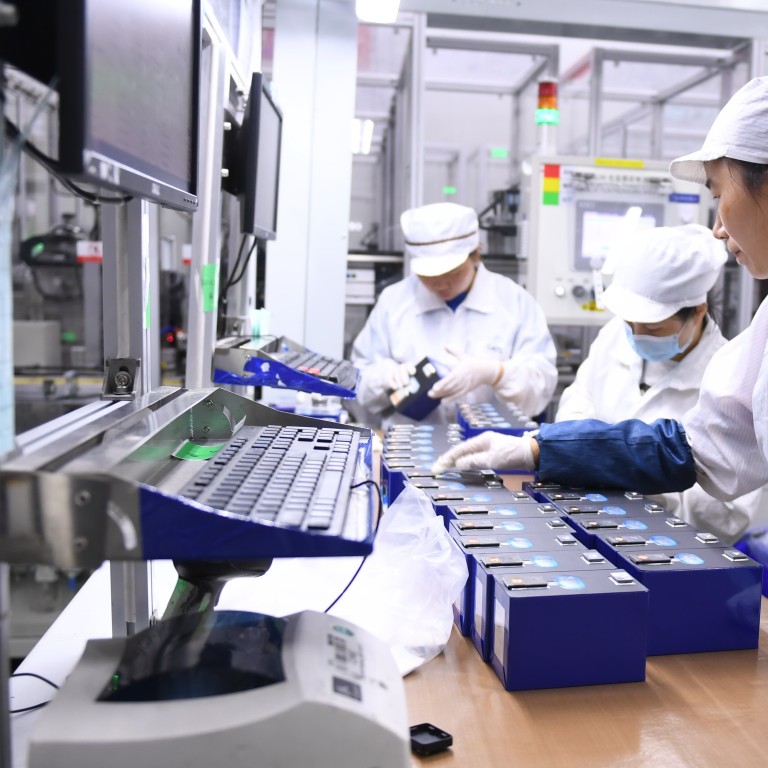 China's largest battery maker CATL extends agreement with electric vehicle giant Tesla to 2025
Contemporary Amperex says it has reached an agreement with Tesla's Shanghai subsidiary to provide battery packs for another 30 months
No detail on the purchase volume was disclosed but move comes as Tesla's vehicle orders in China show signs of slowing
Contemporary Amperex Technology (CATL), the Shenzhen-listed electric-car battery maker, said it has reached an agreement with Tesla to provide lithium batteries to the US electric vehicle maker's China production plants for an additional 30 months.
China's largest producer of automobile battery packs said in a stock exchange filing on Monday evening that it reached an agreement last Friday with Tesla to provide battery packs for the US electric vehicle's subsidiary in Shanghai up until December 2025.
This will effectively roll over a previous contract that the battery maker signed last February with Tesla covering a period that would have ended in June 2022, extending its supplier relationship by two years and six months. There was no detail on the exact volume of lithium batteries that will be supplied to Tesla under the new deal.
"The agreement signifies further acknowledgement by Tesla of the product quality and production capability of [our company], and will help strengthen the long-term cooperation relationship between the company and Tesla,"
CATL
said.
China International Capital Corp (CICC), the mainland's largest investment bank, said the agreement would help CATL hone its image as a leading global player in the EV battery sector.
"CATL's tie-up with Tesla has been consolidated and the new agreement represents an increase in the volume supplied to Tesla," CICC analyst Zeng Tao wrote in a report. "Factoring in higher demand from downstream manufacturers, we have raised our earnings forecast for CATL."
CICC predicted the battery maker's net income in 2021 would reach 11 billion yuan (US$1.7 billion), 10 per cent more than the previous estimate of 10 billion yuan.
Shares of CATL jumped 2.9 per cent to 508.08 yuan in morning trade on Tuesday.
CICC said the shares could advance another 18 per cent to 600 yuan as the agreement would help CATL hone its image as a leading global player in the EV battery sector.
CATL said that it would recognise income from the additional sales in the relevant financial years that business is conducted.
There was strong demand for Tesla's Shanghai-made Model Y when the sports-utility vehicle hit the market on January 1 and Tesla has secured a large number of bookings for the car, the second mass production model to roll out of its Shanghai factory.
CATL's battery packs are used in most electric vehicle (EV) brands. Last August, it formed a joint venture called
Wuhan Weineng Battery Asset
with US-listed EV maker NIO, financial services group Guotai Junan International and Hubei Science Technology Investment Group to lease battery packs to car owners through setting up battery-swapping stations nationwide in China.
But CATL's extended agreement with Telsa also comes at a time when the Palo Alto, California based company is facing various challenges in the world's largest electric vehicle market.
On Saturday, Chinese authorities said Tesla would
recall about 285,000 electric vehicles
in China because the cruise-control function can be activated accidentally and cause cars to accelerate suddenly, creating a safety hazard, the
Associated Press
reported, citing Chinese authorities.
The recall covers 211,256 Model 3 sedans, 38,599 Model Y compact crossover utility vehicles that were built in China, and 35,665 Model 3s that were imported.
Earlier in June, a report by technology news website
The Information
, citing a single source familiar with the data, said billionaire Elon Musk's company saw its
vehicle orders in China plummet
to about 9,800 in May. That compares with deliveries of 25,845 in April, and 35,478 a month before that, according to data from the China Passenger Car Association (CPCA). The dramatic drop could translate to record-low deliveries for Tesla in China this year.
Additional reporting by Daniel Ren