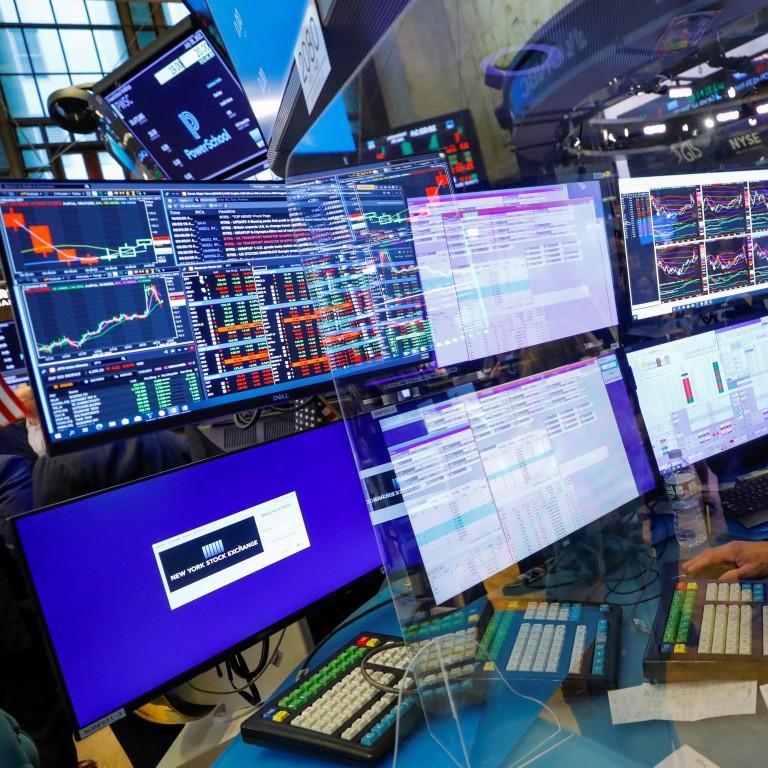 Dalio's Bridgewater suffered setbacks in Chinese tech, education stocks last quarter while EV makers surged before July sell-off
Bridgewater held depositary shares in some 37 Chinese firms with a market value of almost US$1.2 billion
Alibaba, Pinduoduo, JD.com, NIO and Baidu, its five biggest by market value, produced a mixed bag of performances before the July tech sell-off
Bridgewater Associates, the world's biggest hedge fund, took some knocks on its
investments in Chinese
education and technology stocks last quarter, before the market sold off in July. Its bets on three Chinese Tesla challengers paid off handsomely.
Its holdings in New Oriental Education and Technology, TAL Education, Gaotu TechEdu, JD.com and Pinduoduo recorded some of the biggest declines in value, according to its
latest 13F quarterly filing
with the Securities and Exchange Commission.
It bought more shares in Li Auto and Xpeng while trimming its stake in NIO, three of the biggest challengers to Tesla's dominance in the mainland's electric vehicle market. The surge in their stock prices helped keep the firm's overall China play in net gain.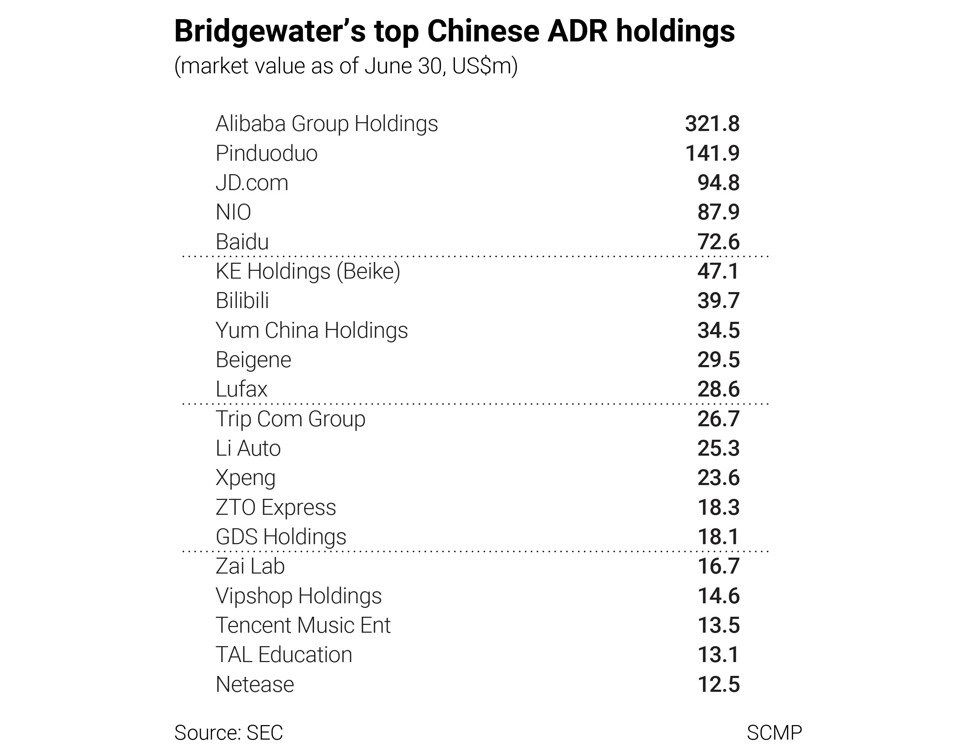 The fund, founded in 1975 by China optimist Ray Dalio, had about US$1.2 billion worth of stakes in at least 37 companies within its China holdings, according to the second-quarter filing.
Alibaba Group Holding
, the owner of this newspaper, Pinduoduo, JD.com, NIO and Baidu were its top five with a combined market value of US$719 million on June 30.
The mixed bag of performance underlined the volatility infecting Chinese companies as
investors struggled with regulatory policy risks
since authorities began cracking down on internet-platform operators by foiling Ant Group's jumbo stock offering for antitrust violations.
An attack on Didi Global, barely a week after its New York listing debut in late June, fuelled a US$1.2 trillion sector sell-off in the mainland, Hong Kong and US markets and left investors guessing on how far China will go in its pursuit to fix income inequality and stamp out malpractices.
The crackdown prompted some
domestic money managers
to favour so-called policy-friendly sectors such as semiconductor makers and new-energy vehicle manufacturers for shelter, turning them into one of the hottest bets last quarter.
"Bridgewater's operations seemed to be well founded as it focused on companies like smart EV companies," said Ivan Li, a fund manager at Loyal Wealth Management based in Shanghai. China is shifting its focus from internet firms to promising manufacturers who can better use digital technologies, he added.
Investors will not know how Bridgewater fared in the July slump until the hedge fund's next filing in November. In a LinkedIn post last month,
Dalio has asked sceptics to instead focus
on China's four-decade track record of market reforms and not let that "scare you away."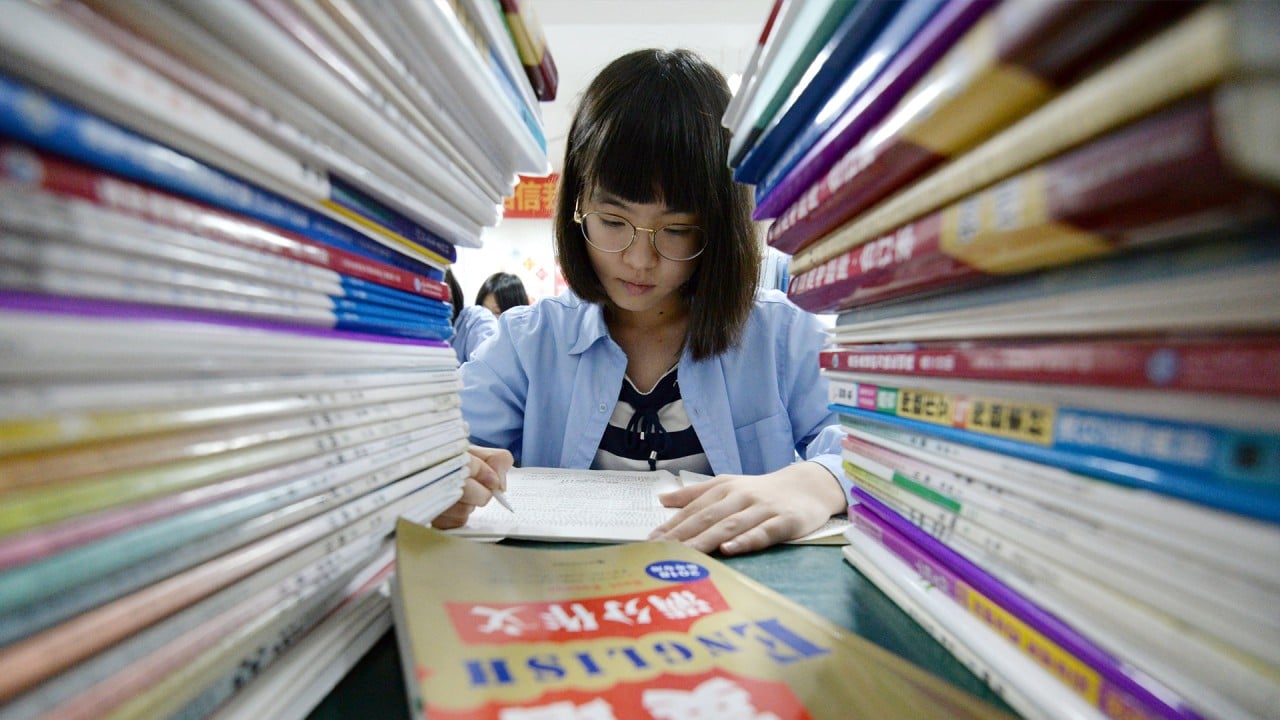 03:22
Crackdown on private tutoring leaves industry, students and parents drawing a blank
Crackdown on private tutoring leaves industry, students and parents drawing a blank
Within its China theme, the firm bought additional stakes in 13 firms including
e-cigarette maker RLX Technology
, short-video platform operator Bilibili, Tencent Music, Li Auto and Xpeng during the quarter. It trimmed them in 19 firms including JD.com and New Oriental and hotelier Huazhu Group.
It opened four new positions in consumer finance platform 360 Digitech, e-commerce delivery firm Dada Nexus, cloud-computing firm Kingsoft Cloud and carrier-neutral data centre services group Chindata Group, according to the SEC filing.
Bridgewater reported investments in 704 companies globally with a combined market value of US$15.6 billion at the end of June 30, up by US$4.25 billion from March 31. The money represented only a fraction of the US$223 billion the Westport, Connecticut firm managed for clients, including US$5.44 billion under its All-Weather China strategy fund.
Additional reporting by Daniel Ren in Shanghai