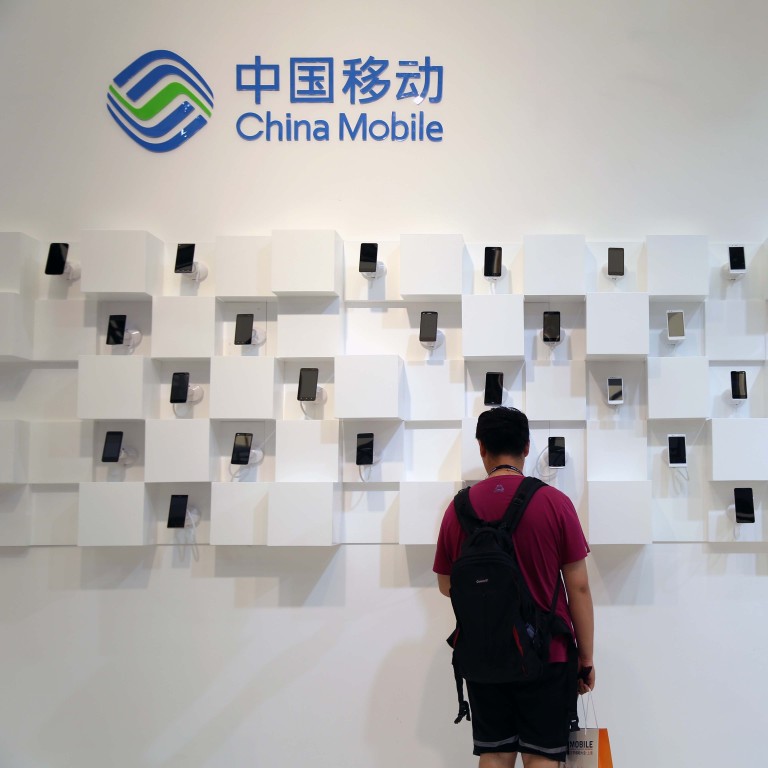 China Mobile aims to raise US$8.6 billion in mainland's biggest IPO for over a decade to finance 5G network expansion
The world's largest wireless network operator was among four Chinese companies ejected from the New York Stock Exchange over purported ties to the Chinese military
More Chinese 'homecoming' firms will list in Shanghai and Hong Kong, say analysts, amid increasing hostility in the US
China Mobile, the
world's largest wireless network operator
, aims to raise about 56 billion yuan (US$8.6 billion) in its stock flotation in Shanghai in what would be the biggest IPO in the mainland Chinese market in more than a decade, according to a listing prospectus it issued on Wednesday night.
Separately,
China Unicom
said on Thursday that it was considering a
spin-off and separate listing
on a mainland China bourse of its internet of vehicles subsidiary, China Unicom Smart Connection Technology Company. China Unicom did not indicate the size or timing of a potential listing of the unit, in which it owns a 69.2 per cent stake.
Hong Kong-listed ­China Mobile, which was
delisted from the New York Stock Exchange
in May, proposes to issue up to 965 million yuan-denominated shares, known as A-shares, according to the prospectus posted on the China Securities Regulatory Commission (CSRC) website. The listing is still pending CSRC approval.
The issued shares, which will be equivalent to 4.5 per cent of China Mobile's enlarged capital base, will be listed on the main board of the Shanghai Stock Exchange.
China Mobile may increase its offering by 15 per cent if its two sponsors, CICC and Citic Securities, exercise an overallotment option, also known as a "greenshoe" option, in the event of strong demand.
China Mobile did not disclose the pricing for the new shares, which will be fixed at a later stage.
The sum would represent about a third of its total planned investment of 156.9 billion yuan in such projects, the prospectus said.
If it achieves its fundraising target, it will be the largest A-shares offering since Agricultural Bank of China raised 68.5 billion yuan 11 years ago.
"[We will] see more US-listed mainland companies returning home to list in light of the tightening of regulations in the US. Mainland and Hong Kong stock markets will benefit from having more mega IPOs by the mainland giant in the coming years," said Stephen Hui Chiu-chung, chairman and chief executive of Hong Kong broker Luk Fook Financial.
"China Mobile is a household name in China and its IPO is likely to be popular," he added.
The company listed in Hong Kong on October 23, 1997 and in New York one day earlier. It finished the Thursday morning session at HK$51.6, up 0.3 per cent. Its share price has risen 17 per cent this year, easily beating the Hang Seng Index which has fallen 5.3 per cent.
After the offering, and in the event of the overallotment option being triggered, its controlling shareholder China Mobile BVI will see its stake decrease from 72.72 per cent to 68.98 per cent. Hong Kong shareholders will own 25.88 per cent and A-share investors 5.14 per cent.
China Mobile BVI is 90 per cent owned by the State-owned Assets Supervisions and Administration Commission of the State Council (SASAC) and the remainder by the National Social Security Fund.
Additional reporting by Chad Bray
This article appeared in the South China Morning Post print edition as: China Mobile looks to raise 56b yuan in Shanghai float