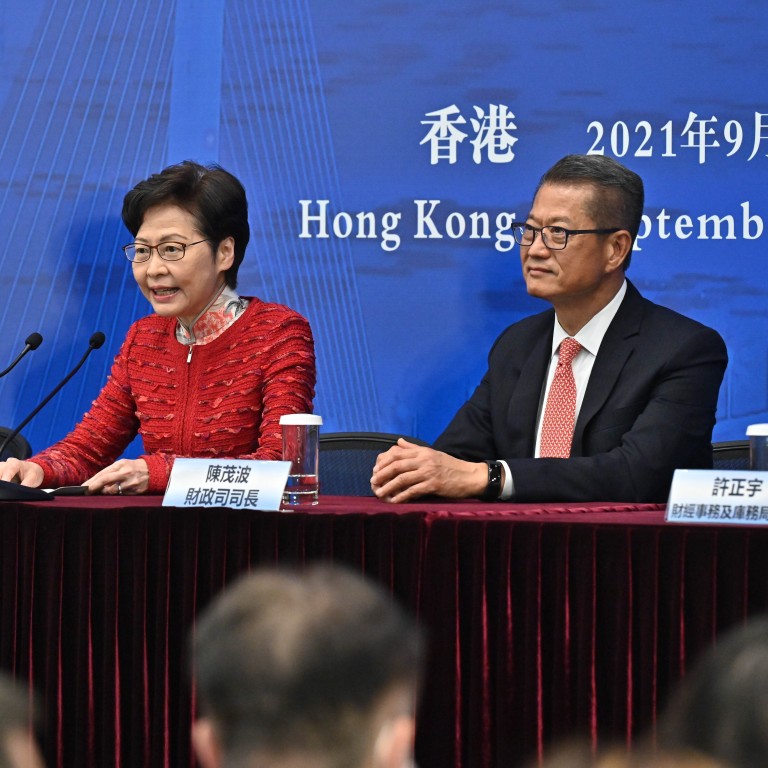 Wealth Management Connect: China's US$46.5 billion cross-border channel gives Hong Kong a leg up in the Greater Bay Area
Four of the top 10 richest people in China live in the Greater Bay Area, according to Forbes
Individuals can only invest up to 1 million yuan in investment products under the new cross-border scheme
China's regulators will expand the cross-border investment channel with Hong Kong and Macau to encompass wealth management products, in a long-awaited move that will enhance Hong Kong's standing as the offshore financial centre of the world's second-largest capital market.
The Wealth Management Connect has formally kicked off between Hong Kong, Macau, and the nine provincial cities in Guangdong known collectively as the
Greater Bay Area (GBA)
, according to a statement by the Hong Kong Monetary Authority (HKMA).
The programme lets mainland Chinese investors domiciled in the GBA invest in approved wealth management products in Hong Kong and Macau, and allows foreign investors to tap financial products sold in China via the two cities.
"Wealth Management Connect is a milestone in the financial development of the
Greater Bay Area
and an important measure that deepens and widens mutual access between the financial markets of the mainland and Hong Kong," Chief Executive Carrie Lam Cheng Yuet-ngor said in a statement after hosting an online launch ceremony on Friday.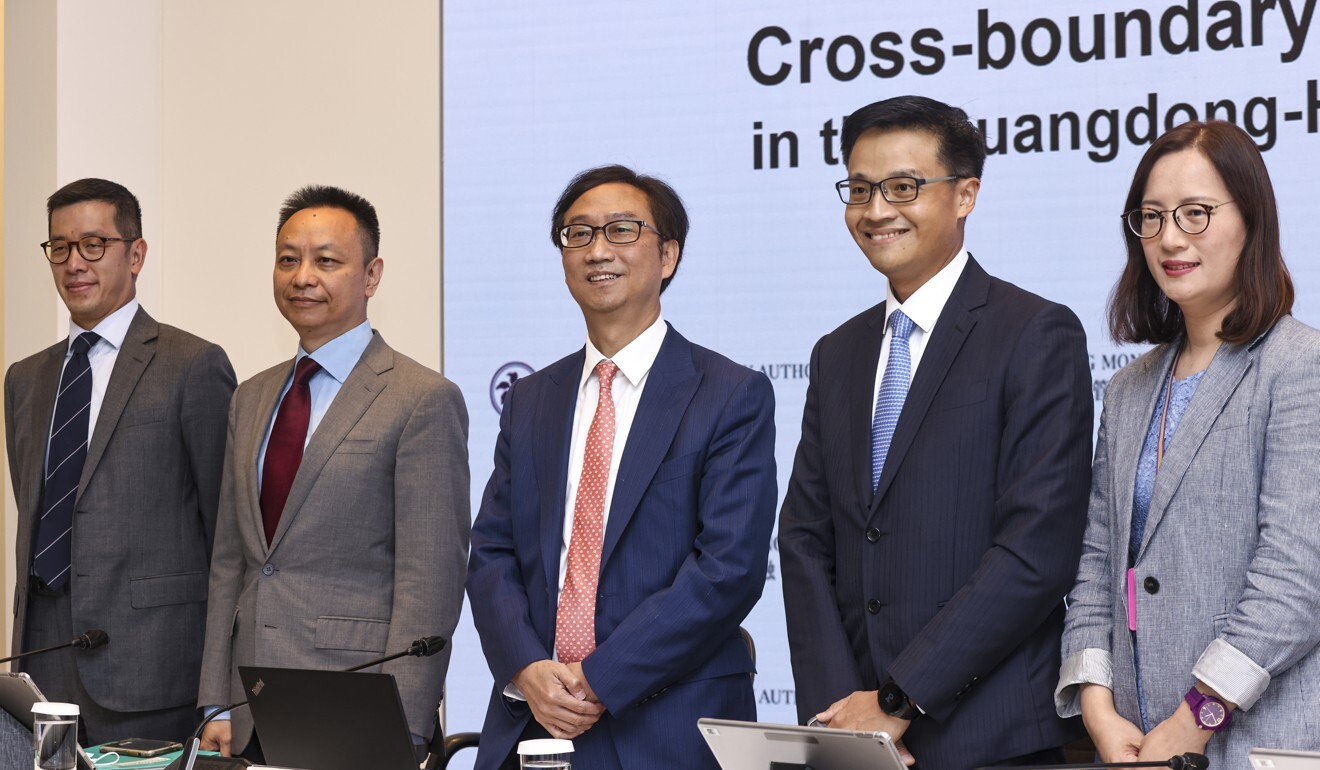 An initial quota of 300 billion yuan
(US$46.47 billion), half going in each direction, has been set by the
HKMA
in October 2020. About 300 investment funds in Hong Kong are qualified to offer their financial products to Guangdong, where investors are entitled to invest up to 1 million yuan each.
"This is the next big thing for Hong Kong's financial industry," said Nelson Chow, chairman of the Hong Kong Investment Funds Association (HKIFA). The Wealth Management Connect gives the city's asset managers access to a market of "70 million people, 10 times the size of Hong Kong," he said.
While the scheme was officially launched on Friday, investors have to wait at least one month to buy the products as about 20 Hong Kong banks have to run system tests and need time to submit applications to seek for approval from the HKMA to sell fund products. Major players such as HSBC, Citi, Standard Chartered and Bank of China (Hong Kong) all said they will participate.
The local banks have to show their systems and staff are ready to sell products to mainlanders and at the same time their mainland bank partners require the approval of the mainland authorities, said Edmond Lau, deputy chief executive of HKMA.
Under the scheme, mainland investors can open an account with a Hong Kong bank without their physical presence, but Hong Kong investors will have to go across the border in person to open a new bank account in the
Greater Bay Area
.
"We understand this will be difficult for Hong Kong investors … We are in talks with mainland authorities to see if investors can open an account remotely. Afterwards they can trade the fund products online or by telephone with their bankers," Lau said.
The programme was first proposed a year ago, after having conducted successful experiments with allowing cross-border funds to invest in equities and bonds between Hong Kong, Shanghai and Shenzhen financial markets since 2014. Unlike the nationwide Stock Connect and Bond Connect programmes, Wealth Management Connect is limited geographically to the GBA.
"Hong Kong's asset management industry is excited at the opening of what is effectively a brand-new market," said Alexa Lam, the Asia-Pacific chief executive of ICI Global, an arm of the guild that represents global regulated funds with US$40.5 trillion of assets under management. "Many will take advantage of this tremendous opportunity, which will help develop financial and investment services and talent and allow for easier movement of people and services within the GBA."
HSBC
, Standard Chartered,
Bank of China (Hong Kong)
and dozens of other financial services providers have been expanding their wealth management teams in anticipation of the increasing business – and fees – to come from the new Connect scheme.
"This is a major breakthrough as it is the first Connect scheme specifically designed for individual investors and provides GBA residents with a convenient channel for cross-boundary investment in diversified wealth management products," said Mark Austen, chief executive of Asifma, a regional trade association comprising 150 financial firms.
The GBA's development blueprint was first unveiled in February 2019, including a broad master plan that assigned key industries and strategic roles to each of the 11 cities in the cluster to attract capital, talent and investments. With a combined economy estimated at US$1.75 trillion, the GBA is already larger than South Korea's economy if it were a stand-alone entity.
The area, almost double the economy of
the San Francisco Bay Area
, is a key driver of China's growth. Four of China's 10 most affluent people live in the GBA, based on
Forbes
' data.
Pony Ma Huateng, China's
second-richest man
with a net worth of US$65.8 billion, lives between Hong Kong and southern China's technopolis of Shenzhen, the head office of his games and social network giant
Tencent Holdings
.
SF Express founder Wang Wei, who lives in Shenzhen, is the fifth-richest man in the country with a net worth of US$39 billion.
He Xiangjian, the billionaire who founded the world's biggest home appliances maker Midea Group, ranked sixth with US$37.7 billion, lives in
Foshan
. Yang Huiyan and her family, who own property developer Country Garden Holdings and ranked 10th on the list with a net worth of US$29.6 billion, also live in Foshan.
Cheng Xue, the vice-chairwoman of sauce maker Foshan Haitian Flavouring, who is
China's highest-paid corporate chieftain
, also lives in the city. She has a personal wealth estimated at 65 billion yuan, according to Hurun China's
Richest Professional Managers 2021
report released in February.
This article appeared in the South China Morning Post print edition as: Long-awaited wealth connect scheme opens door to individual investors