Fintech
Get more with myNEWS
A personalised news feed of stories that matter to you
Learn more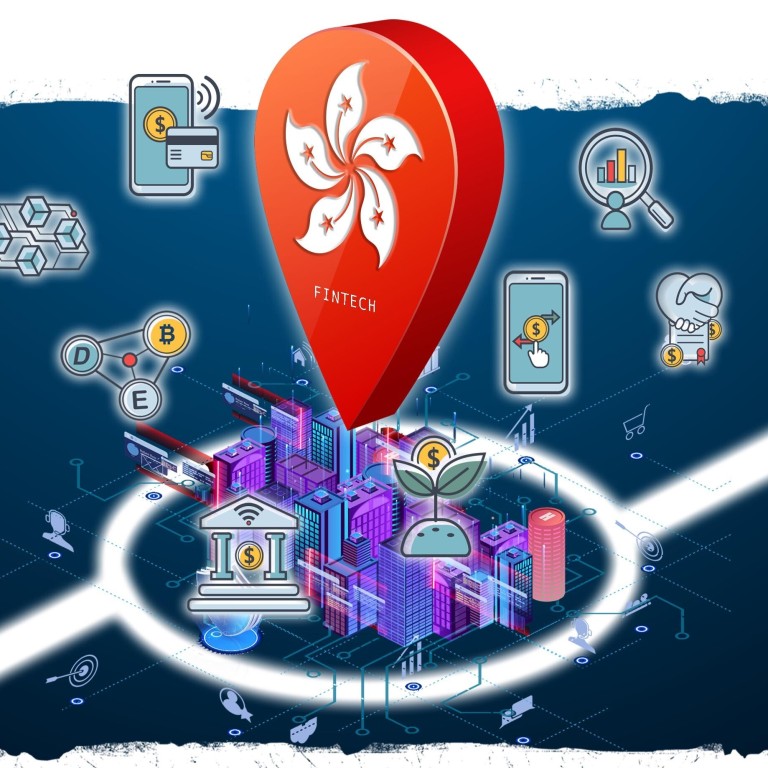 A silent revolution is underway in Hong Kong's fintech industry, helping city catch up to Greater Bay Area neighbours
From faster payments to Wealth Management Connect, Hong Kong has adopted a number of measures in recent years to bolster fintech bona fides
City's banking apps lagged behind European counterparts in 2021 Mobile Banking Benchmark report
As an international financial centre, Hong Kong has been surprisingly traditional when it comes to the local economy.
Shopkeepers, crammed into wardrobe-size stores filled with ceiling-high stacks of clothing, hardware or toys, track their accounts in notebooks, often putting price stickers next to their sales records. Handwritten invoices are common, and cash remains king in Asia's second-largest financial market.
It is a different world 14 minutes away by high-speed train across the border in southern China's
technology metropolis Shenzhen
. Cash is rarely used, and everything from dumplings to a luxury watch can be bought with the scan of
a QR code
on a smartphone.
Still, Hong Kong is quietly catching up to Shenzhen, as the city aspires to become a fintech innovation hub for every application from day-to-day payments to the technology pipelines that carry trillions of dollars of capital freely across the world everyday, industry leaders and government officials said.
Tencent's WeChat Pay HK is one of the four e-wallets alongside the AlipayHK e-wallet by this newspaper's owner, taking part in the e-voucher programme.
Hong Kong has introduced a number of measures in the past three years to attract fintech start-ups as the city tried to keep pace with Silicon Valley, Singapore and Shenzhen in financial innovation. A landmark move was the 2018 launch of the Faster Payment System (FPS), which allows users to transfer money instantly to friends and family and selected merchants.
Another sign of the changing times in the world's most over- banked city - 165 licensed banks for 7.5 million residents - is the establishment of eight virtual banks. These financial institutions, which must operate entirely online without bricks-and-mortar physical branches, have attracted more than 1 million accounts between them since beginning operating in earnest last year.
Global cross-border payments may soar to US$156 trillion by 2022, with business-to-business transactions accounting for the bulk of those payments, according to EY's report.
Hong Kong, which maintains a fully convertible currency separate from the renminbi, can also serve as the springboard to help the Chinese government globalise the yuan by pushing for the e-yuan's use in the Middle East and Southeast Asia. A digital currency platform prototype that links up multiple central banks called the "mBridge" is being tested, with the People's Bank of China (PBOC) and the central bank of the United Arab Emirates being the latest entrants in February, alongside HKMA and the central bank of Thailand.
"Hong Kong's position as an international financial centre can contribute significantly to development of the mBridge platform," said the HKMA's financial infrastructure executive director Colin Pou, at the Fintech Week on Thursday. "Hong Kong would be a heavy user of this link, which would reinforce its status as an international financial centre."
"We are very positive about the development of the GBA, and specifically on the role for Hong Kong, which will increasingly be important in terms of helping Chinese companies and customers to expand in overseas markets," said BitRock Capital's founding partner Alfred Shang.
Supply chain finance is an area that could see some of the highest growth in the GBA in the coming years as the industry becomes more digitised, said Shang, a Hongkonger who lives in Shanghai.
The biggest of Hong Kong's three currency-issuing banks, HSBC spent US$5.5 billion last year on technology to digitise even more of its operations. About 85 per cent of its transactions in Hong Kong are done digitally and HSBC's own PayMe payment application has attracted more than 2 million users since 2019, giving the bank the confidence to not pursue a virtual bank licence.
Hong Kong's proximity to China and its traditional role as the gateway to the mainland also makes it an attractive location for international start-ups, according to executives from the United Kingdom, northern Europe and South Korea.
"The city is the top choice for Nordic start-ups in fintech and other sectors that want to expand their business in China and Asia," said Binh Johansson, community director of Nordic Innovation House, which helps companies and start-ups develop in Hong Kong, Singapore, Japan and the US.
"Hong Kong has a good pool of talents and English is widely spoken, which makes it easy for Nordic start-ups to operate here," she added. "More importantly, the rest of the GBA is within close travel distance and Hong Kong is also close to other Asian markets by air."
Still, Hong Kong faces challenges in moving to the forefront of fintech. Mobile banking apps by traditional lenders and virtual banks scored 10 per cent lower than their European peers, according to Sia Partners' 2021 Mobile Banking Benchmark report, an annual ranking of 114 mobile banking apps worldwide.
None of Hong Kong's banking apps made the study's global top 15, while virtual banks in the United States, Japan and Europe scored 40 per cent higher on average than the city's digital-only lenders.
The gap "is still wide between the most innovative banks internationally and the most innovative ones in Hong Kong, and will remain for at least a couple of years," said Etienne Ranwez, a manager in Hong Kong of the Paris-based consultancy Sia Partners. "We expect the gap to narrow in the coming years as Hong Kong's virtual banks capitalise on lessons learned from their own operations and international best practices."
Singapore, with its own fintech festival beginning on Monday, is nipping at Hong Kong's heels to attract start-ups.
Hong Kong can compete, said Joseph Chan Ho-lim, the Under Secretary for Financial Services and the Treasury, citing the city's top Asia spot and third global rank in the Global Financial Centres Index published in September.
"Since many financial institutions set up their Asia's regional headquarters in Hong Kong, this is the ideal place for the development of fintech as they can enjoy tremendous access to potential clients, investors and business partners," Chan said.
Hong Kong ranked ninth among cities globally, just ahead of Singapore, in research and analytics firm Findexable's 2021 Global Fintech Rankings Report in June.
Hong Kong's zero-Covid pursuit, including a quarantine period of up to 21 days, even for fully vaccinated inbound travellers, has raised the ire of international business executives.
The restrictive rules caused a number of northern European start-ups to abandon plans to attend the Hong Kong FinTech Week conference, said Johansson, the Nordic Innovation House community director.
Johannson said the restrictive quarantine rules in Hong Kong, which require travellers to spend up to 21 days of quarantine, was a concern. "Many Nordic start-ups have shown a great interest in joining the Fintech Week in Hong Kong this year but decided not to as they found it hard to justify a 21-day quarantine for a two-day conference," she said.
Many Korean financial firms and start-ups are interested in opening operations in Hong Kong, but the quarantine measures are a concern, South Korea's Consul General in Hong Kong Baek Yongchun.
"We would like to see the restriction relaxed soon to [make it easier for] travellers to come to Hong Kong," he said.
Illustration: SCMP Graphics