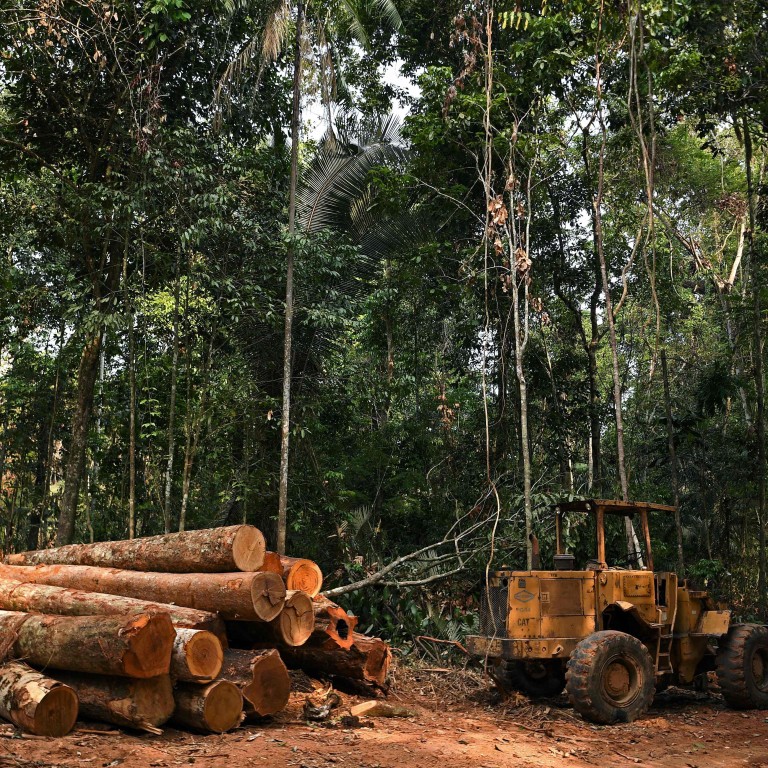 Forestry-backed carbon credit trading faces hurdles in Asia despite COP26 pledge by global leaders to halt deforestation, says WWF-Hong Kong
Finding projects of the right quality and scalability poses a challenge, according to the head of environmental finance at the conservation organisation
More than 100 global leaders pledged at the recent climate talks in Glasgow to halt and reverse deforestation and land degradation by the end of the decade
The trading of carbon credits backed by forestry projects faces barriers in Asia despite the recent launch of a voluntary carbon exchange in Singapore and pledges by world leaders to halt deforestation at COP26.
Climate Impact X
, Singapore's voluntary carbon exchange, announced on November 1 that it had completed a pilot auction of 170,000 carbon credits, generated from eight forest conservation and restoration projects in Africa, Asia, and Central and South America.
A
carbon credit
is a permit that allows the holder to emit a certain amount of carbon dioxide or other greenhouse gases over a set period of time. One credit is typically equivalent to one ton of carbon dioxide.
The Singapore-based carbon exchange and global marketplace set up by DBS Bank, Singapore Exchange, Standard Chartered and sovereign fund manager Temasek will host regular auctions from early next year.
"The fundamentals and the motivations [of Climate Impact X] appear to be in the right place. We need to see what happens with it, but it looks like they're moving in the right direction," said Jean-Marc Champagne, head of environmental finance and bankable nature solutions, Asia-Pacific, at WWF-Hong Kong.
However, forestry-based carbon trading in Asia poses challenges in terms of finding projects of the right quality and scalability, according to Champagne.
"The challenge is finding the right projects and then getting the pipeline of projects to support it. A lot of projects need to be generated in order to come up with these carbon credits."
Forest carbon projects must operate for years before credits can be verified and sold, making upfront financing necessary to support these efforts, according to the State of Forest Carbon Finance 2021 report published in June by environmental finance portal Ecosystem Marketplace.
As of 2019, voluntary carbon markets had generated nearly US$1.4 billion in demand for forest carbon offsets, according to Ecosystem Marketplace. The trading volume of forestry and land-based credits reached around 36.7 million metric tonnes of CO2 equivalent, worth US$159.1 million in that same year.
Demand for nature-based offsets, those that reduce emissions by protecting or managing at-risk forests, grasslands or other ecosystems, have seen demand more than double this year from already record levels in 2020, according to a report by Fitch last month.
More than 100 global leaders pledged at the recent COP26 climate talks in Glasgow to
halt and reverse deforestation
and land degradation by the end of the decade, an effort that would be underpinned by US$19 billion in public and private funds to invest in protecting and restoring forests.
The joint statement issued at the conference was backed by the leaders of countries including Brazil, Indonesia and the Democratic Republic of Congo, which collectively account for 85 per cent of the world's forests.
While having the commitments of global leaders is a positive development for the world's forests, there remains a big gap in terms of the projects that could be funded by the capital, said Champagne.
"The missing piece is the development of projects that will meet the needs of this capital that is being put to work," he said.
He also highlighted the role Hong Kong could play in financing sustainable solutions.
"Hong Kong can play an important role, not just in carbon, but in the whole space of financing biodiversity and conservation. Hong Kong has a real opportunity to lead in sustainable and green finance, but the city also has to set an example of being a green city in its operations," said Champagne.
This article appeared in the South China Morning Post print edition as: 'Barriers' to forest-backed carbon trading in Asia