IPO
Get more with myNEWS
A personalised news feed of stories that matter to you
Learn more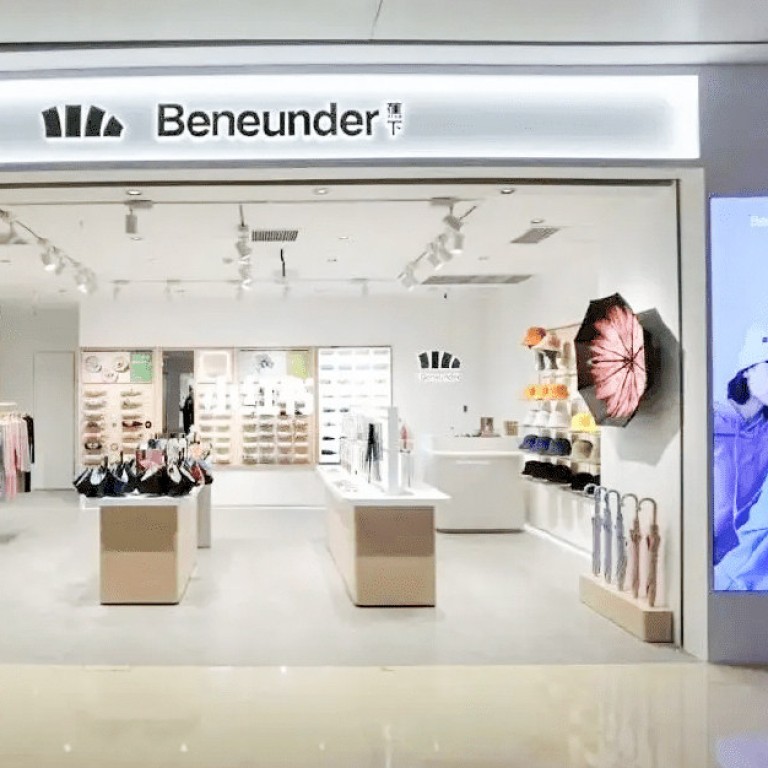 Outdoor gear retailer Beneunder sparks ire of Communist Party mouthpiece People's Daily as it seeks Hong Kong IPO
In a rare move, the newspaper accused the outdoor gear retailer of wasting revenues on advertising at the expense of profit
Some analysts believe the company's use of online influencers to market products may be behind the scathing critique
An article in the People's Daily, the mouthpiece of the Chinese Communist Party, recently questioned a company seeking to list its shares in Hong Kong, a rare move that has baffled some analysts and may affect the firm's chances of a successful IPO.
The piece accused outdoor gear retailer Beneunder of wasting revenues on advertising, particularly by paying large amounts to
famous online influencers
to push its products. It said the company's marketing costs had increased by more than 10 times over the past three years.
"The company's revenue increased a lot in the past years while delivering a rather small profit. The marketing cost is its major expenditure, according to its IPO prospectus ... and a rather big chunk of the company's revenue was pocketed by
live-streaming top influencers,
" said the article, which appeared in the newspaper's capital market observations section on June 8.
The Post has approached Beneunder for comment.
Shenzhen-based Beneunder, which started out in 2013 producing umbrellas for protection against the sun, recorded revenues of 2.41 billion yuan (US$359 million) in 2021, up 67 per cent year-on-year, and delivered an adjusted profit of 136 million yuan.
"It is unclear why a mouthpiece media [outlet] commented on one particular company waiting for listing like this," said Jeffrey Chan Lap-tak, a founding partner at Oriental Patron Financial Group, a Hong Kong-based firm. "Having light assets and paying a lot on branding seems more than common among current new-economy firms at an early stage to boost their presence."
The designer toymaker Pop Mart International Group, which went public in Hong Kong at the end of 2020, for example, reported a 20 times surge in its marketing and advertising costs in the three years prior to listing, according to its IPO prospectus.
"You can argue about whether such a business model is sustainable or not. But it seems not a solid enough [reason] to slam its IPO like that, only based on its business model," said Chan. "Of course, there might be other things that we do not know."
Indeed, some market observers believe the real reason for the scathing critique may lie in Beneunder's use of live-streaming as a marketing tool.
Celebrities who peddled products to fans online have been under heightened scrutiny since late last year and many, including the top influencers Viya and Zhu Chenhui, aka Xueli Cherie, were fined millions of yuan for tax evasion and removed from China's online space.
"It is highlighted by the People's Daily piece that Beneunder paid millions to the live-streaming stars, and that could be an explanation for the criticisms," said Kenny Ng Lai-yin, a strategist at Everbright Securities International. "For whatever reason, such comments from an important state media outlet will affect a company's IPO procedure – we've seen it before."
Futu Holdings, for example, which is currently listed in the US, was reported by local media to be seeking a secondary listing in Hong Kong last September.
But a month later, Chinese state media hammered online brokerages, including Futu, for providing cross-border stock and derivative trading services for mainland investors. Such financial activities were likely to become a tool for "illegal capital outflows", it was claimed.
In response, Futu said it had been "operating within the framework of industry laws and regulations, the same as other peers in Hong Kong with certificates,."
But nothing has been heard about its planned listing since the stinging criticisms.
"Such comments from state media may raise the eyebrows of retail investors, or in the worst scenario, the listing might get halted because investors are already super cautious in such a dormant market," Ng said.
So far this year, 22 IPOs in Hong Kong have raised HK$17.1 billion – a 92 per cent drop compared to the same period of 2021. PwC expects IPOs, in a best-case scenario, to raise 60 per cent cash of what they managed last year.
Beneunder, which is backed by Sequoia Capital, offers a wide range of outdoor wear and accessories including hats and shoes, according to a regulator filing to the Hong Kong stock exchange on April 8.
The company said in the filing that it was the largest sun protection clothes brand in China by sales last year.
China International Capital Corporation and Morgan Stanley are the joint sponsors for the proposed offering.