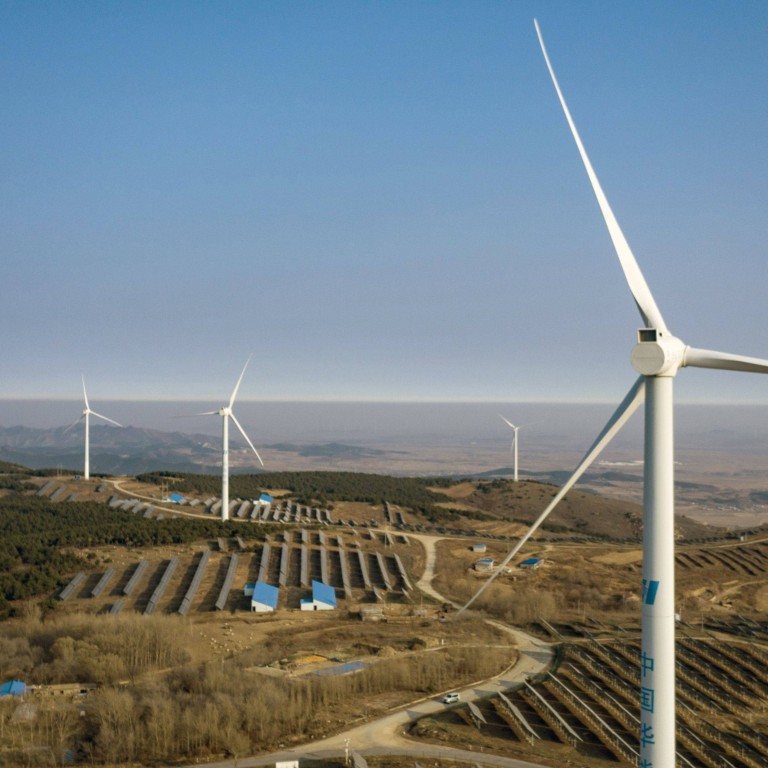 China faces US$6.5 trillion green financing gap to reach 2060 net-zero carbon emissions goal, WEF report finds
China faces a shortfall of 44 trillion yuan in green financing over the next four decades, says the report by WEF and Oliver Wyman
Its transition to net-zero will require massive funding to support technological breakthroughs in carbon-heavy sectors, says report
President Xi Jinping pledged to lead the country to carbon neutrality – meaning its net carbon emissions will reach zero – by 2060, in a speech to the United Nations General Assembly in September, 2020.
China's net-zero transition is unique compared to the United States and countries in the European Union, because of its heavily industrialised economy, according to the report.
Manufacturing makes up more than a quarter of gross domestic product (GDP) in China, far higher than the 10.9 per cent in the US, 14.9 per cent in the EU, and 15.9 per cent global average.
Its transition to
net-zero carbon emissions
, therefore, will require massive funding to support substantial technological breakthroughs in carbon-heavy sectors, according to WEF and Oliver Wyman.
For example, the energy sector, which contributes to nearly half of China's
greenhouse gas emissions
, faces a financing gap of 15 to 20 trillion yuan over the 40 years to 2060 if it is to achieve the net-zero target. Of that, 6 to 8 trillion yuan will be in solar power, and 4 to 6 trillion yuan in wind power.
Investments in technology in those areas could help greatly reduce the energy sector emissions and contribute significantly to the 2060 net-zero goal, according to the report.
China's unique economic governance model will also help shape the net-zero transition.
Top-down economic planning by central and local governments is more conducive to long-term investment, and the state-owned enterprises (SOEs) will play an important role due to their substantial market share in the carbon-heavy industries needing to transition and the financial services that will have to finance this transition, said Qian. Public funding will also play a more significant role in China than elsewhere, he added.
One key reason for the financing gap is funding mismatches, including between types of financing instruments, deal structures, and funding tenures, the report noted.
Bank lending is the backbone of corporate finance in China. But to avoid risks, banks tend to mainly provide loans to large SOEs and private enterprises, which makes it difficult for small and medium-sized enterprises – which account for
65 per cent of total carbon dioxide emissions
in China – to obtain sufficient financial support.
A dearth of good quality data, and a lack of clear policy support and supply chain collaboration are also key challenges to be overcome.
"While the road ahead is steep, if China gets this right, it could drive the next green revolution globally, given the country's scale and position in the global economy and supply chains," said Kai Keller, platform curator of the WEF Beijing Representative Office.
"This will require significant innovation in financing, adequate policy support, and cross-industry collaboration."
The government's comprehensive support when it comes to taxation, land, administrative approval and financing can significantly help China's green transition.
Financial institutions should also innovate green financial products to better meet demands, the report said. This could include new term structures, collateral requirements, instrument archetypes, and portfolio strategies, to ease the shortage of equity green financing and long-term green loans in China.
Enterprises should also collaborate with their partners in the value chain to set more holistic emission-reduction goals, especially covering their Scope 3 emissions – indirect emissions across the entire value chain, the report concluded.