Standard Chartered second-quarter profit beats estimates as several Asian markets rebound 'well from the Covid-19 pandemic'
Pre-tax profit was US$1.32 billion in the second quarter, beating a consensus estimate of US$989 million
In its five biggest markets, Hong Kong was the only one to report a decline in operating income in the first half of the year
Standard Chartered
, one of Hong Kong's three currency-issuing banks, said its profit rose 18 per cent in the second quarter as it bucked concerns about the global economy that sapped deal making in the West and led to choppy markets in the three-month period.
The emerging markets-focused lender's net profit rose to US$818 million from
US$691 million
in the same quarter of 2021. The London-based bank that generates much of its revenue in Asia, reported US$1.32 billion in pre-tax profit, beating the US$989 million expected by analysts.
"Geopolitical and macroeconomic volatility has adversely impacted the global economy [since earlier this year]," Standard Chartered CEO Bill Winters said on a call with analysts on Friday. "It appears at this stage that the Asian markets have been less affected than those in the West and several are rebounding well from the Covid-19 pandemic. This is coming through in our results."
Standard Chartered is the first of Hong Kong's large and currency-issuing lenders to report their results for the second quarter.
HSBC
is expected to report its results on Monday, followed by
Bank of China (Hong Kong)
later next month.
Standard Chartered's Asia business, including its single largest market Hong Kong, made a pre-tax profit of US$945 million, 4 per cent below the US$983 million it reported a year earlier.
In its five biggest markets, Hong Kong was the only one to report a decline in operating income in the first half, but Standard Chartered said its business in the city remained "resilient". Underlying pre-tax profit in Hong Kong dropped by nearly half to HK$419 million in the first six months of the year.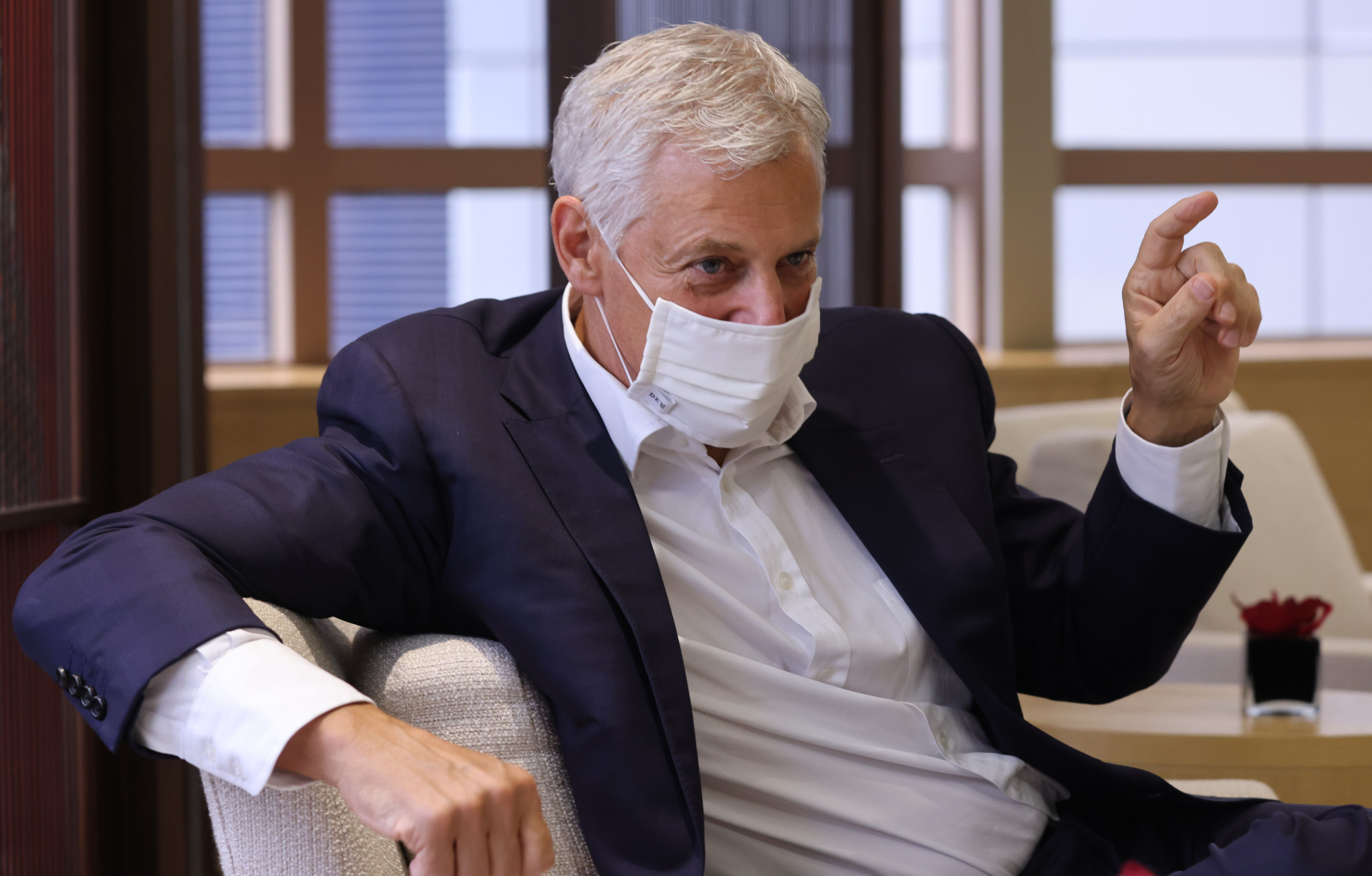 Standard Chartered said it would pay an interim dividend of 4 US cents a share after resuming dividend payments last year. Analysts expect the bank to pay a dividend of 16.5 US cents a share over the course of the year, according to market consensus.
The bank also said it would buy back US$500 million in shares, with a goal of returning US$5 billion to shareholders over the next three years.
Shares of Standard Chartered closed slightly higher at HK$56.05 in Hong Kong, paring back earlier declines in Friday's morning session ahead of the announcement.
The bank also said it would take an additional US$77 million in credit impairments for potential soured loans in its Chinese commercial real estate portfolio amid growing concerns about China's economic slowdown and continued financial difficulties in the property sector.
HSBC and Standard Chartered each took US$160 million in credit impairments for potential soured loans related to their mainland commercial real estate books in the first quarter.
The additional provisions came as China's second-quarter economic growth slowed to 0.4 per cent, amid a warning by S&P Global Ratings last week that a fifth of rated Chinese property developers could end up becoming insolvent, putting as much as
US$88 billion of their distressed bonds at risk
.
Despite concerns about the slowdown in China's economy, Standard Chartered remains optimistic about its future prospects in the mainland.
"China presents the group with one of the biggest strategic opportunities over the coming years," Winters said. "China this year delivered its best ever first-half income performance."
In February, the bank said it would
invest US$300 million in its China business
, while cutting its overall costs by US$1.3 billion over the next three years to improve its profitability. About US$50 million of that investment will happen this year.
Standard Chartered's operating income, similar to revenue in US accounting terms, rose 7 per cent to US$3.93 billion in the second quarter. Net interest margin, an important measure of lending profitability, rose to 1.35 per cent in the quarter, up from 1.22 per cent a year earlier. It increased six basis points from 1.29 per cent in the first quarter.
Operating income soared by 18 per cent to US$835 million in its transaction banking business and rose 8 per cent in its financial markets segment despite uncertainty over the economic outlook that cut into profits at its American rivals.
In wealth management, operating income fell by 17 per cent to US$458 million. In Standard Chartered's corporate, commercial and institutional banking business, underlying pre-tax profit fell by 7 per cent to US$868 million.
The consumer, private and business banking segment saw its underlying pre-tax profit fall 1 per cent to US$348 million, compared with US$353 million a year earlier.
Its SC Ventures business reported an underlying pre-tax loss of US$74 million, compared with US$84 million in the prior-year period. The ventures segment includes its majority-owned virtual banks,
Mox
in Hong Kong and Trust in Singapore.