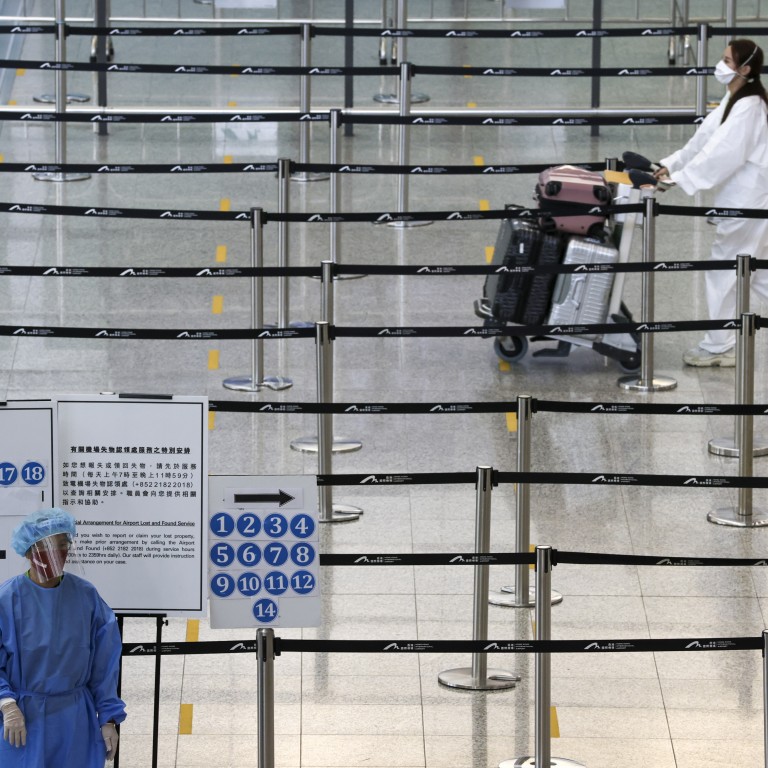 Hong Kong must have a plan to end quarantine if it is to keep international financial hub status, retain talent, fund managers say
Quarantine-free travel essential to putting the city back on the map for senior business executives and investors, Hong Kong Investment Fund Association says
Participation in cross-boundary schemes such as Wealth Management Connect and ETF Connect has been 'slow and underwhelming'
In a proposal it is preparing to present to the government, HKIFA said quarantine-free travel will be essential to putting the city back on the map for senior business executives and investors.
"It cannot be become a norm for major business executives or investors to skip Hong Kong in their Asia trips because of quarantine requirements," Nelson Chow Kin-hung, the association's chairman, said in a media briefing. Shortened quarantine time was "not ideal" for international investors, Chow said. HKIFA represents firms with more than US$52 trillion in assets under management.
Hong Kong is set to shorten the hotel quarantine period for arrivals to
a "3+4" or "4+3" arrangement
, the
Post
reported last week. The arrangement is expected to be rolled out together with a health colour-coded system that will be tied to the government's "Leave Home Safe" app.
Opening up to mainland China will be equally important as opening up to the rest of the world, Chow said.
"To maintain [Hong Kong's] status as an international financial centre, we need to be true to the label and be international. The ability to travel unfettered internationally is a basic prerequisite of an international financial centre," he added.
A survey of its members by HKIFA found that many were concerned about the city's ongoing quarantine arrangements, particularly when other markets and regions had lifted most – if not all – Covid-19 restrictions.
"Even though [the government] is shortening the quarantine period, we don't know what the exit strategy is, at what point can we return to zero [quarantine]? What will it take to go from three days to zero," Sally Wong Chi-ming, the association's CEO, said during the briefing.
Hong Kong's quarantine restrictions, which have been in place for over two years, have led to a plateau in investments in the city and an
exodus of talent
across the financial industry.
"The situation is quite dire. Some firms are offering options for their staff to relocate to other cities, in an effort to retain employees," Chow said. "A large number of regional talent are choosing other cities so that they can better conduct their duties."
The Stock Connect had several "teething issues" that need to be addressed to unleash its full potential.
A list of recommendations made to the government by HKIFA included relaxing stringent restrictions on cross-border schemes, such as the 50-50 sales limit, which limits fund sales to 50 per cent of total asset value.
The ETF Connect needed to expand its product mix by allowing ETFs that are domiciled in other markets, while the Wealth Management Connect scheme would benefit from offering high risk products, which would attract more investors from the mainland, Chow said.
Additional reporting by Connor Mycroft