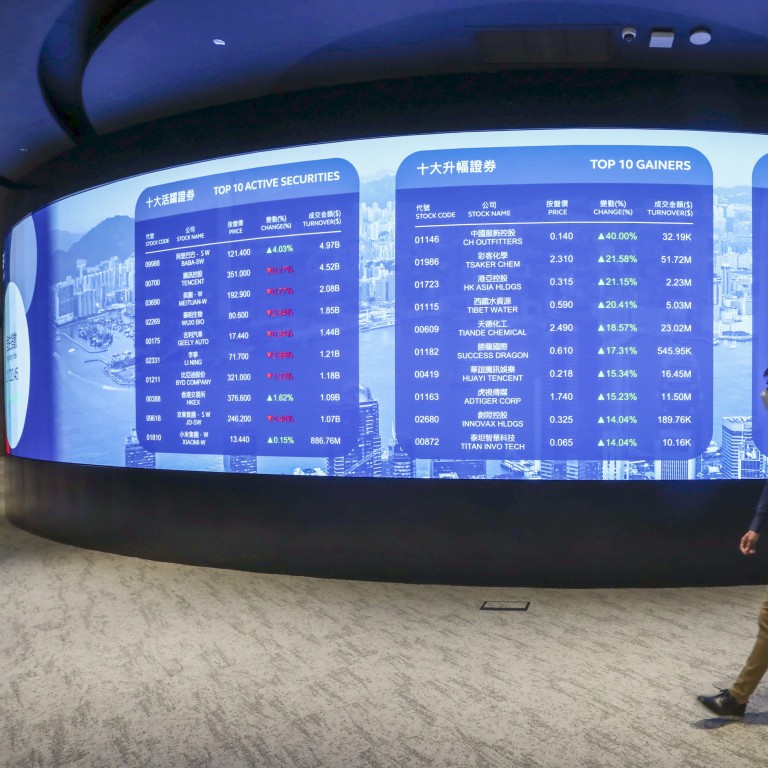 A fifth of US-listed Chinese firms probably not qualified for a Hong Kong listing, narrowing escape options, research finds
There are 52 Chinese companies listed in the US – including Renren and Waterdrop – which don't qualify for Hong Kong listing
The CMB Wing Lung team based their research on thresholds for the main listing methods on the Hong Kong stock exchange
About a fifth of the 261 Chinese companies currently listed in the US are probably not qualified to go public on the Hong Kong stock exchange, limiting the options for firms looking to offset the increased risk of a US delisting amid an ongoing auditing stand-off.
There are 52 Chinese companies listed in the US – including Renren, Waterdrop and Uxin – which do not currently qualify to go public in Hong Kong through a major listing approach, including a primary listing, secondary listing, dual primary listing and way of introduction, according to data provided to the Post by the equity research team at CMB Wing Lung Bank.
The CMB Wing Lung team based their research on thresholds for the main listing methods on the Hong Kong stock exchange, including market capitalisation, revenue, net profit and operating cash flow, and found that the 52 companies are currently unable to meet all the requirements.
A bank spokesperson said the research has not been verified, and was unauthorised for publication.
The findings come after
Alibaba Group Holding
was last week added to a growing list of Chinese companies facing a potential delisting from US stock exchanges, days after the
e-commerce
giant announced plans to
seek a primary listing on Hong Kong's bourse
with the aim of diversifying its investor base. The
US Securities and Exchange Commission
(SEC) added Alibaba, owner of the
South China Morning Post
, to its watch list of US-listed Chinese firms facing removal from American exchanges under a 2020 law, the
Holding Foreign Companies Accountable Act
(HFCAA).
Under that law, foreign companies may be delisted if they fail to submit their audit papers to a US accounting oversight body (PCAOB) for three consecutive years. This means the three-year countdown for Alibaba to comply with the requirement has started.
With tech and trade tensions rising between Washington and Beijing, there are growing voices in China calling for more domestic companies to seek alternatives to US listings.
"It's troublesome for [the 52 companies], because there's lingering uncertainty and an unknown deadline as to when they might have to delist [in the US]," said the CMB Wing Lung Bank equity research team. "If they have to delist, they will have extra demand for capital to buy back the shares from smaller shareholders, causing problems to both their operations and financial situation."
"If companies are not getting the benefits they expected from their listing status in one market – such as market liquidity, access to international investors and extra fundraising channels or closeness to customers – then the companies may want to consider going private or listing in another exchange," said Ashok Lalwani, head of Baker McKenzie's international capital markets practice in Asia-Pacific.
However, Chinese companies may feel stuck in the US.
"If the US-listed Chinese companies do not qualify for a Hong Kong listing, essentially, they can either remain listed in the US with the hope that China and the US will come to an agreement on the audit inspection issue, or they can go private," said Victoria Lloyd, a partner in Baker McKenzie's capital markets practice. "However, going private will not be easy as many of these companies are not trading very well and market valuation will be low. So most of them are caught in the crossfire, and their US-listing status leaves them in a sticky position."
Kandi Technologies, 111 Inc and Tuniu were among the large-cap Chinese companies in CMB Wing Lung Bank's list of firms that do not currently qualify for a listing in Hong Kong. Tuniu and 111 did not immediately respond to a request for comment from the Post.
"Because we are highly confident in our position in the US market, having been listed here for over a decade, we have not explored a Hong Kong listing," Kandi said in a statement overnight in response to a query by the Post. "Our auditor is PCAOB-compliant. We have not been included on the SEC's HFCAA list, and do not expect to be. Therefore we are not at risk of being delisted for this reason, as are nearly all the other Chinese companies listed in the US."
As of May 2022, around 170 Chinese companies had delisted from the US, with 47 per cent opting for privatisation, according to consultants Kroll. Around 10 per cent withdrew due to political considerations while 25 per cent were expelled for accounting fraud or bankruptcy, said Kroll.
The compliance costs of delisting – such as lawyer fees, auditing and insurance in the US – are also relatively high, which is a burden for smaller companies, said Serena Shi, managing director of corporate M&A at Kroll.
Although privatisation costs are high, many companies may look for a workaround, going private first before going public in Hong Kong later through a primary listing, said Stephen Chan, a partner at a law firm.