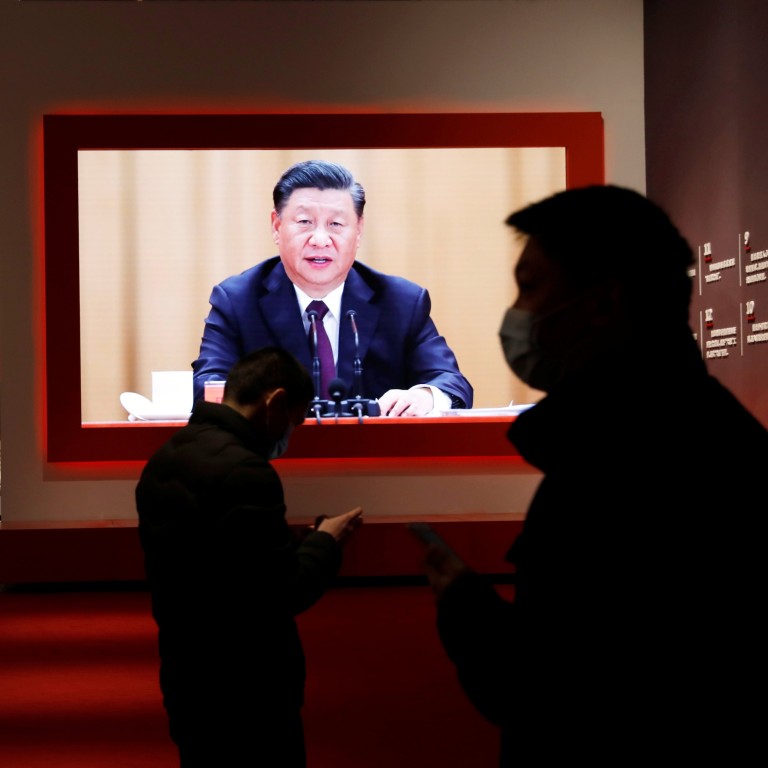 Beijing moves to cap financial sector pay again, with finance ministry urging firms to balance incomes of senior staff, frontline employees
Ministry places limits on base salaries and bonuses of senior staff
Notice says it applies to a range of financial institutions, including state-backed institutions and sovereign wealth funds
Beijing has instructed firms in China's financial industry to rein in pay levels, echoing President Xi Jinping's goal of promoting
"common prosperity"
.
The Ministry of Finance wants that the base salary of senior staff in financial institutions should not be more than 35 per cent of their total compensation package, while at least 40 per cent of their bonus payments should be deferred for three or more years, according to a notice published on its website on Wednesday.
"Financial institutions should balance income allocation between different seniorities and roles. Staff who receive much higher than average salaries should see their annual income levels [brought much closer] to what frontline and average employees are offered," the ministry said in the notice, which was drafted on July 20.
Wednesday's notice represents the latest effort made by the central government to act on
Xi's common prosperity goal
, which calls for people to share opportunities for wealth generation, and for reducing income inequality that could threaten long-term economic growth and even the legitimacy of Communist Party rule. Over the past two years, China has intensified a crackdown on any kind of flaunting of wealth following Xi's pledge to reduce the wealth gap.
The notice said it applied to state-backed financial institutions, including state-owned or state-controlled financial firms, domestically and overseas, sovereign wealth funds, financial investment and operation companies, as well as other enterprises or institutions substantially engaged in financial infrastructure and financial businesses. Other financial companies can implement it by reference.
In June, the Asset Management Association of China instructed fund firms to enhance their "social responsibility and capability to serve the economy and the country's strategies". Senior staff at fund houses will also see at least 40 per cent of their bonus payments being deferred for three or more years, similar to the finance ministry's new instructions.
The Securities Association of China, an organisation of brokers, urged brokerages to set up a sound pay system in May, warning them that excessive or short-term incentives could lead to compliance risks.
Deferred bonuses are quite common and many professionals have not received any bonus from last year, said a junior bond trader in Shanghai, who spoke to the Post on condition of anonymity. They also expected some pay cuts across the industry.
Last weekend, the screenshot of a document showing that a young
China International Capital Corporation
(CICC) bond trader receives about 82,500 yuan ($12,225) a month went viral on Chinese social media. CICC, the country's top brokerage, said it would investigate the incident, according to local financial news outlet Cailianshe.