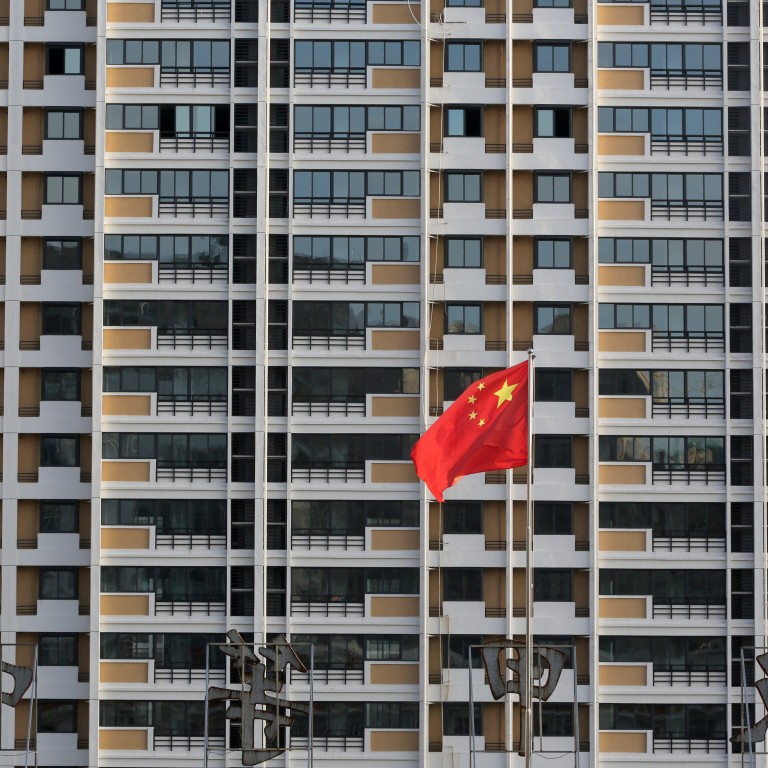 Could China's rental property Reits provide debt-ridden developers with an alternative funding channel?
Reits have proved to be popular among investors because of high returns during an earlier successful experiment involving infrastructure-backed trusts
Current problematic projects are not mature enough to be securitised into Reits, they are not even generating incomes, analyst says
The first batch of China's subsidised
rental property real estate investment trusts
(Reits) will be issued as soon as next week and has sparked hopes that it could come to the rescue of the country's debt-ridden property developers.
The 1.3 billion yuan (US$193 million) CICC Xiamen Anjufang Reit, with each priced at 2.6 yuan, will be issued on August 16. Hotland Innovations Asset Management's 1.24 billion yuan Shenzhen Talents Anju Reit will also be launched on the same day, while China Asset Management's Beijing Rental Property Reit was priced on Friday. Their launch will add to China's 13 existing Reits worth 58 billion yuan.
Reits are funds that own, operate and finance real estate projects, generating a stable flow of rents, service fees and other income as dividends for investors. Their expansion to rental property projects has been spearheaded by the government, but some people hope that they can also provide a new funding channel for developers.
Chen Hongfei, the president of Shanghai-listed property investment and development company Everbright Jiabao, for example, on Wednesday called for regulators to "push out commercial [property] Reits as soon as possible, which can at the same time provide funds for ensuring the delivery of housing units", according to a report by financial news provider Hexun on the 2022 Boao Real Estate Forum.
Reits, during an earlier successful experiment involving infrastructure-backed trusts, proved to be
popular among investors
because of high returns. Beijing was try to diversify funding channels for infrastructure investment to ease local governments' financial pressure, which has raised hopes the current iteration could help developers, which are currently embroiled in a debt crisis whose impact has
spilled over to the financial system
through a
mortgage boycott
by homeowners.
China Asset Management's Yuexiu Expressway Reit, for instance, had jumped almost 18 per cent to 8.374 yuan as of Friday since its launch in November last year.
While Reits could potentially ease the financial pressures of China's highly-leveraged property developers, they were, however, unlikely to achieve this in the short term, analysts said.
Resorting to Reits is feasible when a developer has short-term liquidity problems, with stable income from projects, said Yan Yuejin, director of the Shanghai-based E-house China Research and Development Institute. "But the current problematic projects are not mature [enough] to be securitised into Reits. Some of [the projects] don't even have incomes," he added.
China's current Reit pilot programmes are backed by high-quality projects, such as rental housing in tier-1 or tier-2 cities, as regulators want to ensure a smooth launch and to strengthen confidence in the early stages.
"Reits are called the stabiliser of the real estate market. Not only can Reits provide a supplementary financial channel for property companies, they will also reduce their reliance on bank loans and help avoid risks brought on by direct investment into a specific type of property," said Chen Xiao, senior analyst at online property agency Zhuge Zhaofang's research centre. Reits can serve as an important tool to improve the cash flow of developers during the current difficult times, he said.
The incoming batch of Reits will, moreover, focus on rental housing, experts said, in line with the central government's campaign to develop this market. China has included this goal into its five-year development plan until 2025, and has vowed to revitalise existing properties and advance the healthy development of Reits.
"The purpose of these Reits is to try and increase the supply of rental houses," said Zhang Bo, chief analyst at Shanghai-based 58 Anjuke Real Estate Research Institute. "The [development] of such projects will be slow if they rely only on investment by the government and state-owned companies, which can't meet the demand created by the fast inflow of new populations into some cities."
The participation of market capitals, meanwhile, solves this problem, Zhang said.