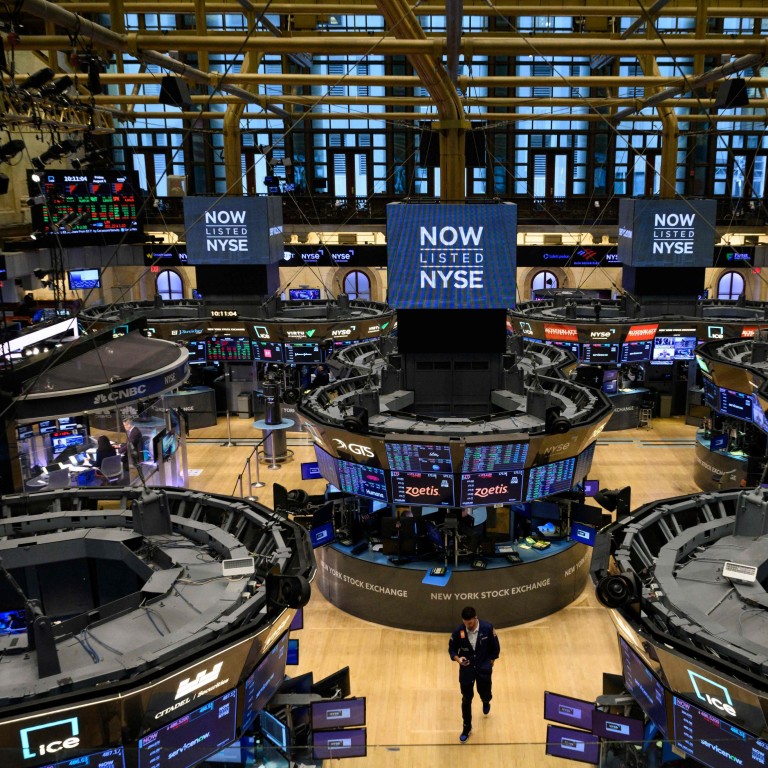 More Chinese state-owned companies expected to delist from US stock exchanges as accounting spat continues
The voluntary delisting of five SOEs including Sinopec and PetroChina from the New York Stock Exchange could pave the way for further exits
Analysts believe Beijing has begun a process of deciding which companies should be allowed to remain listed in the US
More state-owned enterprises (SOEs) are expected to delist from the US capital markets, deepening an exodus arising from a regulatory impasse between Beijing and Washington.
The
voluntary delisting of five SOEs
– the oil giants Sinopec, its entity Sinopec Shanghai Petrochemical and PetroChina, China Life Insurance and Aluminum Corporation of China – from the New York Stock Exchange could pave the way for further exits, according to analysts.
Their decision to
apply for delisting
at the same time reflects Beijing's "preference" that companies facing higher scrutiny over accounting practices remove themselves from American exchanges, said Kenny Ng Lai-yin, a strategist at Everbright Securities International.
More SOEs are
likely to follow suit
, particularly those with a dual listing in Hong Kong or mainland China, whose American depositary receipts (ADR) only form a small part of their total shares capital.
"For such companies, the actual impact of delisting is much smaller," he said.
Some 300 businesses based in China and Hong Kong – with over US$2.4 trillion of market value – are at risk of being expelled from US exchanges
amid heightened scrutiny
from the Securities and Exchange Commission (SEC), Bloomberg Intelligence estimated in May.
The recent slew of announced departures has strengthened market anticipation that more Chinese companies are preparing backup plans to allow them to move away from the world's largest capital market, analysts believe.
Alibaba Group Holding, which owns the
Post
, applied for a dual-primary listing in Hong Kong days before it was
added to a watch list
of Chinese firms facing expulsion from US exchanges. More are likely to follow in its footsteps.
Yum China Holdings, the operator of restaurant chains including KFC and Pizza Hut, said on Monday night it has applied to the Hong Kong stock exchange to convert its listing to a primary listing.
The New York Stock Exchange-listed company, which completed a secondary flotation in Hong Kong in September 2020, said it would seek shareholders' approval for the move at a special meeting scheduled for October.
"In the long term, we will see more SOEs delist from the US and likely return home if there is no breakthrough in bilateral negotiations," said Louis Lau, a partner in the capital markets advisory group of KPMG China.
"Apart from the fact that the [US accountancy watchdog] is not allowed to conduct audit inspections in China, state-owned companies may not fulfil other criteria, such as disclosing their relationships with government and demonstrating that they are not owned or controlled by the government."
Analysts believe China has begun a process of deciding which companies should be allowed to remain listed in the US. In particular, Beijing is unlikely to want state-owned firms to be subjected to local audit investigations.
The five SOEs that applied for "voluntary delisting" last week were accused by American regulators of failing to meet the requirements of US auditing rules earlier.
"We see this as a positive sign," said analysts led by Edison Lee at financial services firm Jefferies. "This is likely a sign that China's 'selection process' has started, instead of a sign that there is no deal [over auditing compliance]."
The SEC, the US market watchdog, had been
steadily adding companies
to a list of entities deemed to be liable under the Holding Foreign Companies Accountable Act (HFCAA), which provides for the expulsion of companies as early as next year if they do not comply with US auditing oversight after three consecutive years.
US and Chinese regulators have for a decade been grappling with ways to resolve the impasse, as the clock ticks down towards the expulsion, which could kick in as early as 2023.
On Monday, Shanghai Securities News, a state-owned newspaper, called for a "rational attitude" towards the delistings and said there was "no need to over-interpret". It will not have a huge impact on the mainland markets, and the five companies are special cases that do not indicate the situation of other US-listed companies, it said.
The China Securities Regulatory Commission said on Friday the delistings are part of normal market activities and are decisions taken by the companies based on their business needs.
"China doesn't want certain companies listed in the US. The US doesn't want certain Chinese companies to have access to US capital. There are no arguments here," said Wang Qi, co-founder of MegaTrust Investment (Hong Kong), a boutique China asset manager.
"Certain companies" refers to stated-owned entities and those in sensitive industries like defence and telecoms, he said.
"The ADR story isn't over yet," Wang added.