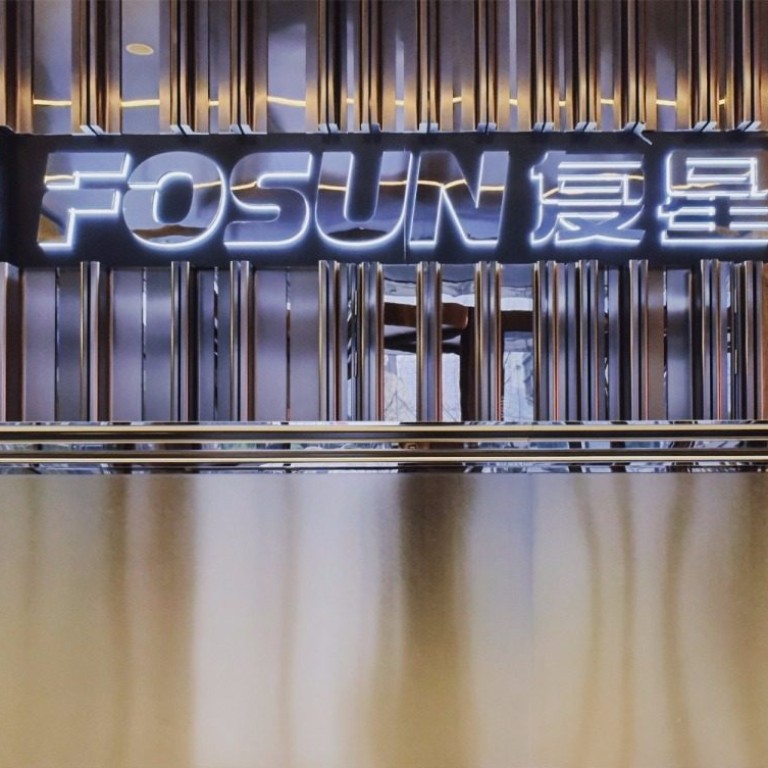 Shares in Chinese conglomerate Fosun drop after Moody's downgrade cites weak liquidity and property contagion risk
Listed units fell in mainland and Hong Kong trading on Wednesday after Moody's downgraded the company by one notch to a B1 rating
Fosun said the rating cut was largely based on an overly pessimistic reading of the broader economy and market conditions
Listed units of
Fosun
, one of China's largest private conglomerates, fell on Wednesday after Moody's downgraded the company, citing weak liquidity, a weakening portfolio amid expected acceleration in asset sales, and contagion risk from its property investees.
Moody's downgraded Fosun International – the major holding company of the group – by one notch to B1 after the market close on Tuesday.
In Hong Kong, Fosun International dropped 1.2 per cent and has lost 28 per cent year to date.
Shanghai Fosun Pharmaceutical
shed 3.3 per cent. Fosun Tourism Group lost 4.9 per cent, the biggest daily drop in three weeks. In mainland trading, Shanghai Fosun Pharmaceutical fell 1.9 per cent.
"The downgrade reflects Fosun's weak liquidity profile, elevated refinancing pressure due to the challenging onshore and offshore funding environment, and the execution risks related to its asset divestment plan amid slower economic growth and capital market volatility," said Lina Choi, a Moody's senior vice-president.
The ratings downgrade is a concern for investors who were already spooked by
the bankruptcy
of
HNA Group
, blamed on overly aggressive expansion and a complex company structure. Amid a harsh refinancing environment, the downgrade could damage Fosun's access to funding.
Credit contagion risk from Fosun's weak subsidiaries in the property market, including Shanghai Forte Land and Shanghai Yuyuan Tourist Mart, also contributed to the rating cut, Moody's said. A complicated group structure and inadequate information transparency is also harming the company's outlook, it added.
Fosun said the rating adjustment "does not affect Fosun's debt repayment ability".
"Analysts' judgment on the macro economy is too pessimistic and largely based on Moody's concerns about China's economy and the general environment of the capital market, rather than concerns about Fosun's own financial situation," the company said in a statement to the South China Morning Post.
The company added that its diversified business mix and globalised asset portfolio will help it withstand market risks. The group will enhance its financial and capital management, it said.
Fosun, controlled by Shanghai billionaire Guo Guangchang, has financial, healthcare, property, tourism and fashion businesses.
Fosun International in March
reported
a 26 per cent year-on-year increase in net profit to US$1.6 billion for 2021.
Fosun International has outstanding debt of 242.8 billion yuan (US$35.4 billion) as of the end of June, according to data from Bloomberg.
On June 22, the company announced the repurchase of two batches of offshore bonds, worth US$380 million and 384 million euros (US$382 million).
S&P Global Ratings has not updated its rating on the company, after it said on June 23 that Fosun was capable of meeting its debt maturities in the next 12 months.
"While a reliance on short-term borrowing has been a key credit weakness for Fosun over the past few years, we believe the company can rely on asset monetisation and stable banking relationships to manage its liquidity," said S&P analysts Chloe Wang and Jillian Li in the June release. "This is amid weak sentiment toward high-yield, privately owned enterprise issuers in both onshore and offshore markets."
Lanvin Group, a French luxury fashion house controlled by Fosun International, agreed in March
to merge with
a US blank-cheque company backed by private equity firm Primavera Capital, valuing it at US$1.5 billion.