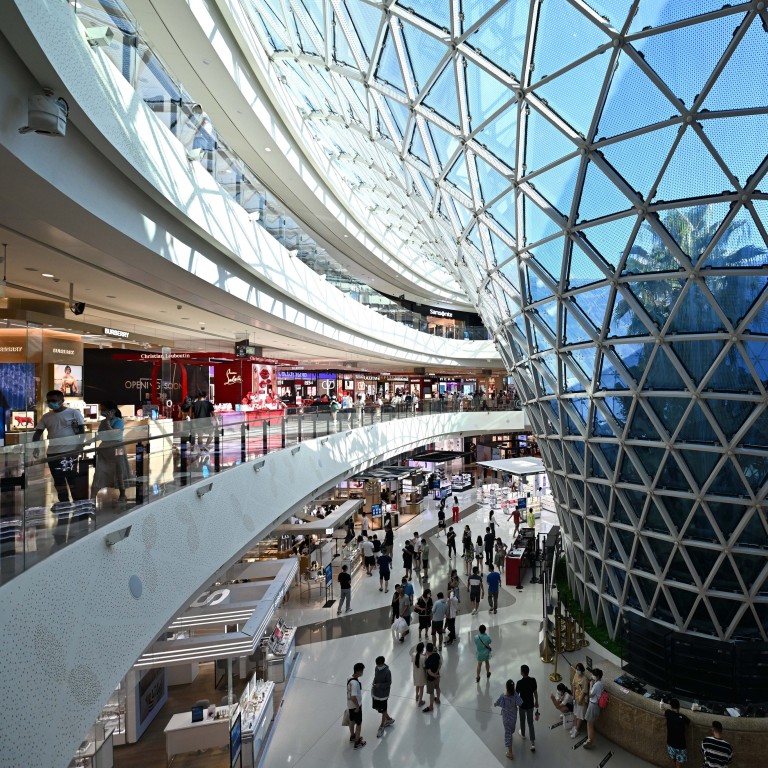 China Tourism Group Duty Free, biggest IPO of 2022, makes lacklustre debut in Hong Kong
China Tourism Group Duty Free closed flat at HK$158.00 on its debut on Thursday
The closely watched debutant only had half a day trading after tropical storm Ma-on delayed the start
China Tourism Group Duty Free, the world's largest travel retailer by sales, got off to a lacklustre start on its closely-watched debut on the Hong Kong stock exchange on Thursday.
The shares closed at HK$158.00, the same as its
initial public offering
price. At one point they dropped to HK$120.00 within a few minutes of the start of trading. The Hang Seng Index rose 3.6 per cent to 19,968.38 on Thursday.
Trading in the Beijing-based company's stock was delayed until 1pm on Thursday as severe tropical storm Ma-on led to the cancellation of the morning session. The company, which operates under the "cdf" brand and has the most duty free shops in China at 184, raised
US$2.1 billion
in the biggest IPO of the year so far.
That compares to 42 per cent in the same period a year ago, data from PwC shows.
But last year a third of the 45 debutants made a return of 20 to 500 per cent for investors, while this year none has returned more than 50 per cent, PwC said.
China Tourism Group's debut followed a lukewarm reception for its IPO. The 5.1 million shares on offer to retail investors were less than one time oversubscribed.
Still, enthusiastic demand from foreign investors, where sovereign wealth funds and asset managers accounted for the top 15 investors in terms of allocation of new shares, indicates improved sentiment for the rest of the year, said Guo Zili, co-head of Asia equity capital markets at UBS Global banking, a joint sponsor of the deal.
"There are still sizeable deals in the pipeline [for this year]. China Tourism Group's IPO indicates that there is still strong demand from foreign investors for Chinese companies [with proven track record]," he said.
The southernmost province in mainland China accounted for some 63 per cent of the 345 confirmed coronavirus cases reported by the Xinhua news agency on Thursday.
China Tourism Group's H shares – those listed in Hong Kong – are not interchangeable with its yuan-denominated stock because of China's strict capital controls. It is common for A shares issued by a company to trade at a premium to its H shares, due in part to different investor perceptions of the firm's outlook across the two markets, analysts say.
Apart from UBS, CICC was the other joint sponsor of the deal.