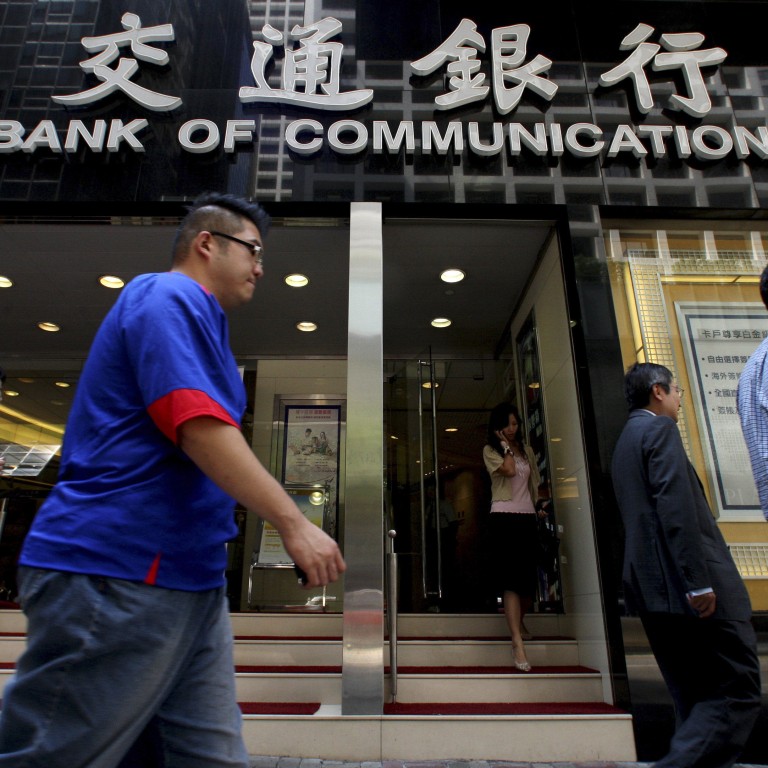 Bank of Communications' first-half earnings survive China's Covid-19 measures unscathed, but outlook tainted by credit card business
Bocom's first-half net profit rises 4.8 per cent year on year in line with analysts' expectations
Postal Savings Bank of China's net profit rises 14.9 per cent year on year to 47.1 billion yuan
Two Chinese state-owned banks said this week that their first-half earnings were largely unhurt by the country's Covid-19 lockdown measures, but more challenges are in store, with the Bank of Communications (Bocom) warning about a potential rise in sour debt from credit card customers in the second half.
Due to the economic impact of Covid-19 restrictions on some of its retail borrowers, Shanghai-based Bocom has granted payment extensions worth 2.7 billion yuan (US$393.4 million) to some of its credit card customers, it said at its half-year results briefing on Friday.
"While there is some recovery of growth, some regions are still [exposed] to the impact of Covid-19 [restrictions]," said Lin Hua, the bank's chief risk officer. "For those customers whom we have granted credit card repayment extensions, we cannot rule out that some of these loans would deteriorate."
The bank's non-performing loan (NPL) ratio for its credit card business was at 2.66 per cent, up 46 basis points compared to the beginning of 2022, he added.
Shanghai, China's financial hub, went into a two-month
lockdown in the second quarter
to contain the coronavirus. Moreover, the world's second-largest economy is widely expected to miss an annual gross domestic product growth target of around 5.5 per cent after reporting only
2.5 per cent growth
in the first half of this year.
The bank's first-half net profit rose 4.8 per cent year on year to 44 billion yuan,
in line with analysts'
expectations. Its NPL was at 1.46 per cent, down from 1.6 per cent this time last year. Its net interest margin, a key gauge of a bank's profitability, was at 1.53 per cent, down from 1.55 per cent a year ago.
Postal Savings Bank of China (PSBC) released its results earlier this week. Its net profit rose 14.9 per cent year on year to 47.1 billion yuan, while its NPL ratio was at 0.83 per cent, the same as this time last year. Its net interest margin slid to 2.27 per cent, from 2.37 per cent a year ago.
For the first half, PSBC extended an additional 60.8 billion yuan in loans compared to the same period in 2021, a record high for a first half, executives said at its results briefing.
The officials said they remained confident that their net fee and commission income, which represents earnings from its bank card, custody, investment banking and clearing businesses, and accounts for about 10.3 per cent of the bank's total operating income, could benefit from an improved consumption and economic outlook in the second half.
"With more fiscal support measures coming into effect in the second half, we are confident that the economy should recover," said Liang Shidong, PSBC's chief risk officer.
The other four state-owned banks – Agricultural Bank of China, Bank of China, China Construction Bank and Industrial and Commercial Bank of China – will report their earnings early next week.