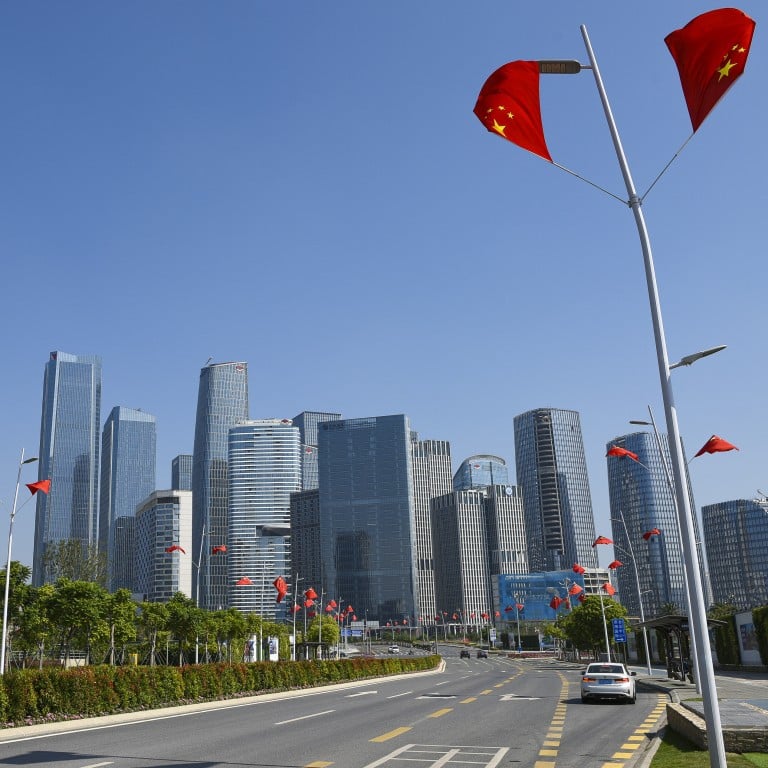 Hong Kong, Shenzhen dangle perks to entice global venture capital firms, asset managers to Qianhai
Hong Kong and Shenzhen authorities announced monetary incentives for funds to set up in Qianhai and list in Hong Kong
The 18 measures will complement the strengths of the two cities, with Hong Kong able to help overseas investors tap into the Greater Bay Area, said HKIFA's Sally Wong
Hong Kong and Shenzhen have announced a slew of incentives for financial firms to set up in
Qianhai
, as the two cities seek closer collaboration in drawing global venture capital to the special economic zone.
The Financial Services and the Treasury Bureau (FSTB) of Hong Kong and the Shenzhen government announced 18 measures on Friday, with the goal of fostering their partnership in innovation and technology.
The measures, effective for three years, are targeted at venture capital firms, sovereign wealth and private equity funds and to encourage funds set up in Qianhai to list in Hong Kong.
"The promulgation of a joint policy package by the FSTB and the Qianhai Authority is a breakthrough and an innovation in … supporting the linked development of Shenzhen and Hong Kong venture capital in Qianhai,"
Christopher Hui Ching-yu
, the bureau's secretary said in a statement.
"We will explore with Qianhai more opportunities for financial development and promote Shenzhen-Hong Kong cooperation at a higher level under which the two cities can serve as dual engines in the Greater Bay Area."
Qianhai, a free-trade zone measuring about 121 square kilometres in the south of Shenzhen, was created in 2009 to forge closer ties between the two major economic powers in the Guangdong-Hong Kong-Macau Greater Bay Area (GBA).
Managers of newly registered funds in Qianhai with assets under management (AUM) exceeding 3 billion yuan (US$434 million) will be rewarded with up to 1 per cent of their AUM, capped at 5 million yuan, according to the joint statement from the FSTB and Qianhai Authority. The authorities identified sovereign wealth funds and national funds as those that could benefit from the grant.
Venture capital firms approved to set up and register in Qianhai with a paid-up capital of over 100 million yuan will receive a grant of up to 2 million yuan.
Eligible venture capital firms and international asset managers are also entitled to a one-off rental subsidy of up to 500,000 yuan if they buy or rent office space measuring over 100 square metres in Qianhai.
Individual managers of buyout funds, venture capital funds and international asset managers are each eligible for a housing subsidy of 20,000 yuan per year, if they meet certain conditions relating to profitability.
"The measures synergise the strengths of Qianhai and Hong Kong," said Sally Wong, chief executive at the Hong Kong Investment Funds Association, a non-profit organisation representing the fund management industry in the city. "The measures will foster the position of Hong Kong as a premier international asset management centre."
Hong Kong, with its limited partnership funds and other structures, is well positioned to help foreign investors catch the vast business opportunities in the Greater Bay Area, especially in private equity and venture capital, she said.
Shenzhen, which also serves as an innovation hub, offers opportunities in areas such as technology, fintech, healthcare, and investments complying with environmental, social and corporate governance (ESG), she added.
Qianhai has been
positioned as a window
into the reform and opening of the nation's financial services sector, China's central bank deputy governor Pan Gongsheng said last year. It followed a blueprint released by the State Council, China's cabinet, in September 2021, which mapped out Beijing's vision for Qianhai to develop into a
"world class" business centre by 2035
.
In a move to widen the fundraising channels for venture capital firms in Qianhai, the scheme offers a one-off cash grant of 2 million yuan for those that successfully list in Hong Kong.
Promoters of special purpose acquisition companies (SPAC) will receive a one-time reward of 1 million yuan after the SPAC's listing has been approved.
These measures could help boost fundraising on the Hong Kong stock exchange after the amount raised slumped by
over 90 per cent in the first half
, pushing the bourse's global ranking to 10th place from third in 2021.
Infrastructure owners in Qianhai who succeed in listing their assets in Hong Kong as real estate investment trusts stand to receive a 1 million yuan reward.