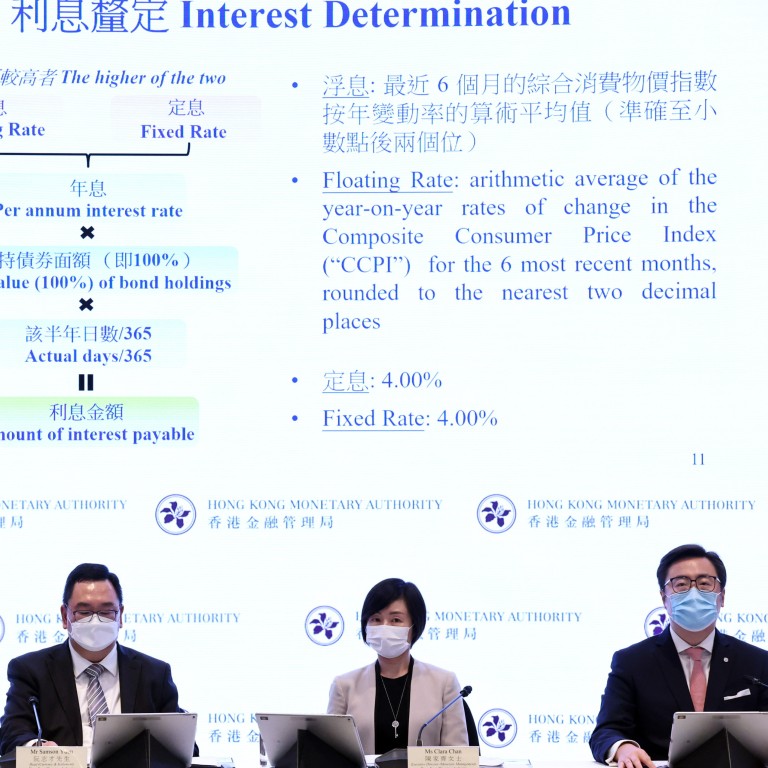 Silver Bonds: Hong Kong gets HK$62.6 billion of bids from record number of subscribers seeking inflation-beating returns
The HK$45 billion inflation-protected bonds guarantee at least a 4 per cent annual coupon, a variable target pegged to the city's inflation rate
Consumer prices rose 1.9 per cent in July, the most this year; it is the biggest jump since May 2020, if subsidies and one-off relief measures are removed
Hong Kong will sell a record HK$45 billion (US$5.73 billion) of
inflation-protected bonds
, attracting the highest number of applications after the government raised the coupon to compensate for the biggest jump in underlying consumer prices in more than two years.
The treasury received HK$62.64 billion of bids for the HK$35 billion of three-year notes known as Silver Bonds on offer, a government spokesperson said on Friday. It boosted the offering size to HK$45 billion to meet the excess demand.
The bids came from 290,000 subscribers, 13 per cent more than last year when 257,000 senior citizens lodged a record HK$67.9 billion of bids for HK$30 billion of notes on sale. The number of applications and the final issue size are the highest since the government began selling the securities in 2016.
The latest batch of Silver Bonds will pay a guaranteed interest rate of at least 4 per cent annually, a variable target pegged to the city's inflation rate. It is a step up from the 3.5 per cent rate in the 2021 series, and compares favourably with a one-year time deposit rate of 2 to 3 per cent offered by local commercial banks.
The government
opened the sale on August 23
through more than 20 banks and brokers, and stopped taking orders at 2pm local time on Friday. There are about 2 million eligible citizens born in or before 1963, and each buyer is restricted to a maximum allocation of HK$1 million. The final allotment will be announced on September 9, before the bond will be issued on September 14.
The response underlines the growing pain of living costs in Hong Kong, already ranked one of the world's most expensive cities to live in. Inflation accelerated 1.9 per cent in July, the fastest since December amid a 15.4 per cent surge in utility bills and 4 per cent rise in food prices, government statistics showed.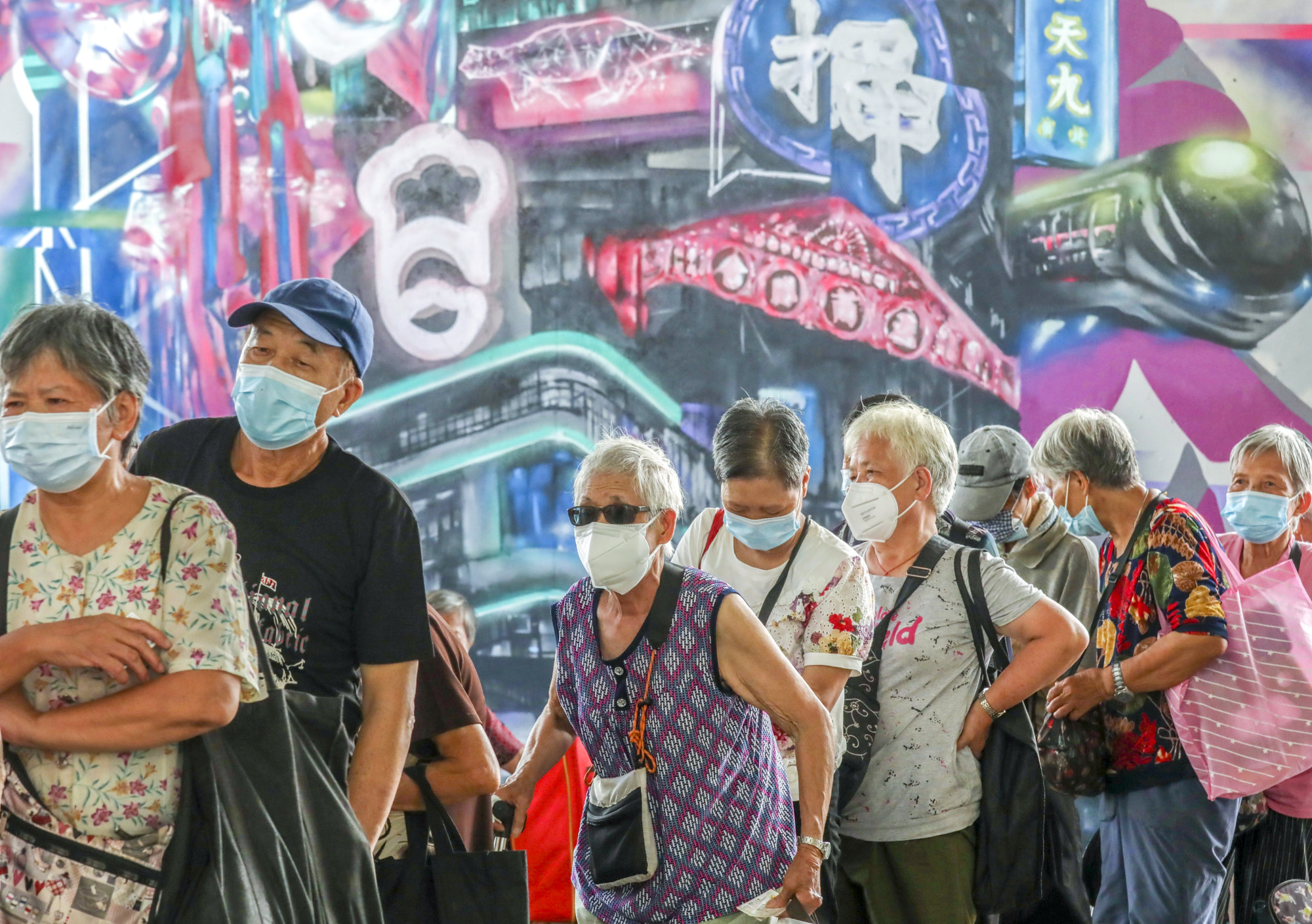 The city's
ageing population
is also facing higher costs, from home mortgages to transport and medical services. The Hong Kong Monetary Authority (HKMA) has lifted its base rate four times in lockstep with the Federal Reserve's policy tightening since March, with more expected later this month.
The city's elderly population is expected to double to 2.44 million by 2038, according to a 2019 government report. The minimum age for subscribers of Silver Bonds was lowered to 60 from 65 last year, adding 600,000 citizens to the eligibility pool.
The
HKMA
conducts the bond offering on behalf of the government, while Bank of China (Hong Kong) and HSBC are arranging the sale.
HSBC
, the biggest of the city's three currency issuing banks, said the latest batch of Silver Bonds had received "an overwhelming response".
"In this volatile market, customers are attracted to this low-risk investment with a stable return," said Sami Abouzahr, head of investments and wealth solutions at HSBC Hong Kong.
"The number of applications hit a record high, largely driven by new customers. Over 40 per cent of applicants hadn't applied for Silver Bonds in 2021, and more than 10 per cent of applicants opened their investment accounts in August to become eligible for the application," he said.
Hang Seng Bank
, an HSBC subsidiary, said it received a record number of subscriptions, most of them from citizens in the 60 to 64 age group.
Bank of China (Hong Kong)
said that it too received a record number of applications - 20 per cent more compared with last year. "With a volatile market, the 4 per cent guaranteed return on the Silver Bonds looks attractive to investors," said Arnold Chow, deputy general manager of the personal digital banking product department.
Standard Chartered
said the number of bond applications it had received was 10 per cent higher compared with the last tranche, while Bank of East Asia and Citibank said the response was within their expectations.
Shanghai Commercial Bank said subscriptions has exceeded last year's levels, with each bid averaging HK$200,000. "Silver Bonds are more flexible than time deposits, as investors can get their principal back any time," said Ricky Chan Chi-wai, chief of retail banking.
Bright Smart Securities, one of the biggest local brokers, received subscriptions worth a record HK$400 million, with one bid of HK$2 million. "Senior investors like stable dividends and have a low risk appetite. The Silver Bonds with 4 per cent guaranteed returns is popular with these investors," said CEO Edmond Hui Yik-bun.