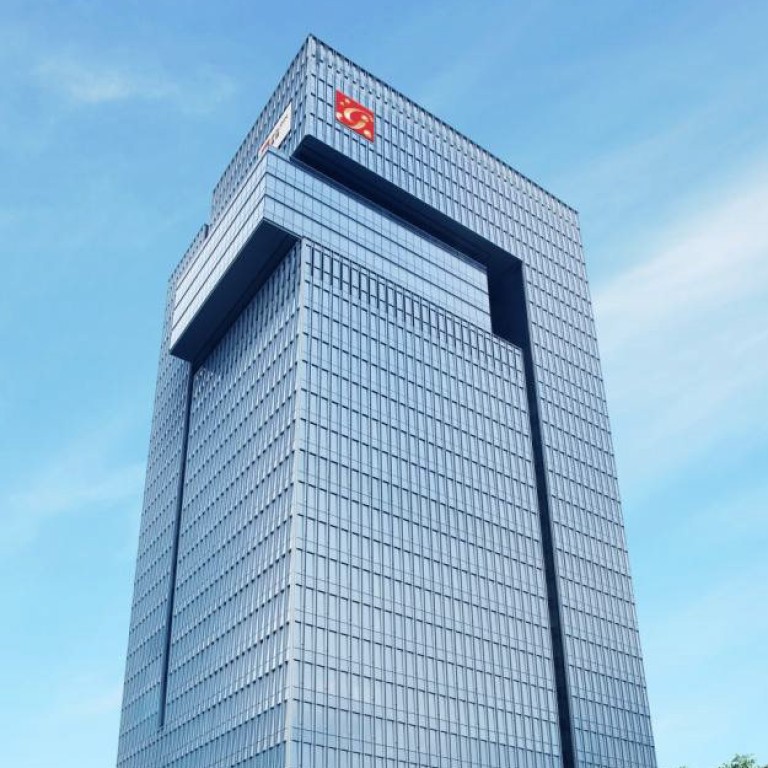 Cash-strapped Hong Kong-listed firm Goldin's former headquarters sells for between HK$6.5 billion and HK$7 billion, according to media reports
Savills (Hong Kong), the building's sole agent, declines to provide details about the buyer or transaction amount
At its highest, the sales price is about 30 per cent lower than estimates of HK$10 billion
Goldin Financial Global Centre, the 28-storey former headquarters of
cash-strapped Goldin Financial Holdings
, has been sold for between HK$6.5 billion (US$828 million) and HK$7 billion, according to local media.
But local media outlets such as Sing Tao, Hong Kong Economic Times and Ming Pao reported that the grade A office tower in Hong Kong's Kowloon Bay district sold in this price range, which at its highest is about 30 per cent lower than an estimated sales price of HK$10 billion.
Hong Kong-listed Goldin Financial Holdings holds Chinese tycoon Pan Sutong's finance and real estate development businesses. The firm and its creditors have been engaged in a tussle since July 2020 over who controlled the building, which the developer has used as collateral for loans. Pan resigned as Goldin's chairman in June this year.
The building has an area of 920,000 sq ft spread across 28 floors above ground and three basement floors, Savills said earlier. Each floor has a gross floor area of around 35,000 sq ft.
"We will see more of Pan and Goldin's assets being sold to pay debts, or sold by creditors like this, as he has to find a way to pay his debts," said Kenny Ng Lai-yin, a strategist at Everbright Securities International.
The sale draws to an end the long-drawn tale of debt-laden Goldin's flagship property.
On September 28, 2020
, the receivers appointed Knight Frank to sell the building after the developer failed to meet its debt obligations. But two days later, Goldin said it had entered into a provisional sale-and-purchase agreement for the building with an independent third party for HK$14.3 billion.
The receivers sold the building, located at 17 Kai Cheung Road, for a reported HK$14 billion later that year, but failed to complete the deal.
The sale of Goldin Financial Global Centre will, however, not bring any relief to Goldin, and the firm's debt woes are far from over.
In October 2020, a unit of Deutsche Bank filed a petition in Bermuda for the liquidation of Goldin Financial Holdings.
In May this year, a division of the Bank of China filed a bankruptcy petition against Pan in Hong Kong for an outstanding debt of 740 million yuan (US$105.4 million). In July, the Hong Kong High Court ordered that the tycoon declare bankruptcy and unwind one of his holding companies over unpaid liabilities of HK$8 billion owed to China Citic Bank. The order is being appealed.
The firm had recorded a loss of around HK$1.4 billion, with its liabilities reaching HK$7.5 billion, as of June 30, 2021. The company postponed its annual results for last year, citing disruptions caused by Covid-19 and related restrictions.