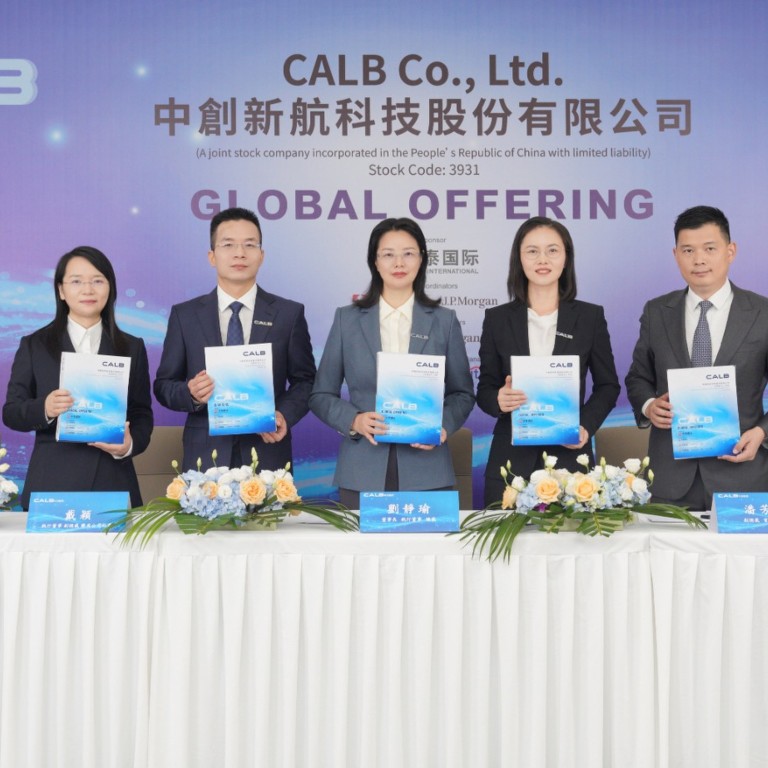 China's No 3 EV battery producer seeks to raise US$1.7 billion in Hong Kong IPO, likely to become the year's third-largest share sale
The Jiangsu-based company said it would float 265.8 million shares at a price between HK$38 and HK$51 apiece
A successful fundraising by CALB would give a much-needed boost to Hong Kong's flagging IPO market
China Aviation Lithium Battery (CALB), the country's third-largest electric vehicle (EV) battery maker, said it wants to raise as much as HK$13.6 billion (US$1.7 billion) in a Hong Kong initial public offering (IPO) to boost further growth in the accelerating Chinese EV market.
The Jiangsu-based company said it would float 265.8 million shares at a price between HK$38 and HK$51 apiece, which would make it the third-biggest share offering in Hong Kong this year if the deal is priced at the top end.
"We are in an industry that will continue to grow fast," said Liu Jingyu, chairwoman and chief executive of CALB, in a media briefing on Thursday evening. "We will help our customers to become successful in a win-win scenario."
CALB, which received approval for its IPO from the Hong Kong stock exchange on September 8, reported year-on-year revenue growth of more than 100 per cent for three consecutive years from 2019 to 2021, buoyed by surging sales of battery-powered vehicles in China, the world's largest automotive and EV market.
It counts Xpeng, Leapmotor, Geely Auto's affiliate Viridi E-mobility Tech (Ningbo) and Guangzhou Automobile Group's EV marque Aion among its customers.
Contemporary Amperex Technology (CATL)
, the world's largest electric EV battery maker, supplied 12.99 gigawatt-hours (GWh) of batteries in August, followed by BYD's 6.08 GWh, according to data from Seoul-based SNE Research. CALB was ranked the third with EV battery output of 1.56 GWh in July, just one fourth of BYD's volume.
CALB's EV battery output last month represented a 5.6 per cent share of the market.
"CALB still lags far behind its bigger rivals and it certainly has ambitions of expanding capacity and enhancing brand awareness," said Cao Hua, a partner at private equity firm Unity Asset Management. "The growth prospects for China's EV battery industry are bright but the competition is fierce too."
CALB was co-founded in 2015 by a unit controlled by Aviation Industry Corp of China, the state-owned conglomerate that makes fighter jets for the military, and the government of Jintan district in Changzhou, eastern Jiangsu province.
AVIC, the second-largest shareholder in CALB, owns about 10 per cent of the battery producer today.
A successful fundraising by CALB would give a much-needed boost to Hong Kong's flagging IPO market, which is forecast to rank as only the fourth-largest listing venue globally for the first nine months this year by Deloitte. It did not enter the top five in the first half due to a dearth of billion-dollar offerings. Hong Kong has topped the rankings in previous years.
CALB reported 111.5 million yuan in net profit in 2021, turning around from a net loss of 18.3 million yuan in 2020.
Tianqi Lithium, a Chinese lithium ore miner and EV battery maker that raised US$1.7 billion via a Hong Kong IPO in July, announced late on Wednesday that it would buy CALB's IPO shares worth up to US$100 million as a cornerstone investor.
Huatai International is the sole-sponsor for the deal. The brokerage, together with Citi, Credit Suisse and JPMorgan are the joint global coordinators.