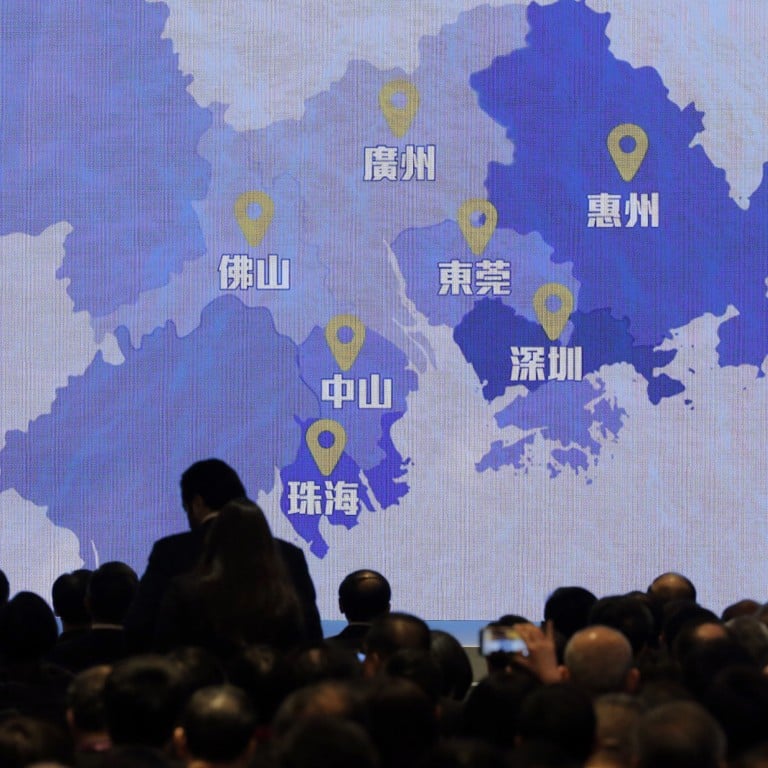 Wealth Management Connect: higher investment quota, greater choice are key to improving bay area's cross-border scheme
Many investors want the cap on individual investments raised by at least five times from the current 1 million yuan (US$140,528)
The first cross-border scheme tailor-made for the 11 cities of the Greater Bay Area will mark its first anniversary on October 19
Investors and fund managers want to see an increase in the individual investment quota, a wider choice of products and more financial firms joining the
Wealth Management Connect scheme
, according to industry players.
The first cross-border scheme tailor-made for the 11 cities of the Greater Bay Area is marking its first anniversary on October 19.
It allows 24 Hong Kong banks, including HSBC, Standard Chartered and Bank of China (Hong Kong), to sell investment fund products to the residents of bay area cities through their mainland banking partners.
Mainland investors
can trade Hong Kong and Macau products through these banks too.
As of the end of August, the scheme had attracted
just over 35,000 investors
who had made investments worth 1.37 billion yuan (US$1.51 billion), according to data from the People's Bank of China's Guangzhou branch.
"The majority of people who have invested in the Wealth Management Connect scheme over the past year saw their investment return reaching 4 per cent or above," said Daniel Chan, head of Greater Bay Area for HSBC.
"Many of them would like to see the individual quota increase so as to allow them to invest more under the scheme."
At present, each investor is only allowed to trade up to 1 million yuan (US$140,528) on a net remittance basis. Some 40 per cent of investors want to see the individual cap increased by five times to 5 million yuan, according to an HSBC survey of 2,000 people across the bay area in August.
Chan said three quarters of northbound investors – Hong Kong and Macau residents buying wealth products offered by mainland Chinese banks – plan to invest more in the next 12 months. Some 85 per cent of mainland investors intend to use the southbound leg of the scheme again.
"Besides the quota, investors would like to see a greater variety of investment products and the introduction of remote investment advisory services to enhance the attractiveness of the Wealth Management Connect scheme," Chan said.
Sally Wong, the CEO of the Hong Kong Investment Funds Association (HKIFA), wants to see the quota go up even more, by seven times to 7 million yuan (US$1 million).
She also wants the scheme to allow investors with a higher risk appetite to buy products rated as medium-to-high risk. At present, they have no choice but to invest in the lowest risk instruments.
"We should look at risks from a portfolio level, not at the individual product level. For instance, an investor can have lower risk products that account for 80 per cent of his portfolio, and 20 per cent for higher risks," Wong said.
"As long as the overall portfolio is commensurate with the investor's risk level, that should work. Ultimately, what is needed is diversification."
Hong Kong Monetary Authority chief executive Eddie Yue Wai-man last month said the de facto central bank is working with mainland authorities to improve the connect scheme. Possible new measures could include improving sales arrangements, expanding the product scope and allowing more financial institutions to participate.
At present, only banks are allowed to sell products under the Wealth Management Connect scheme. Stockbrokers and insurance companies have shown interest in getting in on the act.
"Starting the Wealth Management Connect scheme was definitely a good step in opening up opportunities in the Greater Bay Area," said Robert Lee Wai-wang, the lawmaker for Hong Kong's financial services sector and CEO of Grand Capital Holdings.
"However, the number of financial institutions and products are very limited at this stage.
"We hope the scheme can be expanded to allow more diverse types of financial institutions other than just 20 or so banks to sell the products.
"The breadth and depth of products need be expanded as well. Hong Kong has the capacity to serve our country on a much wider scale in providing diverse products and services."