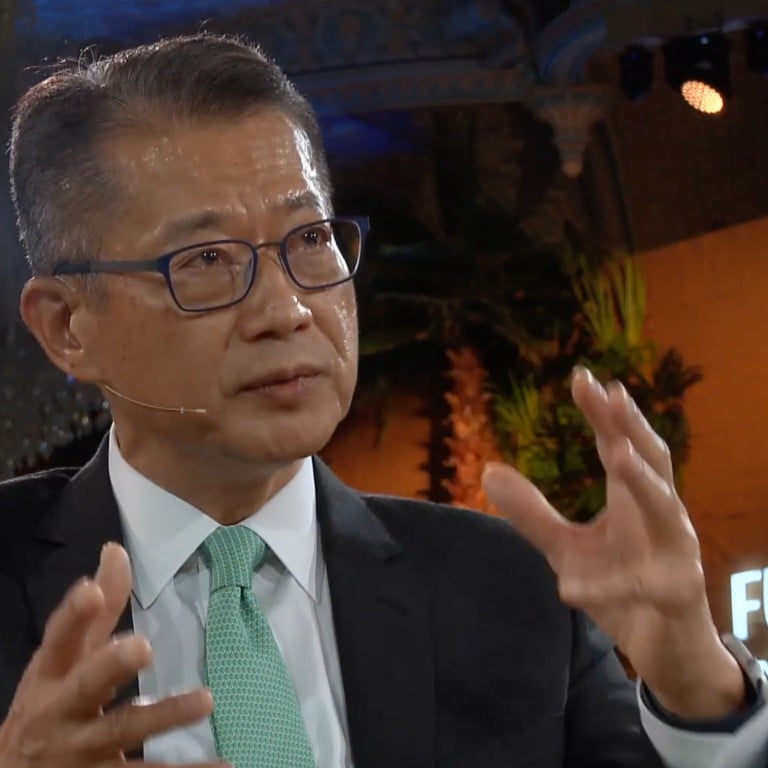 2023 is 'year of hope' for Hong Kong, says Financial Secretary Paul Chan, as city vies to reclaim former status
Chan went all out to convince financial bigwigs gathered in Saudi Arabia that Hong Kong is clawing its way back to its pre-pandemic global hub status
'We had been out of touch with the rest of the world because of Covid,' Chan admitted
Financial Secretary Paul Chan Mo-po described 2023 as "a year of hope and opportunities" for Hong Kong as he went all out to
convince financial bigwigs
from around the world that the city is clawing its way back to pre-pandemic normality.
Speaking on Tuesday at a conference in Saudi Arabia, he told investors to rest assured that Hong Kong will continue to "function as a free
international financial centre
with the best international regulatory regime".
Chan said a government plan to invest US$8 billion in attracting new talent will help reposition the city as not just a centre of global finance, but as a major innovation and technology hub.
"We had been out of touch with the rest of the world because of Covid," Chan said. "Although there have been uncertainties and challenges externally, 2023 is a year of hope and a year of opportunities."
The three-day Future Investment Initiative Institute Conference, which took place in Riyadh, brought together leaders from across the world to discuss the future of finance in a post-pandemic environment.
He stressed that Hong Kong falls under the "one country, two systems" policy and said it will "continue to practice the capitalist system, common law, independent judiciary, a free flow of capital, no exchange law and [the Hong Kong dollar] will continue to be pegged to the US dollar."
Hong Kong should make "good use" of the Greater Bay Area (GBA) development, which encompasses 11 cities and a combined population of about 86 million and GDP of US$1.7 trillion, Chan said.
Hong Kong is a strong financial centre, while Shenzhen is a strong technology hub neighboured by cities that are manufacturing powerhouses, Chan said of the bay area's advantages.
But Chan struck a confident tone on Tuesday, saying the city will open itself up to new talent by bringing international students to local universities and opening cultural exchange programmes with different countries, particularly for people who are not familiar with Hong Kong.
"We have put aside a substantial amount of money to attract talent from all over the world," said Chan.
George Osborne, a former UK Chancellor of the Exchequer, highlighted the need to get the US-China relationship back on track. He said the soured relationship between Washington and Beijing had made institutions such as the International Monetary Fund, the United Nations and the World Health Organization less effective in their efforts to address the economic malaise.
"We've got to try and get the US-China relationship working better," said Osborne who hopes a constructive dialogue between President Biden and President Xi will take place at the G20 summit in November.
In addition to the global economy, the urgency of climate change and the push to transition to a green economy was echoed by the world leaders.
Chan brought up Hong Kong's role in this regard and stressed the need to be part of the global transition to a green economy.
On the subject of environmental, social and governance (ESG) standards, he said: "We are working on harmonising the standards, improving the structures, the disclosure … and making it easier for people to come to [Hong Kong] to raise funds."
Hong Kong has pledged to reach carbon neutrality by 2050. As part of efforts to achieve this goal, the government issued green bonds worth about HK$56 billion in 2021, four times the amount in the preceding year.
"We are trying to lead by example and set benchmarks for issuers [of green bonds] to come to Hong Kong," Chan told conference delegates.