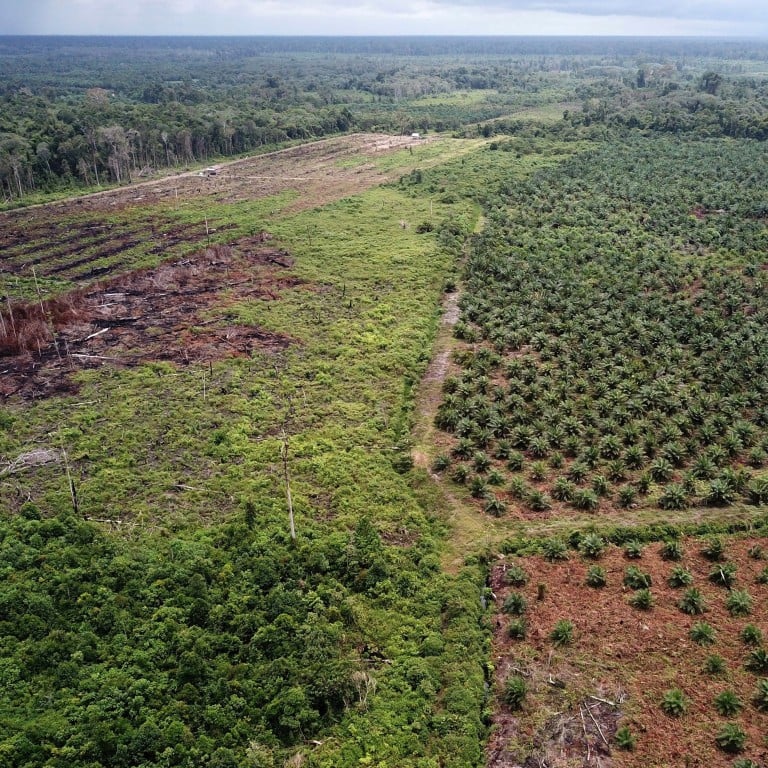 Climate change: Indonesia forest loss released carbon equal to Ukraine fossil-fuel use in 2021, data platform shows
The emissions exceeded the fossil fuels consumed by Ukraine's 43 million people, according to data non-profit CTrees released at the COP27 summit
CTrees' AI platform tracks forests worldwide and could feed investors' hunger for accurate data to evaluate carbon-offsetting projects
Destruction of forests in Indonesia released more greenhouse gases than Ukraine's consumption of fossil fuels last year, even after taking into account newly sequestered carbon in the Southeast Asian nation's trees, according to data non-profit CTrees released at the
COP27 summit
in Sharm el-Sheikh, Egypt.
The California-based firm released data showing the carbon stored in forests across countries and jurisdictions on its online platform, which uses artificial intelligence to analyse satellite and aerial data.
This data could allow investors and developers of carbon-offsetting projects in carbon marketplaces, such as the recently launched
Core Climate in Hong Kong
and
Climate Impact X in Singapore
, to monitor changes in carbon stored in forests and evaluate the risks of their investments, CTrees co-founder and Nasa scientist Sassan Saatchi said in an interview.
"We built this platform [to support] the integrity of this whole exchange of carbon, either through climate finance, or through the voluntary carbon market or compliance carbon market," Saatchi said. "Investors are hungry for accurate forest carbon data to verify the carbon in their investments. Project developers need data to make the initial assessments of project areas and decide whether to invest. Accurate data underpins all investments in nature-based solutions."
Nature-based solutions refers to actions that protect, sustainably manage or restore natural ecosystems to address societal challenges such as climate change, while also providing biodiversity benefits, according to the World Bank.
Southeast Asia has lost nearly half of its forests due to land use, and among the countries in the region Indonesia has the largest rainforest areas, which are being deforested and converted to crops and palm oil plantations, according to Saatchi.
From 2001 to 2021, Indonesia lost 28.6 million hectares of tree cover, equivalent to an 18 per cent decrease in tree cover since 2000 and 19.6 gigatonnes of carbon dioxide equivalents being released into the atmosphere, according to data from World Resources Institute's deforestation tracking initiative Global Forest Watch.
In 2021, total emissions released into the atmosphere from the loss of trees in Indonesia equalled 402.9 million tonnes of carbon dioxide, according to CTrees data.
During the same period, the amount of newly sequestered carbon in Indonesia's forests removed 227.9 million tonnes of emissions from the atmosphere, for net emissions equal to 175 million tonnes of carbon dioxide.
This exceeds the 167.9 tonnes released by the consumption of fossil fuels in Ukraine – a country of about 43 million people – in that pre-war year, according to BP's Statistical Review of World Energy report in June.
The interactive platform on CTrees' website has data from the last 20 years, including details of the emissions associated with specific reasons for tree loss, such as deforestation, fires and degradation by development. It also includes information on carbon-dioxide removals from regeneration.
"In the long run, carbon market players will be able to use CTrees' data to measure, report, and verify the carbon associated with projects that produce
carbon credits
traded in markets," Saatchi said.
Bourse operator Hong Kong Exchanges and Clearing (HKEX) launched
a trading platform for voluntary carbon credits
at the end of last month. Projects listed on the platform will be verified against international standards such as the Verified Carbon Standard (VCS) overseen by Washington-headquartered Verra.
"Southeast Asian nations have long used projects certified under Verra's VCS to reduce deforestation and reforest degraded areas, and foreign investment has always played a role," said Andrew Howard, senior director of climate policy and strategy at Verra in an emailed interview. "That will continue to be the case."
The market for "nature tech", which encompasses any technology that can be applied to accelerate and scale nature-protecting projects, could triple to US$6 billion in less than 10 years, from about US$2 billion currently, according to a joint report by climate finance investment platform Capital for Climate and environmental coalition Nature4Climate released this month.
"Protection and restoration of nature, including the world's forests, must be at the heart of policies and finance structures, if we are to have a liveable future," said John Lotspeich, executive director of Trillion Trees, an coalition of environmental groups.
"Forests and ecosystems are crucial to how we feed and keep our growing global population healthy and thriving. There is no net zero, resilience or adaptation to climate change without nature-based solutions and without forests."