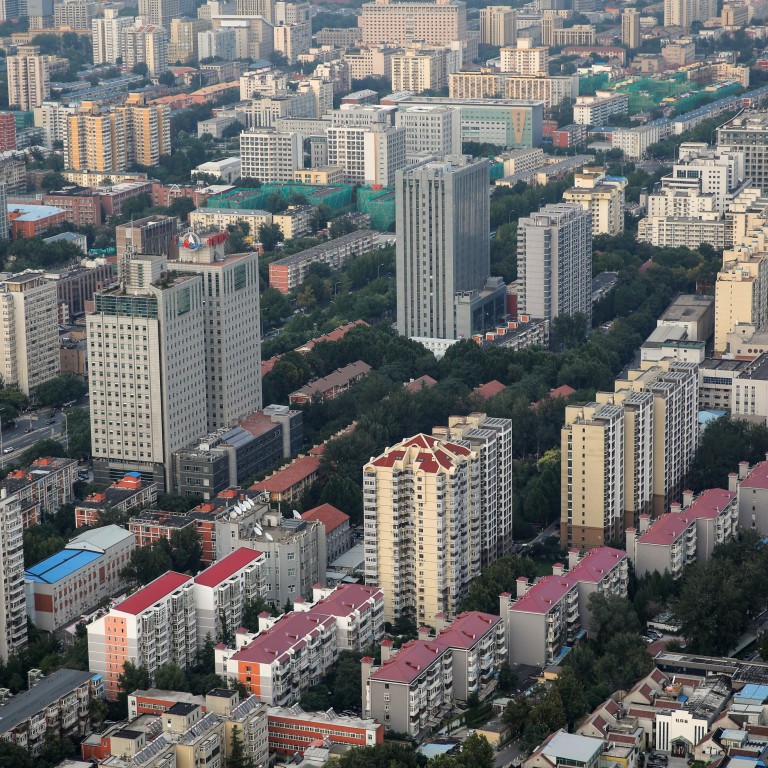 China housing market: major banks begin cutting outstanding mortgage rates, but impact may not be 'sufficient', analysts say
A total of 20 banks began cutting payments on outstanding first-home loans from Monday
Cut might not boost demand as the main problem right now is low consumer confidence and expectations of future income, executive at Beijing-based investment firm Chanson&Co says
Major Chinese commercial banks have cut rates for outstanding home loans as part of a series of state-directed stimulus measures aimed at easing homebuyers' debt burdens and reviving the
country's troubled property sector
. But the cut might not provide a sufficient boost to demand, analysts said.
A total of 20 state-owned banks, joint-stock lenders and commercial banks said earlier this month that they would begin to cut payments on outstanding first-home loans starting on Monday.
Borrowers who have taken out a first mortgage before August 31 this year qualify and will see an automatic cut in their monthly payments without having to apply for it, the banks said.
"The regulatory move to cut outstanding mortgage rates in bulk suggests that the previous price negotiations with homebuyers led by the commercial banks were not effective enough in generating more transactions in the property market," said Shen Meng, director at Beijing-based investment firm Chanson&Co. "The majority of over 70 large and mid-sized cities in China are once again seeing their prices go down, and that's why regulatory authorities are rolling out mortgage rate cuts to …
stimulate demand
, but the main problem right now is low consumer confidence and expectations of future income.
"So even if the total costs of buying a house are going down, we still might not see a sufficient boost in demand."
Outstanding mortgage rates will be cut to as low as the national floor rate at the time the homes were bought, which currently stands at 20 basis points below the benchmark five-year loan prime rate of 4.2 per cent, the banks said earlier this month.
The banks will reduce mortgage rates by an average of 80 basis points, helping households save up to 109 billion yuan (US$14.9 billion) in interest outlays and total expenditure of 117 billion yuan, about 0.2 per cent of annual household disposable incomes, according to a recent report by ANZ Research.
Monday's rate reduction coincides with another policy move intended to boost consumption and stimulate housing demand.
China's mega cities, including Beijing, Shanghai and Shenzhen, recently began to allow first-time loan applicants who did not own property in these cities – even if they had already applied for mortgages in other cities – to qualify as first-time homebuyers and enjoy the corresponding lower mortgage rates.
These newly qualified first-time homebuyers will still have to apply for mortgage adjustments, but they are likely to be the bigger beneficiaries of this policy change, with some of them expected to see cuts of more than 100 basis points. This is because buyers who do not qualify as first-time homebuyers, especially those in higher tier cities, are usually subject to higher interest payments on their mortgages.
The impact of the loan reductions will be felt differently across China, with buyers in tier 1 and 2 cities, where demand for housing is greater and mortgages are more expensive, expected to see bigger cuts on their interest payments.
The cuts will also affect the country's 38.6 trillion yuan in outstanding mortgages, representing 17 per cent of banks' total loans.
This has spurred concern among analysts that banks could face further pressure on their profit margins, as they respond to Beijing's call to roll out more measures to support the country's stuttering economy.
However, China's central bank said the rate reduction could protect bank margins by stalling
a rush of mortgage prepayments
as seen earlier this year, when homebuyers began tapping into their personal savings to pay down their mortgages early. This was the result of new mortgage cuts that made their loans from previous years look comparatively more expensive.
"The exact impact hinges on how much banks are willing to give up profits," said Gary Ng, a senior economist at French investment bank Natixis. "Many banks are rather cautious in lowering outstanding mortgage rates, meaning not everyone will benefit. It will be more beneficial for households who bought their home before 2022 as they generally paid higher rates back then.
"However, unless home and other asset prices rebound, the current rate cut measures alone are helpful but may not be strong enough to revert consumer sentiment and income expectations."