IPO
Get more with myNEWS
A personalised news feed of stories that matter to you
Learn more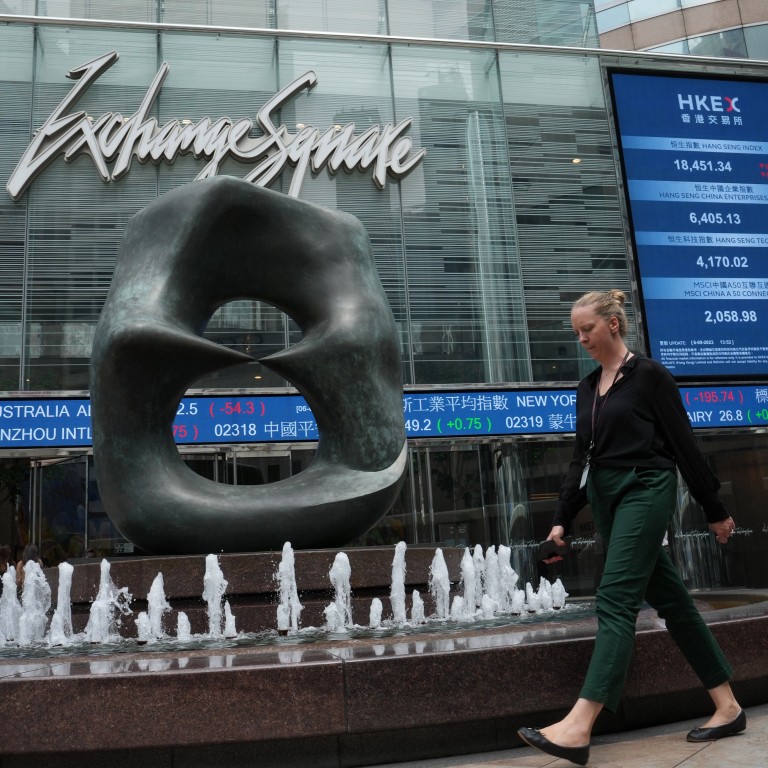 6 Hong Kong share listings this week set to raise up to US$458 million amid lacklustre year for IPOs
Wuhan YZY Biopharma and LC Logistics debuted on Monday with share prices in the lower end of their target ranges
Tencent-backed car services platform Tuhu, artificial-intelligence company Beijing Fourth Paradigm among the listings set for later in the week
A biotech company and a provider of logistics services on Monday kicked off a string of six Hong Kong trading debuts this week that could raise a combined HK$3.58 billion (US$458 million), as the city's performance as a venue for share listings continues to disappoint versus past years.
Wuhan YZY Biopharma priced its shares at HK$16, in the lower end of its target range, raising HK$172 million on Monday. Its shares rose as much as 5 per cent. Meanwhile, LC Logistics raised HK$149 million as its shares, priced at HK$5.13, closed at HK$5.10 after falling as much as 4.9 per cent.
IPOs in the city will drop 14 per cent in deal volume and 61 per cent in value in the first three quarters of the year, compared with the same period in 2022, according to an estimate by Deloitte. The consulting firm expects a total of 44 IPOs to garner an estimated HK$24.7 billion, versus 51 deals that raised HK$64 billion in the same period last year.
On Tuesday, Tencent-backed car services platform Tuhu is aiming to raise around HK$1.08 billion as it lists 814 million shares. The company set its share price at HK$28, also at the lower end of its target range, according to an exchange filing on Monday.
Bank of America Securities, Goldman Sachs, CICC and UBS are the joint sponsors of the deal. Five cornerstone investors – Zhejiang Leapmotor, Gotion High Tech, Image Frame Investment, Castrol Holdings International and Shanghai Zizhu High-tech Zone – have subscribed to 66 per cent of the stock, or 28 million shares.
The funds raised will go towards supply chain enhancements, research and development, expansion of the company's storage network, investment and general purposes.
On Thursday, artificial intelligence software company
Beijing Fourth Paradigm
is aiming to raise up to HK$1.1 billion selling 18.4 million shares in a price range of HK$55.60 to HK$61.16 each, according to its regulatory filings.
Three cornerstone investors, headed by New China Capital Management, have subscribed to about US$96.8 million worth of stock, which equates to 70.6 per cent of the listing, the filings showed.
Two more software companies will debut on Thursday. Chinese cloud hospital platform Neusoft Xikang is aiming to raise US$101 million by selling 133.8 million shares at HK$5.91, regulatory filings showed. Mobile games operator ZX is selling 18.97 million shares for as much as HK$14 each to raise up to US$34 million, according to its prospectus.
How the week's new listings perform will give investors an idea of what to expect for the remainder of the year. Some improvement can be expected in the fourth quarter after the city introduced various reforms and enhancements to its listing environment including the coming launch of
FINI (Fast Interface for New Issuance)
, according to Deloitte.
Looking further ahead, Tian Tu Capital plans to offer about 173.3 million shares at a price range between HK$5.80 and HK$11.40 apiece, according to an exchange filing on Monday. The company hopes to raise as much as HK$1.98 billion in an October 6 debut. Huatai Financial and BOCI Asia are joint sponsors.