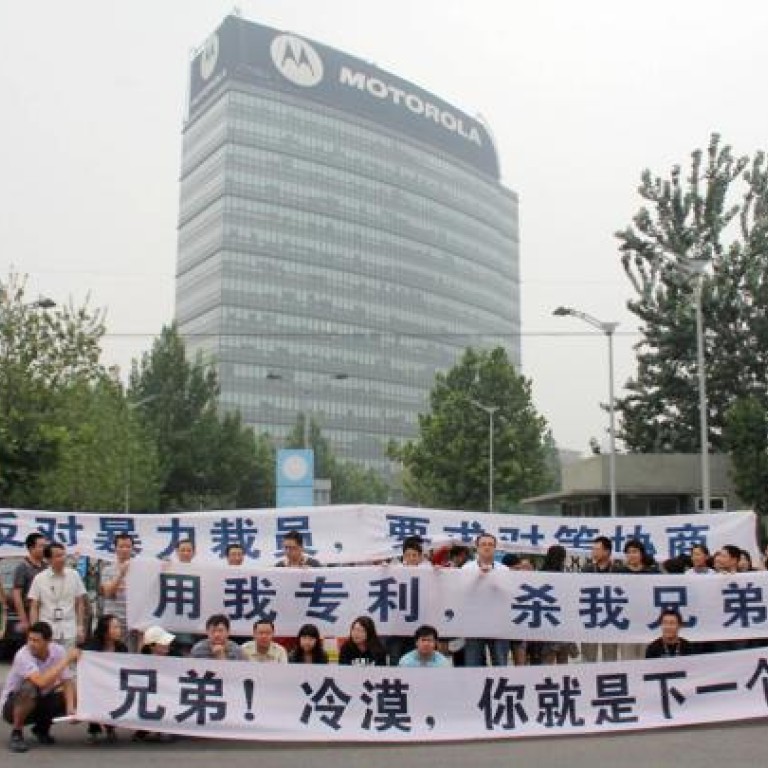 Motorola 'to cut up to 1,000' workers in China
Cellphone maker Motorola will lay off 700 of its 1,600 employees in its Beijing research and development centre, in a cull of up to 1,000 workers across the country, according to a mainland media report.
Business news site Caixin said that according to a lay-off plan it had seen, Motorola's Nanjing research and development centre, which has 500 staff, would also be shuttered and the Shanghai branch office closed.
About 200 Motorola employees protested in Beijing near the company's office building yesterday, calling it a "violent laying-off".
One employee told online news portal Sina that he received notice last Monday about the lay-off plan. The next day he was required to sign an agreement terminating his work contract. "There is no room for discussion," the employee said.
Yang Changlong, an industry analyst at Beijing's Bayes Consulting, said Motorola was in an awkward place in the mainland market. "Their branding is [old], the price is high, and the products have no attractive qualities," Yang said.
Samsung is the leader in the mainland's high-end mobile phone market, while domestic players, including Huawei, ZTE and Lenovo, dominate the low-end.
"Motorola is still a big name but they are not selling, [they're] without competitive products," Yang said.
Google, which snapped up Motorola Mobility for US$12.5 billion, announced earlier this week it planned to cut about 4,000 jobs, or 20 per cent of Motorola Mobility's employees and 7 per cent of Google's overall workforce. Google also said it would close a third of its 94 locations globally.
Yang said the move wasn't surprising after Google finished the reallocation of resources at Motorola Mobility in June.
"It's a natural choice to slash the people the company no longer needs, and there is no alternative."
This article appeared in the South China Morning Post print edition as: Motorola 'to cut up to 1,000' workers in China