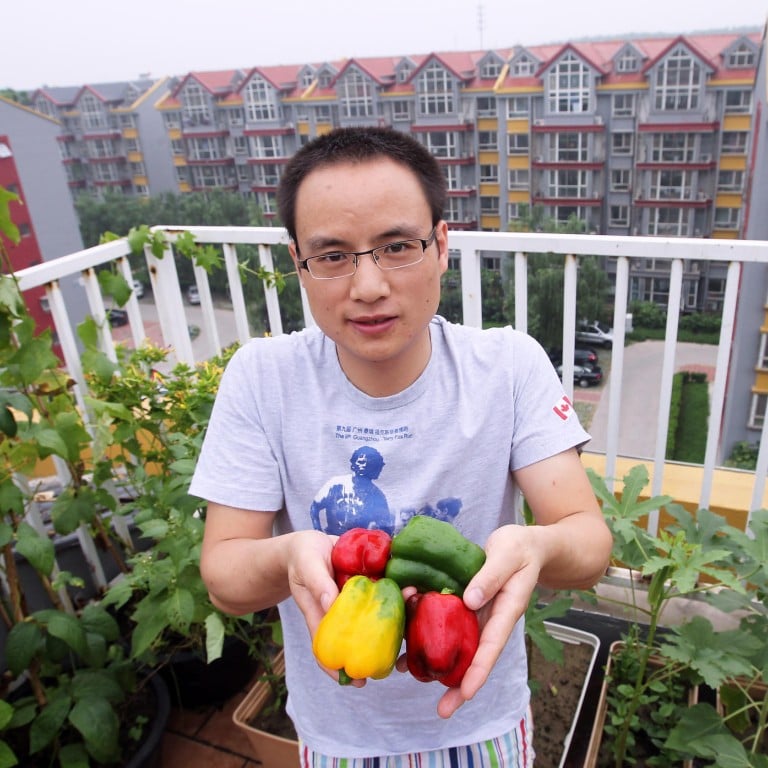 Urban farming a growing trend in China
Scandals over safety have spurred city dwellers to raise vegetables on their balconies, but an agronomist doubts the effort is worthwhile
When he was a boy growing up in rural Hunan , Li Hongwen was not allowed to work in the fields. Instead he was told to focus on his studies - generally the only way rural children can change their destiny and avoid becoming farmers.
Decades later, Li's efforts have paid off, and he is an information-technology manager in Beijing. But ironically, he now finds himself working hard to become an amateur urban farmer - in the small realm of his apartment balcony.
"Ensuring food safety is one of the main reasons to grow these vegetables," said Li, 31, gesturing to his garden with pumpkins hanging from an overhead trellis, and several calabash "bottle" gourds swinging in the morning breeze.
"My son is five months old and ready to start on solid foods," he explained. "The vegetables for him must be safe."
Their sixth-floor home is at the top of their building in Shunyi district, and most of Li's neighbours have enclosed their balconies in glass, turning them into sunbathing rooms. But Li kept his 40-square-metre balcony open to create the garden, featuring about 30 different types of plants.
Green beans and tomatoes compete for space on a wooden fence, while leeks, garlic and eggplants look ready to be harvested from flowerpots nearby. Cabbages and cucumbers have also sprouted, and herbs such as mint appear ready for inclusion in a meal at a moment's notice.
The balcony garden is a prime example of how many mainlanders - frustrated about numerous food scandals that have plagued even staple elements of Chinese dinner tables such as steamed buns and cabbage - are taking matters into their own hands to keep their diets safe.
Meanwhile the government and some large enterprises in cities have been quietly bringing shipments of organic vegetables and poultry from suburban areas.
Websites dedicated to urban farming have begun springing up, offering a glimpse of how the trend is rapidly catching on. One of the largest such sites,
Taohua001.com
boasts 60,000 registered members and more than 1.38 million page views from people who have dropped by to peruse tips and read about others' experiences, according to the site's founder, Jiang Yonghua, a 35-year-old marketing executive in Hangzhou , Zhejiang , who is known online as Maogu.
Maogu also sells seeds on
Taobao.com
and he has made about 200 million sales in three years. He said the first customers, back in 2009, were mostly young mothers who wanted to grow vegetables for their children. But business boomed last year after frequent media reports about domestic food scandals.
Based on a survey he posted, more than half of his buyers are mothers or housewives between 28 and 35 years old. He too planted some produce on his five-square-metre balcony when his daughter was six months old.
The generally limited space of tiny balconies has inspired some extremely creative gardens, with owners finding additional uses for everyday objects.
Aside from traditional flowerpots, urban farmers such as Li and Maogu use white foam boxes from vegetable retailers, and water bottles cut in half and placed on the wall make efficient planters for bean sprouts. Maogu grows various fruits in converted refuse bins, and Li found that four bathtubs were great for growing cucumbers and tomatoes.
Even fertiliser is relatively easy to come by. Kitchen waste, excrement and water used to wash rice can all be recycled in the garden.
But there's still one obstacle that trips up many would-be urban farmers: finding quality soil.
"Growing vegetables is not hard. The trouble is finding soil. Most people take it from the woods in residential areas," said Maogu, who purchased 10 tonnes of soil from a plot where vegetables have been growing for years, as he believed the soil to be more fertile.
Li opts to use organic fertiliser and catches bugs with his bare hands, rather than spraying pesticide. Morning inspections of his garden are part of his routine, and he waters twice a week.
For urban farmers, the expression "fruits of labour" takes on a very literal meaning, and it makes the effort that much more rewarding when it bears fruit.
"Strawberries taste sweeter than those bought in stores," Maogu said. "The cucumbers grow and mature naturally and taste just like the cucumbers from when I was little."
For Li, the hardships of gardening make him value his vegetables as never before. "Look at these shabby-looking leeks with yellow leaves," he said. "I would discard them without hesitation if they were bought. But now they go to my dish because I am reluctant to give them up."
In the eyes of Li Xinxu, an agronomist with the Beijing Municipal Bureau of Agriculture, all this trouble might be unnecessary and impractical.
"What worries common residents most are the hormones used to advance the growth of vegetables and fertilisers," he said. "But plant hormones do not work on humans and have no impact on human growth, while fertiliser residue can be eliminated by washing or peeling."
He also said not all soil was suitable for growing vegetables, and soil found near refuse sites or around discarded construction waste could be contaminated with dangerous heavy metals.
He said his team found that relying solely on vegetables grown from a balcony of about six square metres - the standard size - would only be enough to feed a family two days a month.
"But the taste should be better, for sure, without the interference of hormones," he said.
This article appeared in the South China Morning Post print edition as: Urban farming a growing trend