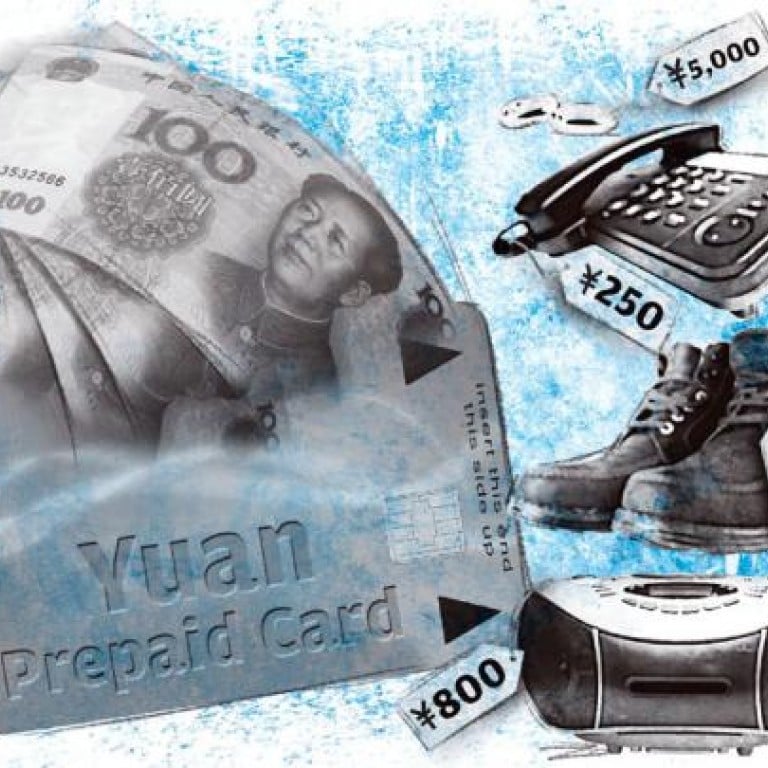 Licence to make money is on the cards
Prepaid gift cards is a lucrative business in the mainland and firms such as China Innovationpay are set to profit from it
China Innovationpay is set to
make millions offering prepaid gift cards to customers.
A group of former high-level mainland bankers and regulators recently injected the new business into the Hong Kong-listed company, which used to be known as Syscan Technology.
The idea originates from the fact that Chinese people love giving gifts to one another. Rather than presenting someone with an envelope full of cash, why not put the money in a card that can hold up to as much as 100,000 yuan (HK$122,344) and be used at exclusive malls?
"The person who buys a prepaid card often is different from the person using it," said Cao Chunmeng, chief executive of China Innovationpay.
The industry has come under scrutiny in recent years because of the "grey areas" of business in which its products may be used.
"This is a twisted industry, and very often people buy such cards intending to use them for bribery," said Liu Shengjun, deputy director of the China Europe International Business School's case centre in Shanghai.
Bribery, Cao conceded, is a potential issue that could hurt the development of the business. But he said side effects should not cripple a good invention.
"If a person used a kitchen knife to kill someone, you wouldn't ban sales of kitchen knives. Although the knife was used as a weapon, its main use is still for cooking," said Cao.
The China Construction Bank-backed company, which received a licence to operate in Beijing and Shanghai, is among 197 firms to have obtained such licences since last year, according to the People's Bank of China.
Prepaid cards, unlike credit cards or other bank cards, do not require user registration, and the money deposited in one cannot be recovered once the card expires or gets lost.
Analysts say once operations reach a certain scale, only companies with high-grade IT systems and banking experience can handle the back-office operations and capture a larger share of the market.
China Innovationpay started to focus last year on issuing gift cards for specific brands, gold cards that hold actual gold, and universal prepaid cards that can be used at multiple stores.
The company's prepaid cards typically hold about 800 yuan to 900 yuan. Of the one million-odd cards it has issued, the most expensive card holds up to 100,000 yuan. It is working this year on developing a card that can be used globally.
The company generates profit mainly from card issuance fees, rebates from shops and department stores, bank deposit interest and leftover money from cards that have expired.
It generally charges a 1 per cent fee for issuing a card and enjoys rebates ranging from 0.1 per cent to 2 per cent from restaurants, malls and hotels.
Owing to regulations banning prepaid card companies from investing the cash they receive in risky assets, the firm can only deposit the money with banks and earn interest on it.
Guan Guisen, 48, who became chairman of China Innovationpay in February last year, is the largest shareholder, with a 26.64 per cent stake. China Construction Bank, the mainland's second-largest bank, owns 6.67 per cent of the company.
Other managers include Liu Tinghuan, former chairman of China Unionpay, and Lei Chunxiong, former assistant president of that company.
This article appeared in the South China Morning Post print edition as: Licence to make money is on the cards