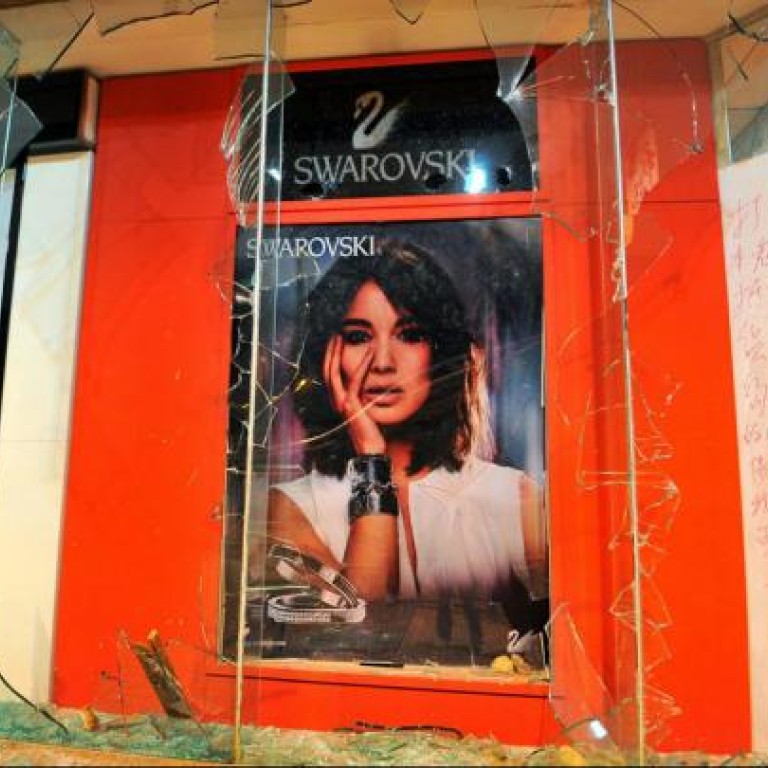 Anti-Japanese protests hurting businesses
Japanese-related companies have either shut down or suspended production in wake of the wave of violent protests across China
Escalating anti-Japanese protests in China are hurting Japanese-related companies, forcing them to either shut down operations or suspend production on the mainland in order to protect their employees and property.
The protest that swept more than 50 mainland cities descended into violence over the weekend, dealing a blow to all kinds of Japanese-related businesses, ranging from department stores, carmakers, fashion retailers, to restaurants and electric appliance makers.
Market observers said the businesses may return to normal after the tension between the two countries eased, but in the long term the Chinese government may consider a strategy adjustment to curb the expansion of Japanese enterprises across the country.
Japan last week said it would buy islands claimed by both countries, sparking Chinese protests that called for boycotts of Japanese goods.
In a big shopping centre in the east of Beijing yesterday, two big Japanese fashion and lifestyle brands Uniqlo and Muji had both shut their doors yesterday. And the three Japanese-style shops across the street were also shut down, using black cloth to hide their signboards that featured Japanese names.
"They will remain closed at least till Tuesday, the memorial date of the September 18th incident," said a property manager at the shopping centre referring to the date Japanese troops invaded northeast China in 1931.
"They worry that the sensitive date may add fuel to the protest against Japan as well as everything related to the country."
Muji has closed four of its six stores in Beijing as well as outlets in other cities. Uniqlo also closed several of its flagship shops to avoid any damage caused by angry protesters.
Last weekend, protesters in Changsha, Xian, Beijing, Guangzhou and Qingdao reportedly broke into Japanese restaurants and stores, smashing plates and bowls and stealing products from shelves.
A spokeswoman at the headquarters office of Aeon Company in Japan confirmed it had shut a number of stores in China temporarily, but declined to comment on how many were actually affected.
The department store and supermarket operator said earlier this year that it would shift its business focus from the Japanese domestic market to China, forecasting its sales revenue from the mainland and South Asia would match that of Japan by 2020.
"We are not sure about our future in China," said the spokeswoman. "We have not decided whether we should adjust our plans in China or not."
The share price of Aeon Stores (Hong Kong) slumped nearly 6 per cent to HK$19.10, compared with a 0.14 per cent rise in the benchmark Hang Seng Index.
Japanese manufacturers of cars and consumer electrical appliances were also hit badly.
The share prices of both Dongfeng Motor, which makes Nissan and Honda cars, among others, on the mainland, and Guangzhou Automobile, which makes Toyota and Honda cars, fell 6.96 per cent and 4.55 per cent respectively.
Shares of Aijsen (China), which operates a chain of Japanese restaurants in the country, dived 6.67 per cent.
As of yesterday, carmakers including Mazda Motor and Honda Motor and electrical appliance manufacturers including Panasonic and Canon announced they were temporarily halting all or part of their production in China.
Many mainland dealerships that sell Japanese cars have shut after some outlets were attacked and vandalised, according to Luo Lei, deputy secretary general of the China Automobile Dealers Association.