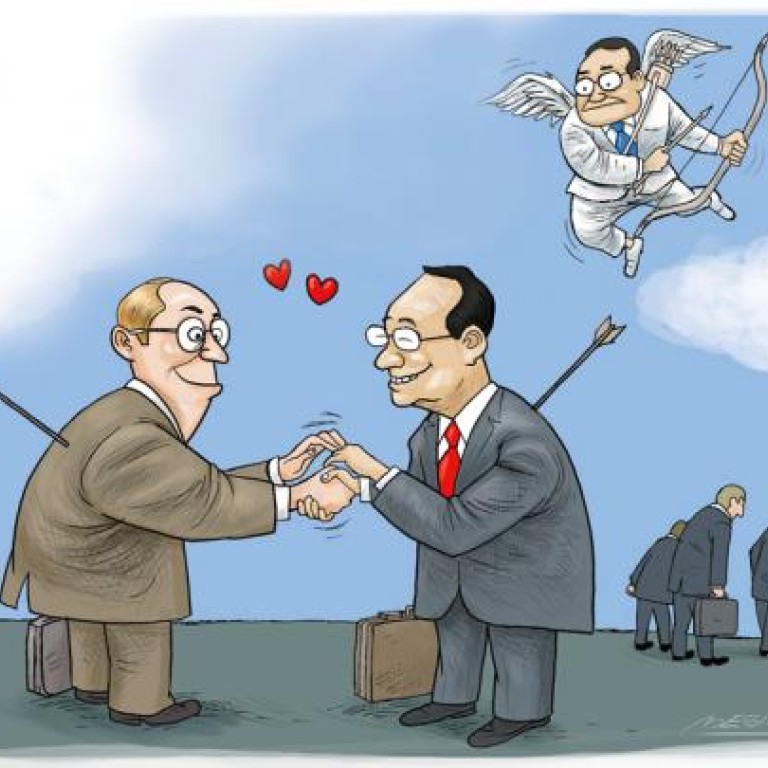 Business Management: China's M&A deals
China's mergers and acquisitions record scores low compared with other countries. How can its buyers avoid losing face?
Chinese companies are increasingly using overseas mergers and acquisitions (M&As) as a way of acquiring new capabilities as they expand globally.
But when it comes to sealing the deal, Chinese acquirers score low compared with buyers from other countries.
According to a study by Olga Hawn of North Carolina-based Duke University, cross-border deals involving Chinese companies are almost twice as likely to break down (15 per cent of the time) as deals involving fellow so-called BRIC nations of Brazil, Russia and India (8 per cent) and three times as likely as those involving Western multinationals - 5 per cent.
There are a number of reasons for this. Among them, the relatively recent Chinese entry into the cross-border acquisition market, political suspicion of Chinese firms in many target countries, and political issues at home about which companies are allowed to take advantage of growth opportunities. There are also challenges in completing deal funding, and the fact that many Chinese companies are at the forefront of particularly dynamic global markets.
No matter how logical explanation for cancellations, failed deals damage Chinese companies' ability to expand and adapt. While some are unquestionably becoming more sophisticated in making overseas deals, they need to think about how to reduce cancellations once acquisitions are announced.
We present eight key lessons for successful deal making. The first four apply before a specific target is considered; the next four help to assess its viability.
Before concluding that you need an acquisition for a particular growth opportunity, consider other routes such as licences and collaborative alliances, or even setting up an internal exploratory unit to try out new technology and markets. Reserve M&A for when there is no other way to meet your ends. Knowing when to use M&A allows you to focus time and attention on high-priority deals. Appliance maker Haier, for example, has made several global acquisitions but is also forms alliances when it does not need to enact full integration.
While external professional consultants bring value to the M&A process, it is important to involve people from your own business units, technical personnel and business development staff at an early stage. Internal staff members have a more nuanced understanding of your needs and M&A opportunities, and hence can help assess a target's financial value and, more importantly, its strategic value before the negotiation process is too far advanced. The Chinese mining company Sichuan Hanlong, for instance, has developed strong internal skills for assessing potential deals in Africa and elsewhere, such as its 2012 acquisition of Australia's Sundance Resources, an iron-ore miner with assets on the border of Cameroon and the Republic of Congo.
Most countries scrutinise foreign investment. Several high-profile deals involving Chinese companies, such as Hong Kong-listed China National Overseas Oil Corp's (CNOOC) 2005 attempt to purchase Unocal in the US, have been blocked, either formally or by delaying the negotiations to the point that the buyer withdraws. Before going too far, assess the extent of the likely reaction to the deal. In the face of high resistance, it might be wiser to explore whether comparable opportunities exist in more "friendly" countries, or whether intermediate options such as an initial alliance may be more promising. For instance, CNOOC's recent US$15 billion takeover offer for Canada's oil and gas producer Nexen got the nod from Canadian authorities last month though US regulators are yet to rule.
At the very least, initiate a well-thought-out post-acquisition integration plan that addresses national interests. Lenovo's purchase of the IBM laptop division in 2005 is a high-profile example of a successful route to overcoming initial suspicion.
Although some deals are blocked in the target country, others fail because of opposition at home. Tengzhong's 2010 attempt to buy Hummer from General Motors, for instance, fell apart because it failed to secure official Chinese approval. Before embarking on deals that are likely to be controversial, assess whether there is a clear path for approval.
When there is doubt about the value of the target or whether you will be able to work with the target, you may want to opt for partnership rather than purchase. Start with a specialised alliance or an initial equity stake and gradually deepen your relationship with your foreign partner.
Firms that over-emphasise initial dealmaking without thinking through long-term integration are more likely to be blind-sided by unexpected information that emerges during due diligence. This could bring a halt to a deal that should never have been announced, or mean major problems after deal completion. By contrast, firms that devote substantial effort as early as possible to identifying the major integration milestones increase the chances of success.
Ensure that key personnel from the overseas target will be willing to remain with the company, and draw up a viable integration road map before pursuing deals that have little chance of success. Lenovo's acquisition of the IBM laptop division again provides an important example: the company devoted many hours and financial resources to persuading key staff members at IBM that staying with the new owner would provide a strong career pathway. Similarly, Sany Heavy Industry, whose investment in German cement-pump maker Putzmeister initially was met with labour unrest, worked hard to convince key staff to remain following its 2012 acquisition by promising job security and local investment.
Our research found that executives often got carried away by the excitement of a deal opportunity - or were simply mimicking an industry fad - and went public. Wait until due diligence has established that the target's internal capabilities and its external environment meet the needs you seek to address. Lenovo, for instance, carefully assessed its opportunity in South America before announcing its intention to acquire the Brazil-based electronics company Comercio de Componentes Electronicos last year.
This article appeared in the South China Morning Post print edition as: A problem with unity in China's M&A deals